"Let every person be subject to the governing authorities. For there is no authority except from God, and those that exist have been instituted by God. " – Romans 13:1
In this series, we have so far suggested smart solutions for (1) constitutional reform, (2) public-private partnerships and (3) the political process. Today, we look at a sensible smart solution to address (4) decentralizing government to increase management efficiency.
In a centralized government, as the graphic below simply depicts, unfiltered messages from constituents wend their way to the decision maker, increasing the chance of clutter and confusion. In a decentralized model, messages from constituents are filtered (review, analysis and recommendation) through intermediaries, resulting in sharper communication to the decision maker from the populace and ultimately more effective decisions being made.
West Churchman, in his book entitled "The Systems Approach", stated that "there may be economies of scale of production, but no economies of scale of management." My interpretation of his comment was that whereas economies of scale are the cost advantages that a business obtains due to expansion (since there are factors that cause a producer's average cost per unit to fall as scale is increased), the same is not true in management. In management, as the number of "units" being serviced under one manager increases, there is a number of units beyond which diminishing returns set in and inefficiencies abound. This number of units is the optimal number of units for the manager to manage.
Dr. E.F. Schumacher, in his book "Small is Beautiful – Economics as if people mattered", stated that the optimal size administrative unit for a country is 250,000 people.
Dr. Schumacher's premise would suggest that Jamaica, with a population of 2.8 million, should have 11 administrative units; Trinidad and Tobago, with a population of 1.4 million, should have five to six units; Guyana, with a population of 771,000, should have three units; Barbados, with a population of 285,000, should have one unit; and other territories, with a similar or smaller population, should have only one administrative unit for optimal efficiency.
Local government is a form of decentralized government which has been tried in the Caribbean (based on the Westminster model) but has not been uniformly sustainable.
Decentralized government therefore has to be redefined in the context of small states. The design of a decentralized government, as a smart solution to increasing management efficiency, should be based on the following communication objectives to enhance the communication infrastructure between the people and the decision makers. This will facilitate continually receiving input from the people and apprising them of revised solutions to address urgent problems.
A Smart solution involves custom designing creative strategies to achieve these objectives which would include: (1) mechanisms for the people to share their ideas (town hall meetings); (2) timely financial injections to defuse the continuing decay of urgent problems (budget readjustment or emergency loans); (3) eliminating inefficiencies as they are detected (monitoring social media); (4) listening to the living reality of the disadvantaged (specifically involve grass-roots level opinions); and (5) gradually improve governance (monitoring a barometer which measures constituent satisfaction).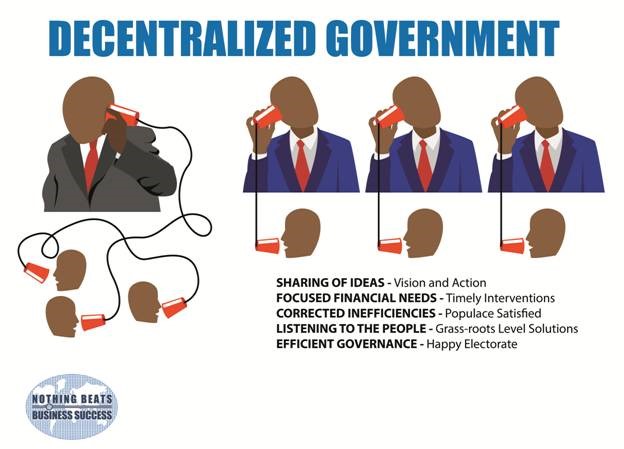 Centralized governments sometimes lose track of the electorate's needs. Limited budgets may be inefficiently allocated. Decentralization continually signals urgency from the grass-roots level, in particular, and focused interventions are more timely, resulting in reduction in frustration and more efficient governance.
Let us carefully consider government decentralization whether there is a "first-past-the post" electoral or a proportional representation electoral model so that the voices of the electorate may be more effectively heard on a timely basis.