"I have a serious concern to bring up with you, my friends, using the authority of Jesus, our Master. I'll put it as urgently as I can: You must get along with each other. You must learn to be considerate of one another, cultivating a life in common". – 1 Corinthians 1:10
We are a people separated by blue sea, we have lands ready to be re-cultivated, we are perennially bathed by the tropical sun, we have palm trees blowing in the wind, we are remarkably unique but collectively diverse, we are ready to be led into the promised land. We are the Caribbean Community (CARICOM)!
In my column entitled Business Optimization two weeks ago, I stated "Until our politicians stop clowning around and seek problem solving advice to complement their own skills, it is unlikely that the haemorrhaging in the economic growth rate and in the happiness quotient of the populace will be arrested".
I concluded, "Let us bury our egos (Edge God Out), be vigilant, use our heads, take advantage of every opportunity, make the most of every chance you get and optimize the use of our resources. These are desperate times!".
Once again, my Guyanese friend and colleague Major General (ret'd) Joseph Singh, responded to the column with the following.
"Your 'Evolutionary Operation' concept applied to the Caribbean decision-making process will work if the UWI, networking with other universities in CARICOM, can be mandated (perhaps  through the CARICOM Charter for Civil Society) to play a substantial and sustained role in data gathering, participatory consultations involving all relevant stakeholders, and informed decision-making based on data analysis integrated with outputs from the stakeholder consultations.
"The Outcomes of all of this data mining and analysis ought to be some shared concepts and a strategic plan for CARICOM and individual member countries of CARICOM. Civil society then has a role to play in ensuring that political parties' manifestos are aligned with these strategic plans (CARICOM and individual member countries).
"The merger of civil society and political parties in respective Parliaments – the Disruptive Innovation Model, ought to ensure that the shared strategy (with flexible tactics influenced by global and regional dynamics) will be pursued at the national level regardless of which political party is in power. This will also, hopefully, reassure our plural societies that the application of justice, access to opportunities, equity in the distribution of wealth and resources, and respect for human rights, will be features of governance and no one will be left behind.
"The Universities will be involved in monitoring and evaluation, and in providing technical support and capacity building to implement national and regional programmes and projects. The role of universities in catalyzing regional and national development will also be validated."
Thank you for continuing the dialogue, Joe.
My further input is to suggest that we respect the necessary tenets towards CARICOM sustainability where: (1) a robust foundation is laid; (2) public and private investment resources are sourced and rationalized to meet restructuring and growth needs, respectively; (3) the branding of the Caribbean is appealing to global tourists and investors; (4) we convert our assets into wealth; and (5) we encourage educational and experiential exposure from the cradle to the grave.
Most of the organizations to achieve the above are already in place.
The CARICOM Secretariat ought to anchor the process. The Regional Central and Development Banks have the investment resources. The Caribbean Council, Caribbean Tourism Organization, Cricket West Indies, Caribbean Premier League, Caribbean Hotel and Tourism Association, the Caribbean Food and Music industries and CARIFESTA can brand the Caribbean. The Caribbean Association of Industry and Commerce should inspire business growth and be the experiential incubator. The regional universities should advise on backward linkages through the education and training systems to ensure sound people development.
We cannot survive by doing it alone we must foster unity.
We cannot survive by doing it alone we must foster unity.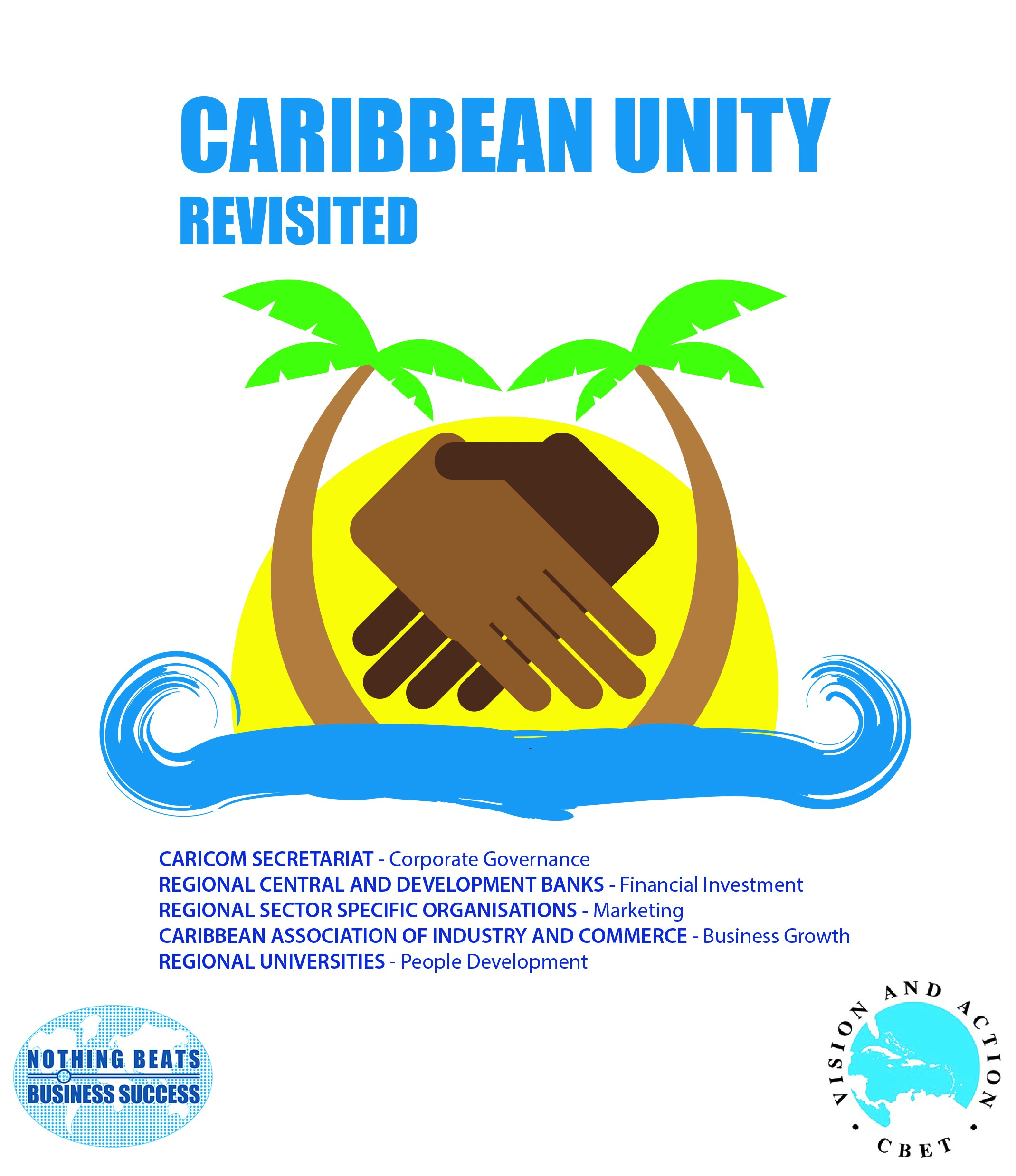 What we need is visionary leadership to make it work. Let us pray that this brand of leadership will emerge. Who will that leader (s) be to encourage the diverse captains to get along with each other, to be considerate of one another and to cultivate a life in common as the ships of state sail towards a brighter future?