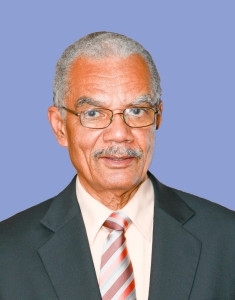 Dr. Basil Springer
Shepherding for Business Success
Dr. Basil Springer has more than 40 years of Project Management experience primarily in the areas of Agricultural Development, Tourism, Tourism Linkages and Enterprise Development. He is a Director of the
Caribbean Media Exchange
on Sustainable Tourism (CMEx). He is also a Director of the New Jersey based
Marketplace Excellence Corporation
(MPE) with a focus on Marketing, Media and Public Relations.
He was a Management Consulting pioneer (1977) and now leads the charge with the private sector-led Caribbean Business Enterprise Trust Inc. (CBET) to franchise The CBET Shepherding Model™ as a necessary and sufficient strategy for sustainable economic development in small states and emerging nations. He currently promotes the ManoBiz Matrix™ as a Shepherding (Life coaching and Business mentoring) tool for businesses in the making, start-up and existing businesses.
Dr. Springer trained as a mathematician, statistician and operations research scientist in Jamaica, Wales and London, England. He received a Princess Royal Scholarship to pursue undergraduate studies at the University of the West Indies, Mona where he earned a BSc in Mathematics; he earned an MSc in Statistics at the University of College of Wales, Aberystwyth; and received a Commonwealth Scholarship to pursue Doctoral studies and holds a PhD. in Statistics and Operations Research from the Imperial College of Science and Technology, University of London. A weekly newspaper columnist with the Barbados Advocate since 1993, Dr. Springer was awarded the Order of Barbados (Gold Crown of Merit) from the Government of Barbados in 2000.