"Whatever you do, work at it with all your heart, as working for the Lord, not for human masters. " – Colossians 3:23
Whether you have a natural proclivity to be an entrepreneur, whether you leave your job and become an entrepreneur or whether you have the opportunity to carry on the family business, your primary responsibility as an entrepreneur is to grow that business to its full potential.
I say responsibility because, in the same way that successful family units are essential to a stable society, successful entrepreneurs are the building blocks for economic growth. The rate of growth of an economy is directly dependent on the collective success of all entrepreneurs.
The success of entrepreneurs is measured in terms of sustained profitability. A necessary condition for profitability growth is sales growth and therefore, in any business it behooves us to focus on sales as a priority. We should also note that sales growth does not guarantee profitability, since there are other factors involved such as productivity, quality, competitiveness and cost containment. Sales growth is therefore not sufficient for profitability growth.
Here are the stepping stones to generate sales for a business:
(1) establish a marketing matrix for the business which structures the potential opportunities for sales that exist when we match the individual products and services of the businesses with the available customer target categories (e.g. retail to individuals, private sector businesses, public sector institutions and exports);
(2) mine the matrix and identify the list of customers ("Visions") to which systematic visits will be made on a regular basis;
(3) convert the "Visions" to "Suspects", where the customer has shown enough interest to invite a quotation for the delivery of a product or service; and the "Suspects" to "Prospects", when you respond with a quotation and await the potential customer's decision.
(4) forecast sales by taking, for example, 10 percent of the expected value of the "Suspects" and 50 percent of the expected value of the "Prospects";
(5) close sales by converting "Prospects" to "Committed" and augment the sales forecast by adding 100 percent of the expected value of the "Committed"; and
(6) follow up with after sales service to monitor customer satisfaction. High levels of customer satisfaction lead to referrals and repeat business.
The Marketing business system brings life to the business – this life is measured in terms of sales. Customer relationship management embodies the details of all six steps above.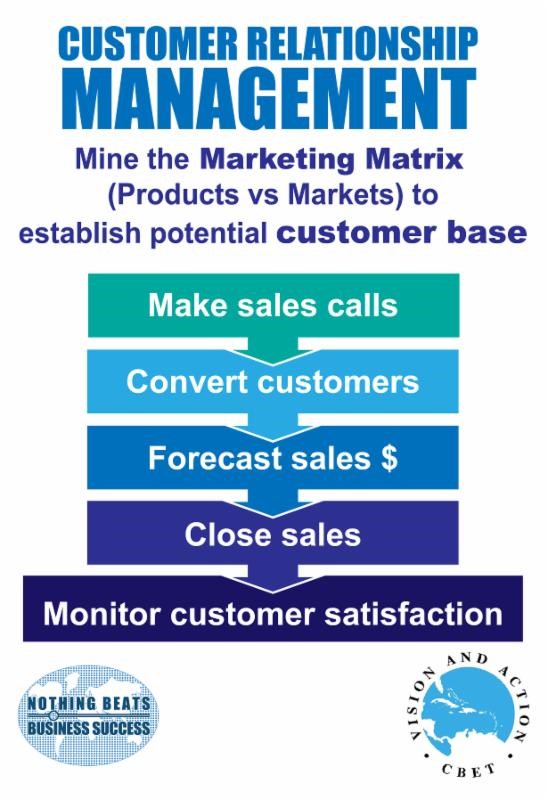 The customer is the buyer with which the business directly relates. The customer then sells the product or service to the end user, the consumer. The customer will buy your product or service only if there is consumer demand, so the company's marketing efforts should focused on the end user.
Let us remember, the most important features of successful businesses are "hard work, hard work, hard work" and "sales, sales, sales" and whatever you do, work at it as if we depend on your success because we do.
(Dr. Basil Springer GCM is Change-Engine Consultant, Caribbean Business Enterprise Trust Inc. – CBET. His email address is basilgf57@gmail.com and his columns may be found at www.cbetmodel.org and www.nothingbeatsbusiness.com.)