"…for by your words you will be justified, and by your words you will be condemned." – Matthew 12:37
On Wednesday, September 4, 2019, there was an email advising "CWI Media Advisory – Media Conference with CWI President, Vice-President and Executives. CWI invites the media to a press conference at 11am to midday on Monday, September 9." – https://zoom.us/j/934437289.
This is welcomed news since such a press conference allows the new CWI board to be accountable to all stakeholders for its actions. Effective, regular communication is paramount to the success of CWI, as it is for any organization. If the board gets its communication wrong, the leadership and organization will struggle irreparably.
Every Tuesday evening from 6:15 p.m. until 8 p.m., Voice of Barbados 92.9 FM (vob929.com) mounts the popular Mason and Guest cricket show, hosted by cricket commentator Andrew Mason. The guests include international, regional and local cricket commentators, legends, administrators and call-in listeners. They discuss current issues and the road ahead concerning West Indies cricket.
The general conclusion after listening to these weekly shows is that CWI stakeholders are very disappointed with the continued declining performance of the West Indies team. There are many questions to be answered by the CWI board.
The classic approach to board governance is (1) conduct a strategic visioning exercise among its stakeholders so as to establish a balanced policy for the board, (2) set measurable, realistic, strategic and tactical targets for management to achieve in a given time frame, (3) monitor management's performance monthly, (4) take immediate corrective action when actual performance deviates from these tactical targets, and (5) communicate with stakeholders in a timely manner. This is the requisite minimum.
The reality is that the new leadership inherited a situation which gave hope to CWI stakeholders, i.e. the men's team's excellent performance against the highly rated England team. In the euphoria of their success in removing the previous leadership at a constitutionally due election, all hell broke loose, and the new administration embarked on the scene like a bull in a china shop. Rather than examine the reasons why this excellent performance occurred and then establish a strategy to try to sustain and improve it, this rash decision-making and consequent abrupt implementation of change have been chaotic and disastrous, but hopefully recoverable.
At today's press conference, will the CWI board attempt to redeem itself as to why it departed from the above proposed classic approach and how it plans to rectify the situation? Or, will it be wrong and strong?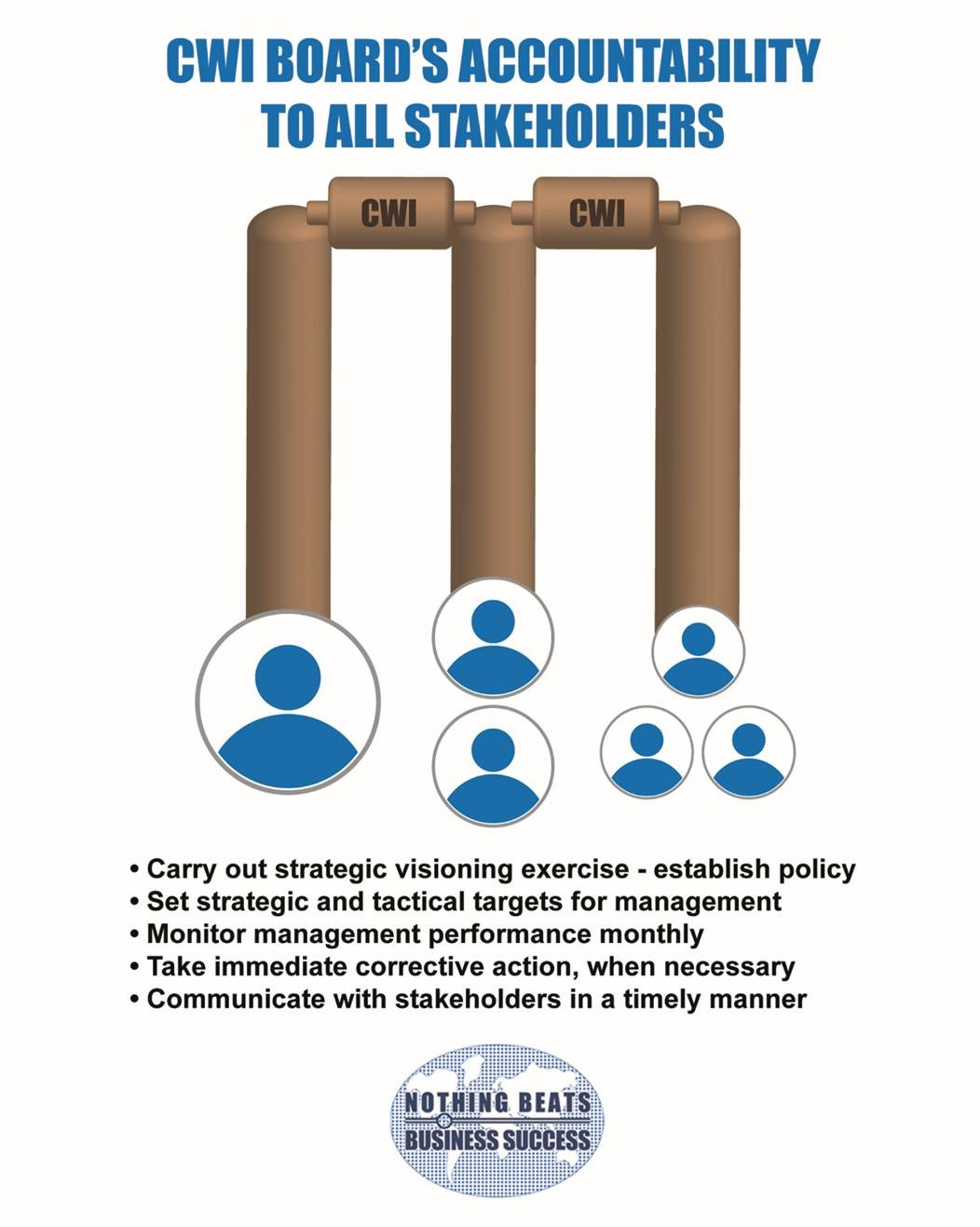 If there is little meaningful communication, the stakeholders' stumps will be disturbed, CWI's bails will be dislodged and it will be game over.
Let us communicate regularly and effectively so that, by our words, our actions are justified.