"God is our refuge and strength, a very present help in trouble." – Psalm 46:1
In the realm of crisis management, experience is often the most effective teacher, as I recently found myself entangled in a travel debacle that spanned from Trinidad to destination Dallas via Miami.
I was reminded of the valuable lessons that can be drawn from such moments of uncertainty and chaos. The journey started with a delay on the Miami runway, induced by a lightning strike which closed the Miami airport for hours. This ultimately led to missing my connection to Dallas. Reports last Thursday revealed that stormy weather that swept across South Florida led to some real headaches at Miami International Airport, as thousands of travelers dealt with long lines, hundreds of flight delays and dozens of cancellations.
However, it was through this ordeal that I came to understand the importance of strategic planning, composure and the immense value of professional crisis communication.
As the hours ticked away on the Miami runway, a sense of frustration and helplessness began to mount. Missing a crucial connection was not only a personal inconvenience to me but to many others and a glaring example of how easily even the best-laid plans can unravel. It was in this moment that my son, who happens to be at the helm of Marketplace Excellence (MPE), a reputable PR and crisis management agency, took charge.
His actions were swift and well-calculated. Recognizing the need for a well-rounded crisis response, he efficiently navigated through the chaos to secure an alternative flight for the next afternoon and a comfortable hotel to spend the night, obviating the need for me to submit to the AA lines to find out what alternative arrangements their system had provided for me, if any at all. This experience reaffirmed to me the power of keeping a cool head in times of crisis – a lesson that holds true not only in personal matters but in the business world as well.
Marketplace Excellence, with its extensive experience in crisis communication, has mastered the art of effective planning, a practice that hinges on timeliness, the dissemination of accurate facts, selection of appropriate communication channels, crafting precise messaging, and meticulous post-crisis action. These elements form the cornerstone of a strategy that can either escalate a crisis or deftly manage it to a favorable resolution.
One instance that stands as a testament to MPE's proficiency is their remote management of the crisis response for the U.S. Virgin Islands Department of Tourism during the twin Cat 5 hurricanes of 2017. With communication networks down in the USVI and chaos prevailing, MPE navigated, along with representatives of the department, both air and ocean evacuation plans, and clear and effective communication with the international media on the recovery efforts. This proved that even the most daunting circumstances can be managed with the right approach.
Moreover, in the midst of the COVID-19 pandemic, MPE displayed its creativity by developing a travel screening portal at the recommendation of the Department of Tourism. The company showcased its technological and organizational resourcefulness, and ability to implement a 24/7 global customer service solution (for some 19 months!), reinforcing the importance of adaptability in crisis situations.
Back to my personal travel misadventure in Miami, I was amazed at how MPE transformed passenger chaos into a semblance of order. This incident reaffirmed that in any crisis, timely, strategic, and decisive actions are paramount in restoring a sense of normalcy, one passenger at a time.
This episode also reminded me of the recent crew crisis faced by Caribbean Airlines two days later. The situation called for a well-defined crisis management plan that addressed passenger concerns, provided accurate information, and demonstrated empathetic leadership.
Whether in personal or professional spheres, crises are an unavoidable part of life. Yet, our journey through them – guided by strategic planning, impactful communication, and unwavering composure – truly defines our outcomes.
Being a member of the MPE family fills me with immense pride. Together, we stand prepared to face today's and tomorrow's challenges and emerge even stronger.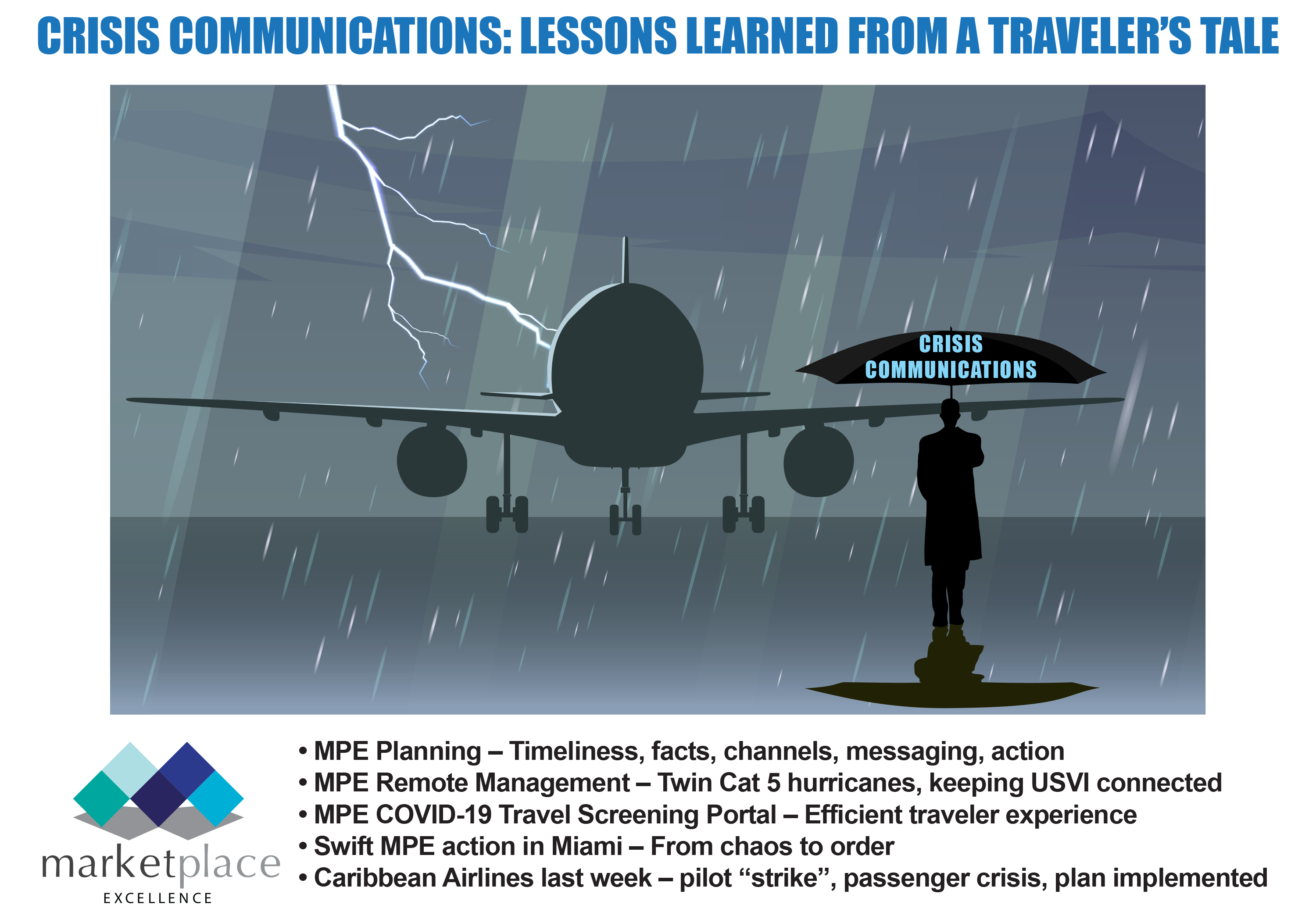 (Dr. Basil Springer GCM is a Change-Engine Consultant. His email address is basilgf@marketplaceexcellence.com. His columns may be found at www.nothingbeatsbusiness.com).