"In all toil there is profit, but mere talk tends only to poverty." – Proverbs 14:23
One of the international speakers at the Barbados Entrepreneurship Foundation's first annual SUMMIT, held November 2010 at the Barbados Hilton, was Dr. Edmund S. Molloy, from the Republic of Ireland. Eddie was then and still is the Honorary Consul General for Barbados in Ireland.
What stands out in my mind about his presentation was the concept of "Implementation Deficit Disorder (IDD)" as the primary ailment which inhibited the path of enterprise development throughout the world at that time.
Simply stated, this means it is not enough to embark on a study and develop a plan. The public and private sectors must embrace a national policy of innovation, investment, and implementation if we are to have a chance to make a difference. The collective impact of these differences will contribute greatly to the benefit of the country.
Unfortunately, IDD is still the major factor inhibiting Caribbean development. Hence, we revisit it today.
Why do we not listen to the innovators, entrepreneurs and visionaries in our midst instead of feeding our egos by continually trying to reinvent the wheel?
There are endless innovative concepts available in business plans by many individuals, businesses, and development organizations which are just lying there "collecting dust." The annual Sir Winston Scott Memorial lecture series is the source of 43 engaging presentations. As far as I am aware, there is no systematic process to convert this information into potential business plans for development and implementation. Many ideas have been shared in this column over the last 26 years and endorsed through written feedback from readers. We need to unlock this treasure chest of innovation and add it to the more recent ideas which will undoubtedly encompass technology trends.
Once again, we draw attention to the relative roles of government and the private sector. Government's role is regulatory and service, thus creating a user-friendly enabling environment. The private sector's role is "to do business" and grow the economy.
As part of the enabling environment, the government must incentivize the private sector and unlock private sector savings for investment in economic growth for the mutual benefit of the country and the private sector. We must establish other smart investment partnerships, especially with wealthier countries that would like to develop sustainable relationships with the unique (multicultural, multiethnic, multireligious, multiculinary, multigenre and multilingual diversity) and strategically placed Caribbean region.
Why not resuscitate the Barbados Entrepreneurs' Seed and Equity Fund private-public sector concept, which is now 10 years old? It had a very promising rollout over four years. A high percentage of  businesses in the pilot project are still alive and doing well today. The project concept, however, did not survive the bungling bureaucracy after the late Prime Minister, David Thompson, passed away in 2010. Many aspiring businesses did not get the help that they deserved in finessing this investment opportunity, which could have led to successful implementation and contributed to national growth.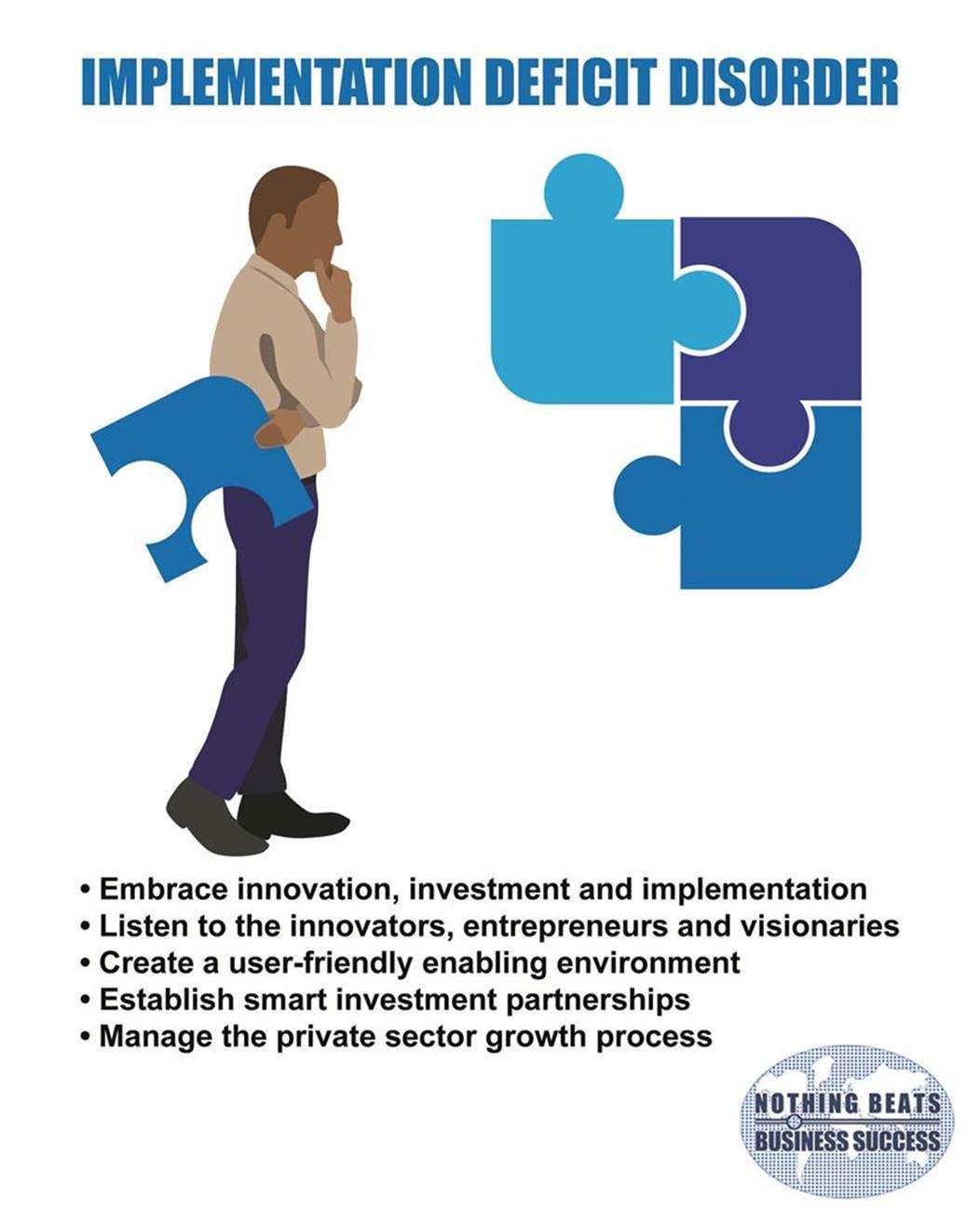 Whatever our area of endeavour, including West Indies cricket, Caribbean tourism, the University of the West Indies, the optimal use of renewable energy or growing the productive sectors in our economy, we have not engaged in a game of chance. Let us have faith and remain focused on innovation, investment and implementation, thereby treating the disease of Implementation Deficit Disorder until our cup overflows.