"I will instruct you and teach you the way you should go; I will counsel you with my eye upon you." – Psalm 32:8
Last week's column was the start of a nine part mini-series on Biomimicry, which is spreading like wild fire these days. Biomimicry is the study of "how nature creates sustainable life and how we should imitate nature to design the future in a way that does not tear the system down, but rather creates life in the best way possible" (Agneta Nyholm Winqvist, author of the book "wabi sabi").
The following spontaneous response was received by a reader of the first column: "Very well stated! If only we really believed in emancipating our minds from mental slavery as Bob Marley sang about. If we accomplish that then mimicking nature will come naturally".
Our challenge in this column is to discuss how we can innovatively map nature's propensity to create sustainable life onto a launching pad for businesses to generate sustainable business success and hence stimulate economic growth.
The late Professor the Hon. Oliver St. Clair Headley (1942-2002) and I conceived a vision for the use of renewable energy in the Caribbean on Whit Monday in 1969 at the St. Augustine Campus, UWI, Trinidad where we were both recently appointed to the faculty, he in Chemistry and I in Biometrics.
The challenge? Limited irrigation water in the Caribbean for crop production despite an abundance of sea water. The potential solution? Solar desalination.
Our discussion at lunch signaled the start of a research and development programme which led to the joint publication of three papers: (1) Oliver St. C. Headley and Springer, B. G. F. (1970) Effects of design and empirically variable parameters on solar still performance. Proceedings of the 3rd International Symposium on Fresh Water from the Sea Vol. 1. Dubrovnik, Yugoslavia. 669-677; (2) Headley O. and Springer B. (1971) Distilled Water from Solar Stills. Journal of Chemical Education, Vol. 48; and (3) Headley O. and Springer B. (1973). A natural convection solar crop dryer. Proceedings of the ISES/UNESCO Solar Energy Conference, "The Sun in the Service of Mankind," Paris, Paper No. V 26.
We actually registered the company Solar Energy Enterprises Ltd. for the manufacturing of solar energy application devices but the commercialization of this never materialized, probably because of the competition for our time with our primary responsibilities at UWI.
Oliver went onto to become an internationally recognized expert in solar energy applications involving distillation, drying, water heating, electricity and refrigeration before he was prematurely plucked from us at the age of 59. Given the abundance of insolation in the Caribbean, the commercialization of solar applications is an opportunity waiting to happen. We know what the opportunities are but we need the vision, shepherding and investment finance.
Plants and animals are primary sources of food which are necessary to sustain life. The one main resource to produce food is solar energy (photosynthesis and irrigation water). Quo vadis?
A colleague has recently been instrumental in bringing solar cars into Trinidad and Tobago. Barbados already imports solar cars. The first round-the-world solar flight project (Solar Impulse) was completed in July 2016 – www.solarimpulse.com.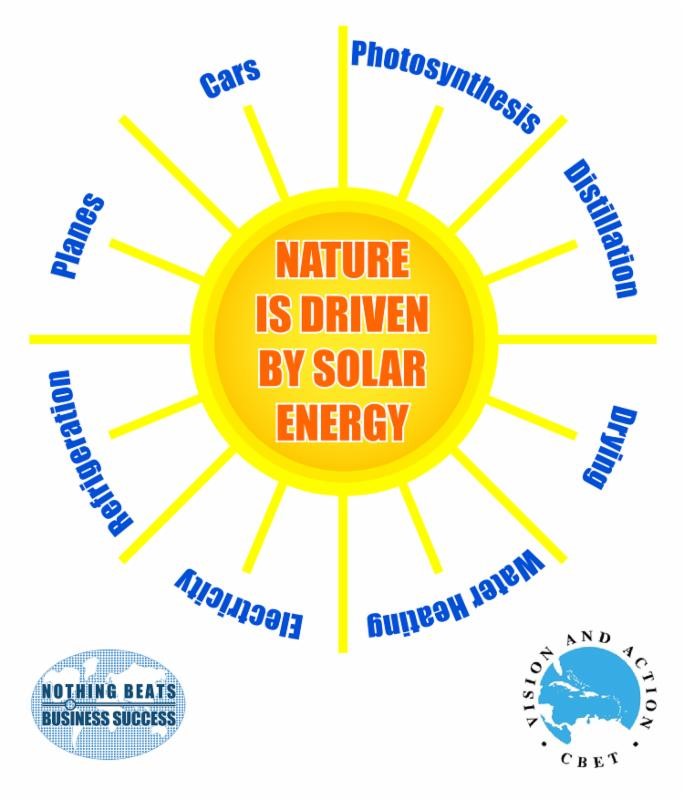 Let us, with each breath, seek Divine counsel and get on with it. Let us exploit renewable energy resources to save planet Earth. It is not too late.
(Dr. Basil Springer GCM is Change-Engine Consultant, Caribbean Business Enterprise Trust Inc. – CBET. His email address is basilgf57@gmail.com and his columns may be found at www.cbetmodel.org and www.nothingbeatsbusiness.com.)