"I am the good shepherd. The good shepherd lays down his life for the sheep." – John 10:11
As I sit down to pen this column at the age of 82, I am filled with a sense of gratitude for the journey that life has taken me on. It's a journey marked by twists and turns, triumphs and setbacks, but one that I wouldn't trade for anything. In these twilight years, I find solace in reflecting upon the aspects of my life that have shaped me into the person I am today.
Throughout my career, I've had the privilege of being a business consultant, helping entrepreneurs, businessmen and members of civil society navigate the treacherous waters of the business world. Over the years, I have dedicated myself to guiding and protecting business operations, often at the expense of my own comfort. The satisfaction of witnessing these entities thrive has been a reward beyond measure.
The idea of retirement once seemed distant, but it's now a reality I must embrace.
The traditional pension profile may be itself a mosaic of carefully cultivated financial instruments, including insurance annuities, contributions to the National Insurance Scheme (NIS), investments in real estate and stocks, and even a modest inheritance from a fond relative. It's a testament to the importance of foresight and prudent financial decisions.
When people ask me the secret to life, I attribute it to commitment to a combination of factors. Faith in God, positive thinking, genetics, proper nutrition, regular exercise, a quality – albeit creative – sleep pattern, and the peace of mind that comes from a well-lived life have all contributed to my vitality. Finally, the healing power of a warm hug from a loved one as well as forgiving and being forgiven should never be underestimated.
I firmly believe that staying engaged and purposeful is the key to a fulfilling retirement. For me, retirement is not synonymous with idleness. I often wonder how I can be retired when I am not tired. My chosen retirement activity is unconventional but deeply rewarding—I've become a member of a shepherding squad for young entrepreneurs. Just as a shepherd guides and protects the flock, the squad mentors and nurtures these budding business minds, imparting wisdom accumulated over decades.
The legacy I hope to leave behind is encapsulated in what I call the "Sustainable 3M Shepherding Model." The 3M represents the (1) Metamorphosis of a "DNA of an elephant" idea into a thriving business; (2) diligent Management of business and life skills systems; and (3) innovation of appropriate and sustainable Money options. It's a philosophy that I've honed over the years and now pass on to the next generation of business leaders.
Each phase of my life has been a building block for the next, and I hope that my experiences and insights can inspire others to craft their own meaningful journeys. Just as the good shepherd, I've dedicated my life to guiding and nurturing, and in doing so, I've found my purpose. God willing, I will leave a legacy worth cherishing.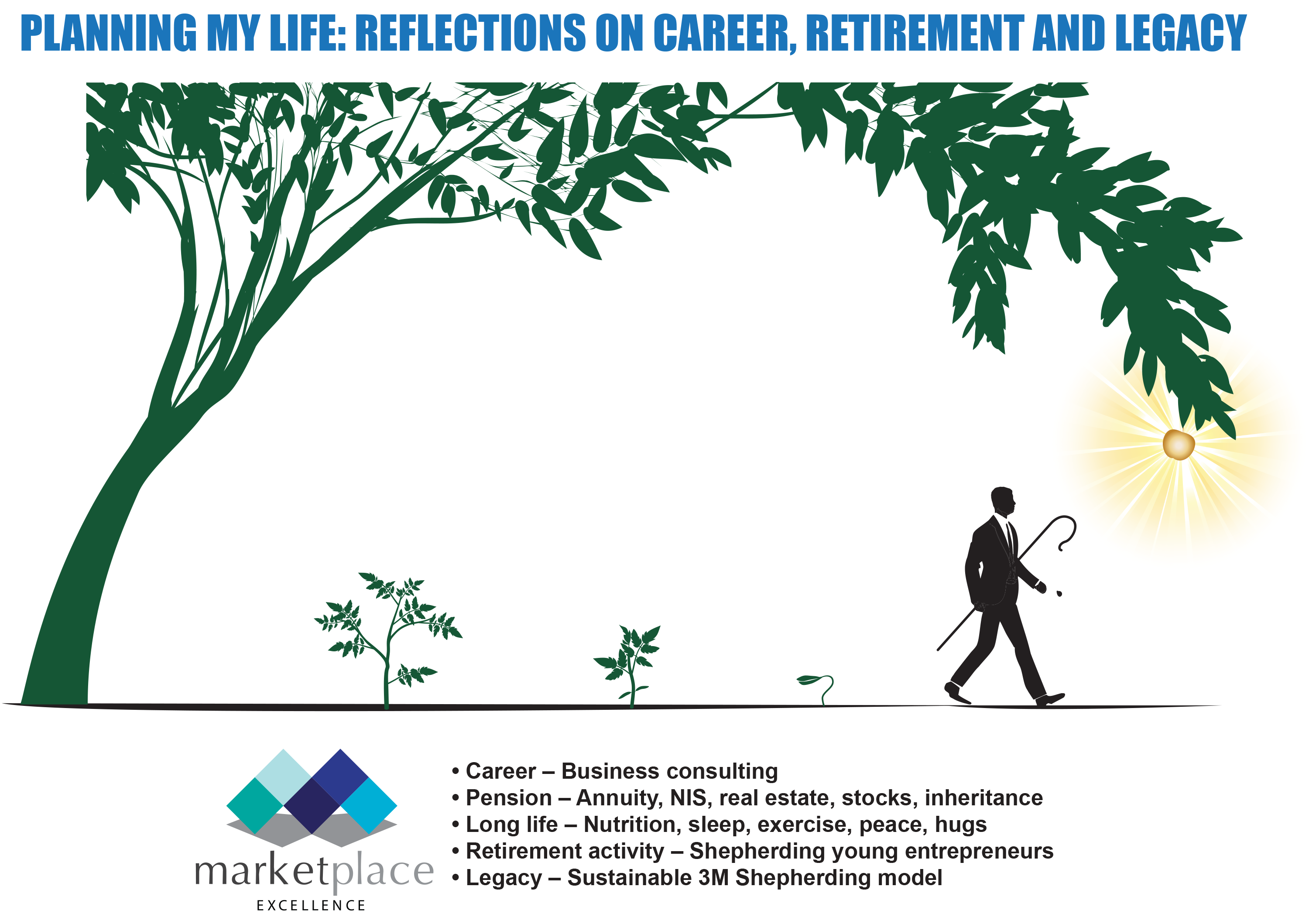 (Dr. Basil Springer GCM is a Change-Engine Consultant. His email address is basilgf@marketplaceexcellence.com. His columns may be found at www.nothingbeatsbusiness.com).