"The Lord bless you and keep you; the Lord make his face shine on you and be gracious to you; the Lord turn his face toward you and give you peace." – Numbers 6:24-26
As I review my journey through life which began in 1941, I benefited from many blessings which laid the foundation and created opportunities for me to be molded into a useful individual, as a teenager, higher education student, family man, in my career, and as a Rotarian.
As a teenager, there was parental guidance, mentors, Montessori, primary and secondary school, along with regular attendance as a Sunday school student reinforced by a stint as a Sunday school teacher.
I was fortunate to have been introduced to the international best seller "The Power of Positive Thinking" by Norman Vincent Peale. Dr. Peale's powerful message of faith certainly helped me to lay a foundation for fulfillment in my life.
I participated in many sports, was an avid photographer, and was engaged in the boy scout movement, which was responsible for my first trips out of Barbados to St. Vincent and the Grenadines, Trinidad and Tobago, and Canada.
It was this foundation that facilitated my smooth transition to the world of higher education for the next eight years in the '60s. First, at the University of the West Indies (UWI) at Mona, Jamaica, where I felt like a Caribbean person for the first time, mixing with other students from the length and breadth of the English-speaking Caribbean. I played cricket for UWI at the Senior Cup level and participated fully in extracurricular activities on a beautiful and diverse Caribbean island, 25 times the land size of Barbados.
These experiences and my interest in cricket were expanded in Wales and England, as part of the Caribbean student diaspora.
I was 40 when I played my last cricket match. I was now well established as a married man with a family and in the world of work. The concept of responsibility set in and there was a yearning to define the purpose of life.
There was one thing that influenced change in me at that time. My aunt, the late Iris Haynes, introduced me to the book "The Ten Demandments of Prosperity" by Stuart Grayson, who was the pastor of her church in New York at that time.
This reinforced Dr. Peale's message: Think positively and you will achieve positive results; think negatively and you will achieve negative results.
I began my career as a faculty member at the University of the West Indies in Trinidad in 1968 and was relocated to Barbados in 1974, where I opened my own business in 1977.
This was a brave move. I nourished the business for 23 years and then sold it. I enjoyed it tremendously, gaining experience in investment, forging partnerships with international organizations, and working with public and private corporations. The Caribbean Development Bank and the Commonwealth Partnership for Technology Management allowed me to travel extensively in the Caribbean, Africa and Asia.
In 1986, I was invited to join the Rotary International community, through the Rotary Club of Barbados South, which exemplifies "Service above Self". I am still a Rotarian today in the Rotary Club of Central Port of Spain. This has been a very fulfilling experience and contributes significantly to fellowship, camaraderie, service, regional and international travel in the Rotary International fraternity, and greatly facilitated my shift in CARICOM residency when I returned to Trinidad in 2013.
There has come a time when – beyond professional achievements, material possessions and being recognized by your peers – I understand that the purpose of life lies in embracing love, exhibiting compassion, extending forgiveness, helping others, and ultimately finding happiness.
The purpose of life will be the topic of my next column.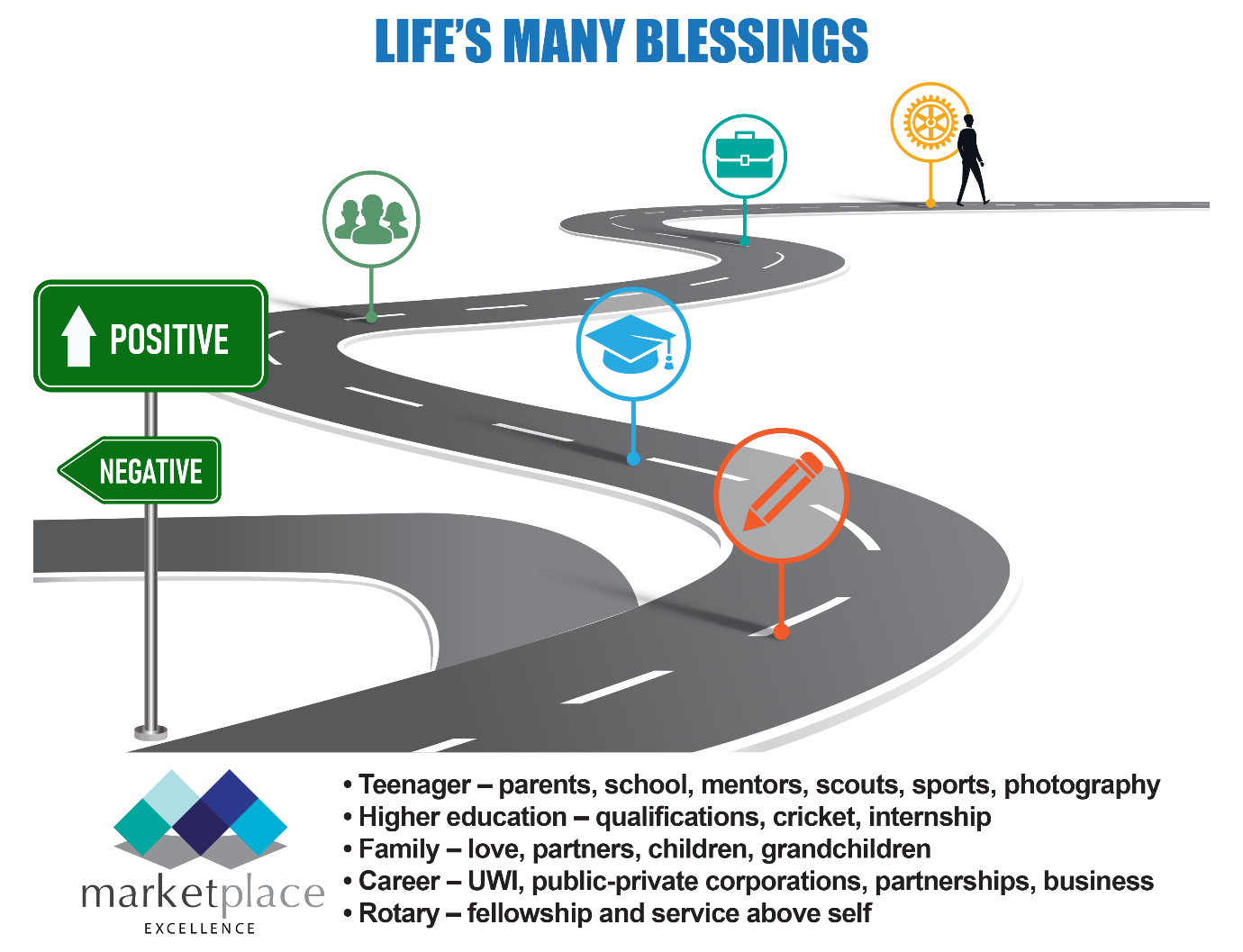 (Dr. Basil Springer GCM is a Change-Engine Consultant. His email address is basilgf@marketplaceexcellence.com. His columns may be found at www.nothingbeatsbusiness.com).