"If you give some of your own food to those who are hungry and to satisfy those who are humble, then your light will rise in the dark, and your darkness will become as bright as the noonday sun." – Isaiah 58:10
As a Caribbean business columnist, I cannot stress enough the importance of food security in the Caribbean. Our region has historically struggled with food security, with many of our nations importing most of their food. The recent Ukraine war has aggravated the problem, causing a reduction in wheat supply and highlighting the vulnerability of our region to external factors.
If secure access to food is given top priority this can produce wide-ranging positive impacts that are vital to the growth and development of our Caribbean nations. For instance, it can lead to economic growth, job creation, poverty reduction, trade opportunities, good nutrition and health care.
It is inspiring to see individuals like Dr. Mahendra Persaud taking on the challenge of increasing Guyana's rice supply by 50 percent, which has led the way to the promise of "Guyana, the breadbasket of the Caribbean", showing us that it is possible to overcome our food security challenges through innovation and dedication.
Dr. Persaud is a Guyanese scientist and 2023 laureate of the Anthony N. Sabga Caribbean Awards of Excellence, a unique private sector initiative in the region. His work, using sustainable and innovative agricultural practices, has also shown that it is possible to substitute one cereal for another, as rice and wheat have a similar nutritional combination of protein, fat, and carbohydrate.
In addition to Dr. Persaud's work, there are many other initiatives taking place throughout the Caribbean to increase food security. For example, in Barbados, the government is liaising closely with Guyana in food production and distribution and investing in aquaculture to produce more locally sourced seafood.
There are also other initiatives including the use of vertical hydroponic farming, multi-storied cropping and mixed cropping to optimize the use of available space for a variety of plant species.
Furthermore, in her 2023-2024 budget address last week, Barbados Prime Minister Mia Mottley has prioritized food security as one of the Caribbean's critical challenges. She has set out on a mission to transform Barbados and, by example, the region through 2030.
It is worth noting that achieving food security is not just about producing more food. It also involves ensuring that everyone has access to the food they need to live healthy lives. This means addressing issues such as food waste, food distribution, and food affordability. We must work to ensure that a balanced supply of food is available and accessible to everyone in our region, regardless of their socioeconomic status.
Food security must be given top priority in the Caribbean, and it is crucial that we continue to invest in innovative and sustainable agriculture practices to ensure that our region can overcome its challenges and achieve its full potential.
By promoting domestic production and reducing reliance on imports, our countries can foster self-sufficiency, stimulate economic growth, and create employment opportunities.
Import substitution also strengthens local industries and encourages innovation, ultimately contributing to a more diversified and resilient economy.
For example, while our christophene and apple have different tastes and textures, it is possible to create a christophene "apple" pie by cleverly using spices and a little creativity. This is a creative way to utilize local Caribbean produce in a familiar dessert. The end product tastes almost identical I am told and I look forward to trying it. A golden apple substitute for "English apples" is an another option.
As the Caribbean region faces challenges such as climate change, vulnerability to external shocks, and high levels of public debt, import substitution policies serve as an essential tool to enhance economic stability and improve the overall standard of living for citizens. Furthermore, by reducing dependence on foreign goods and services, Caribbean nations can reduce trade deficits, preserve foreign exchange reserves, and ultimately exercise greater control over our economic future.
As Caribbean people, we must take ownership of this issue and work together to create a brighter future for ourselves and our children. With dedication, innovation, cooperation and "all hands on deck", we can achieve food security and create a more prosperous and sustainable future for our region.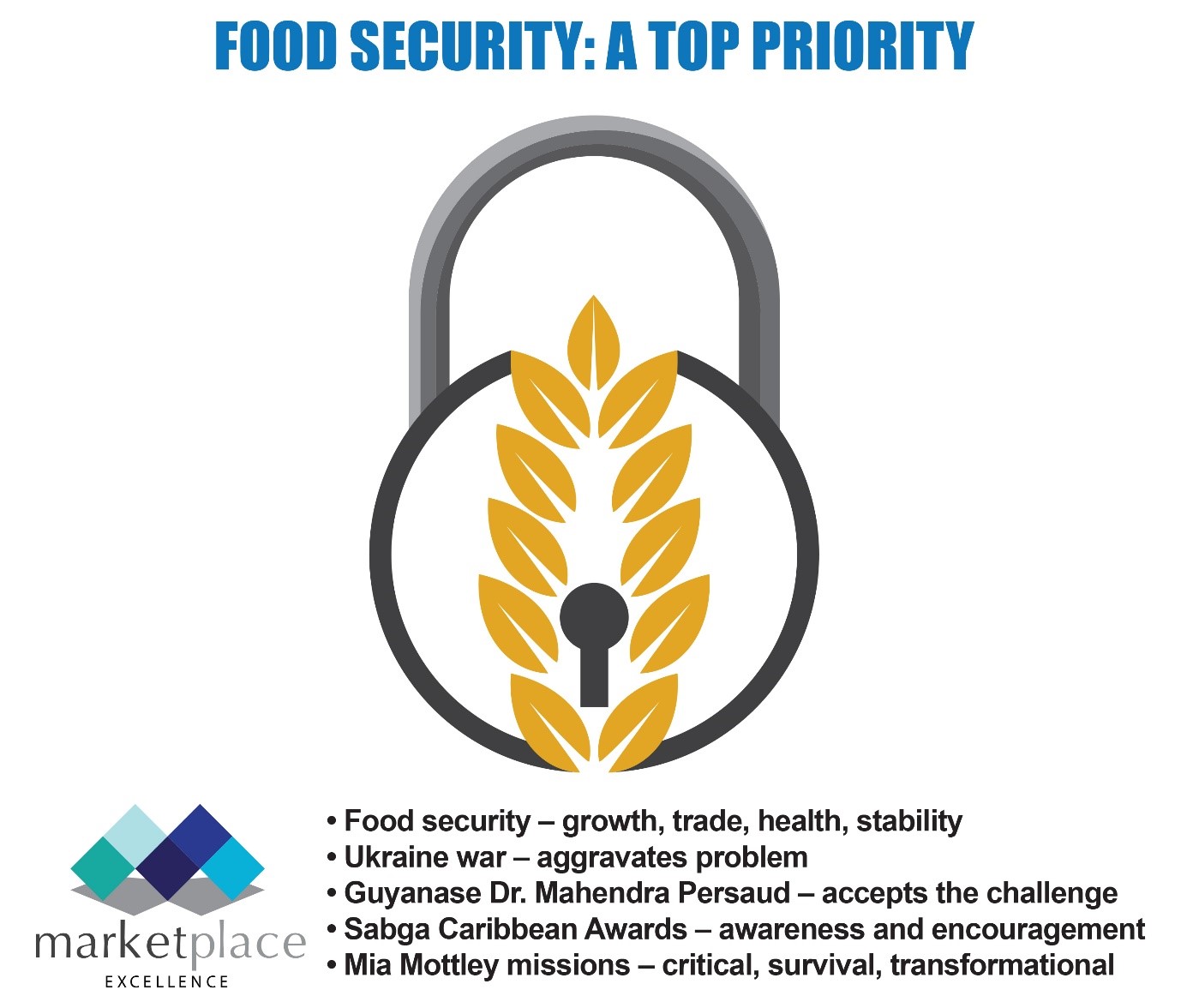 (Dr. Basil Springer GCM is a Change-Engine Consultant. His email address is basilgf@marketplaceexcellence.com. His columns may be found at www.nothingbeatsbusiness.com)