"I remember the days of old; I meditate on all that you have done; I ponder the work of your hands."- Psalm 143:5
I am linked to the influence of Errol Barrow from my father's and mother's side of the family.
My father was Charles Reginald Courtenay Springer (1914-1995). My father's second brother, The Right Honourable Sir Hugh Worrell Springer (1913-1994), and The Right Honourable Errol Walton Barrow (1920-1987) were both National Heroes, politicians and first cousins. Dame Nita Barrow, who was internationally and nationally eminent in her own right, was Errol Barrow's sister (1916-1995).
Dame Nita was my mother Rita Cozier's (1914-2013) best friend and introduced her to my father, whom she married in 1940. Nita was a midwife at my birth and also my godmother. My other godmother was Clyne Barrow (née Hope), Errol Barrow's aunt-in-law. Her eldest daughter Griselda Barrow (née 1930) is alive today. One of my godfathers was Graham Barrow (1915-1994), Errol's and Nita's older brother.
Errol Barrow's other two sisters were Ena Comma (1918-2002) – mother of Joan Doyle, Dr. Jeannine Comma and David – and Sybil (1921-2019).
My mother Rita's father was Archibald Cozier (1885-1994). Her brother Fred Cozier (1920-2014) and Errol Barrow were born two months apart and according to Rita's memoirs Errol and Fred became inseparable friends. As it happened, Fred was Prime Minister Errol Barrow's permanent secretary when Barbados became independent on November 30, 1966.
My mother and Errol had a common interest in cooking; they both were authors of Caribbean cookbooks.
All of these persons and my paternal grandmother Florence Nightingale Springer (née Barrow) (1887-1977), who spent much of her life in the United States, and Florence Estina Springer (1885-1961), my father's aunt of Springer Memorial school fame, were my role models.
My earliest memories of Uncle Errol and his American wife Aunt Carolyn (née Plaskett) were in 1950 when they returned to Barbados from the United Kingdom, with daughter Leslie (1949-2008). They stayed with us, including my sister Helen, for two weeks until they found a place of their own. Their son David was born in 1953 and now lives in the U.S.
I recall (1) Uncle Errol asking me as a teenager in the 1950s to stay with Aunt Caroline and the kids when he was in the hustings establishing his political career; (2) Uncle Errol and Aunt Carolyn coming down from Scotland to attend my wedding in London in 1964; (3) Uncle Errol, as Prime Minister, personally dropping off vegetables for my family in Gibbons, Christ Church, from his family's plantation in St. Lucy; (4) Uncle Errol, as Prime Minister, pumping his own petrol at the gas station; (5) his wife Caroline's creative talent branding my company "Systems" in 1977; (6) Jeannine reminding me recently that her first job was at her "senior cousin's" company; (7) Jeannine extending a Christmas dinner invitation to my family every year; (8) Uncle Errol's son David and Jeannine being an integral part of the family safety net by quickly responding to family emergencies at my beck and call; (9) Jeannine sending me, two weeks ago, Top 10 Errol Barrow quotes; and (10) Graham's son Tony Barrow and his wife Marilyn entertaining us on our recent visit to Barbados with the blessing that "You are the senior active member of this family, it's always good to see you. Our family is getting small, remember I am here whenever you need me. God bless you and Judy."
As Barbadians reflected on the life and legacy of Errol Barrow Day during the national holiday this month, may his contributions to an independent and progressive Barbados nation long continue to influence posterity.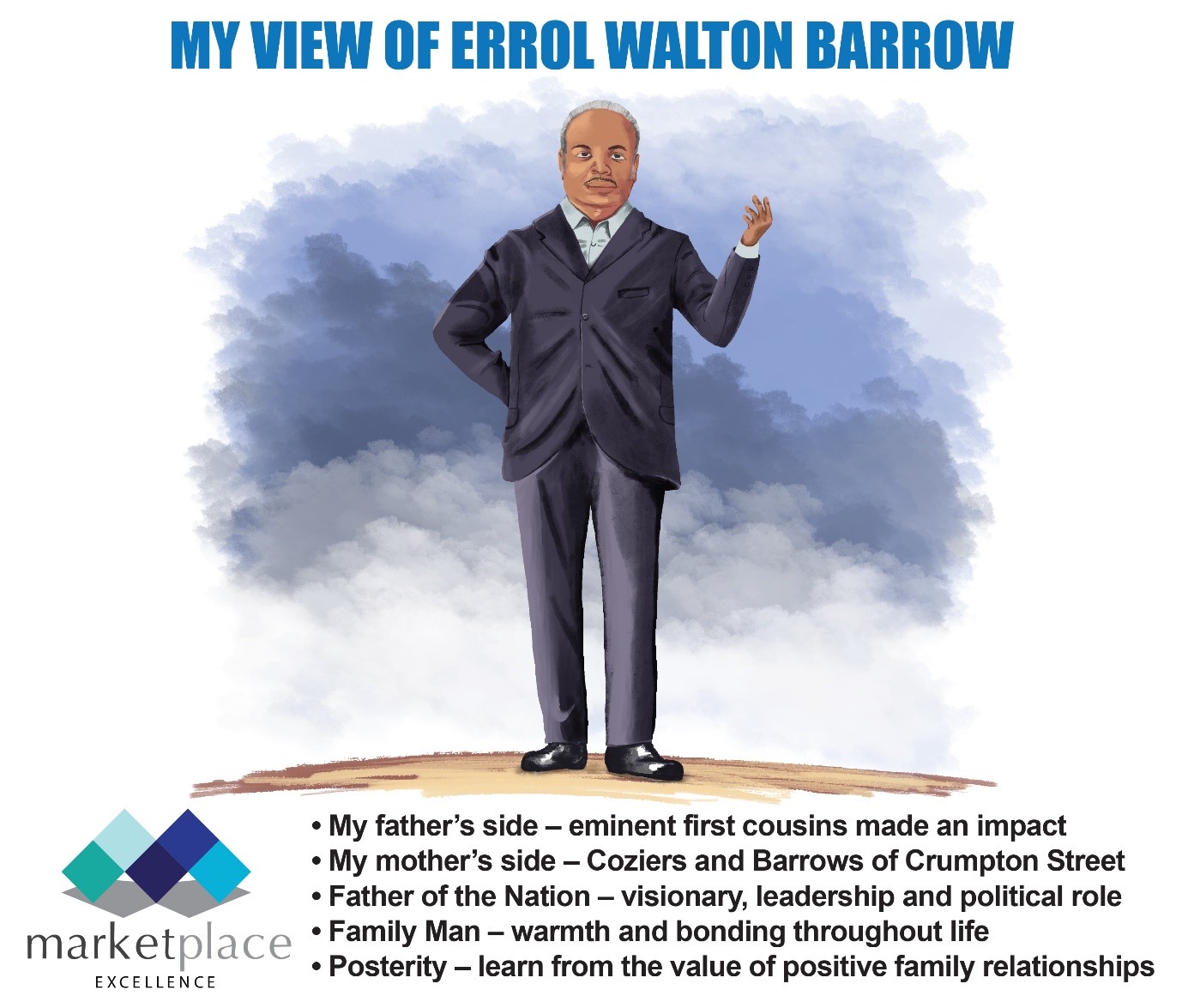 (Dr. Basil Springer GCM is a Change-Engine Consultant. His email address is basilgf@marketplaceexcellence.com. His columns may be found at www.nothingbeatsbusiness.com).