"Lazy hands make for poverty, but diligent hands bring wealth." – Proverbs 10:4
Somehow or another my previous attempts to share my travelling experiences in this column have tickled the fancy of and resulted in positive feedback from many readers.
Two other experiences with strong messages of business success have recently come to mind.
It must have been around the early '80s when we were visiting relatives in New York as was our annual practice. Friends of Caribbean origin resident in St. Louis, Missouri invited us over for the weekend. They showed us around St. Louis, and we joined them for dinner on an old river boat which was no longer in service and had been converted into a restaurant.
There were four of us dining and we were attracted to the menu item dubbed "side of beef". We started sipping an appropriate wine selection and when the food order arrived it was presented in fine dining style on a trolley with a polished stainless steel cloche dome plate and food serving cover.
Then the dome was removed revealing a contiguous side of beef with the full spectrum of finishes: from rare to well done. What a spectacle!
We all chose the same finish and the server started carving away at the selected section of the side. When he stopped carving, I thought it was enough for all four of us, but he slid the serving down the table and it ended in front of me. That was for me? Then he continued to carve similar amounts for each person of the dining party.
It was very delicious but much too much for the average Caribbean appetite, so doggie bags were the order of the day. We had beef sandwiches to accompany us on our train ride back to New York the next day.
In 1999, we were in Singapore for the annual Rotary International convention and met a former University of the West Indies, St. Augustine faculty colleague who hailed from Malaysia but was residing in Singapore.
He invited us to lunch at a Chinese restaurant. The dining experience on this occasion was not so much about food, but rather about recalling the operational efficiency of how to manage a popular lunchtime restaurant, Singapore style.
The objectives of the restaurant were to (1) offer a diversified selection of excellent dishes to a busy lunchtime clientele who had a limited time to satisfy their inner man; (2) ensure that customers left with a smile of consummate satisfaction on their faces; (3) have a happy staff smiling all the way to the bank with an enhanced rate of tips per hour; and (4) run a profitable business.
We went into the restaurant. It was busy, busy. There were no tables available. Our friend said let us go and be seated in the waiting room where there was a buzz of activity. There was a separate waitress attending each of us, guiding us through the menu and placing our drinks and food order.
The drinks were delivered to the waiting room. Then we saw a team of helpers clear a table by holding the four ends of the tablecloth and carefully emptying the table of all the dirty dishes. If they removed glasses with water first, it happened in a flash.
We were then summoned to the table and before we could say "Jack Robinson" we were chomping away at our hot delicious meal. The objectives were all achieved. Very impressive!
Travel teaches you without a formal curriculum. It enriches and molds you gently, and you learn a lot.
Always take advantage of the opportunity to simply breathe in new cultures of an unfamiliar city and in the process, gain an informal diploma!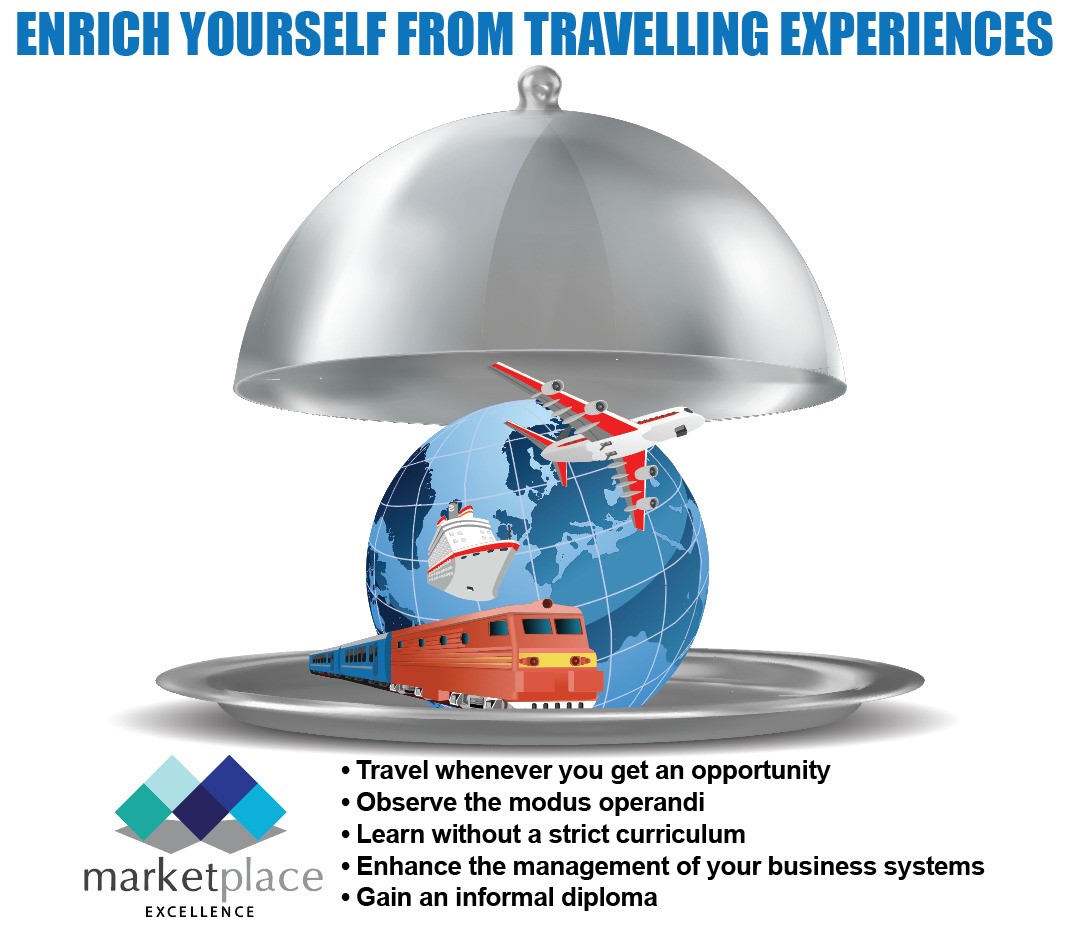 (Dr. Basil Springer GCM is a Change-Engine Consultant. His email address is basilgf@marketplaceexcellence.com. His columns may be found at www.nothingbeatsbusiness.com).