"Start children off on the way they should go, and even when they are old, they will not turn from it." – Proverbs 22:6
My son Bevan recently wrote a piece in his new series "FROM THE HEART", where he reflected: "Despite my daily telephonic communication with my father, Basil, on every manner of topic, it is always inspiring to hang with Dad in-person, especially after a couple years of lockdowns."
This is very gratifying as a parent. I have been fortunate to have had the opportunity to hang with Bevan and his family in person three times in the last six months. May I reciprocate by observing that even though the frequent virtual communication with him and his talented Marketplace Excellence team contributes to stimulating my mental alertness and presents the opportunity to manage the technology gap, there is no substitute for in-person dialogue.
My three children left home immediately after secondary school in search of higher education in their chosen field. Bevan, the youngest and the one with entrepreneurial flair, went to North America at 16, returned to Barbados for a brief stint after graduating, and now more than three decades later he is irreversibly and successfully entrenched in a global cross-cultural environment.
Bevan was awarded a two-year scholarship to pursue the International Baccalaureate at the prestigious Lester B. Pearson College of the Pacific on Vancouver Island in Canada, a part of the United World Colleges network.
He immediately reveled in the diverse international student cultural environment and remains active with the college as a member of its engagement and diversity committees.
Guided by a passion for communications, he made it clear that with the grace of God, he would attempt to chart his own destiny, and shortly after receiving a diploma in public relations from the University of the West Indies, he ventured to the United States to pursue his communications passion, where he was groomed by the likes of sustainable development expert Lelei LeLaulu at the United Nations, with whom he traveled the world over – from Copenhagen to Fiji.
He gives credit to the guidance from his mentors, which include his parents and his great-aunt Iris with whom he lived in New Jersey for many years, and who was herself a United Nations veteran.
His business experience spans his nonprofit organization, Caribbean Media Exchange (CMEx), which started some 21 years ago under the Counterpart International banner, where he served as Director of Communications for many years. I have been blessed to witness CMEx contribute to the exposure and benefit of scores of young Caribbean journalists as they mingled with more experienced journalists and tourism officials.
This was coupled by hosting many a radio show on 1190 AM WLIB New York, where he first became acquainted with global public and private sector leaders and influencers.
In 2008, Bevan launched MPE, a public relations, marketing and media firm, which has benefitted from the sound foundation based on his vision, confidence, leadership style, good relationships, contacts, reputation, "content" sharing approach, core team and family support.
After more than a decade of stellar service to the U.S. Virgin Islands Department of Tourism, MPE is now being reimagined to become a greater leadership force in the Caribbean tourism space.
Bevan's entrepreneurial flair has been manifested in terms of a comprehensive mix of communications services offered by MPE, his policy to invest company dividends into his team, to use his communications knowledge and skills to give ongoing life to his businesses, to insist on expansion of service delivery opportunities, while containing costs and increasing productivity.
In particular, he has garnered, nurtured and motivated a global team of committed resource persons.
His recent focus on regularly sharing original, thought-provoking "content" is already attracting global interest. The content is shared through The MPE Caribbean Report; Caribbean Report Media Monitoring, MPE Caribbean Tourism Authority; "FROM THE HEART" and "Noted" columns; Quotable Caribbean; and my own column, which recently became an MPE product.
My son's vision is one of committing to that which we confess and embracing life one day at a time. A decision made today becomes our destiny tomorrow. Focus on today first; when tomorrow becomes today, repeat.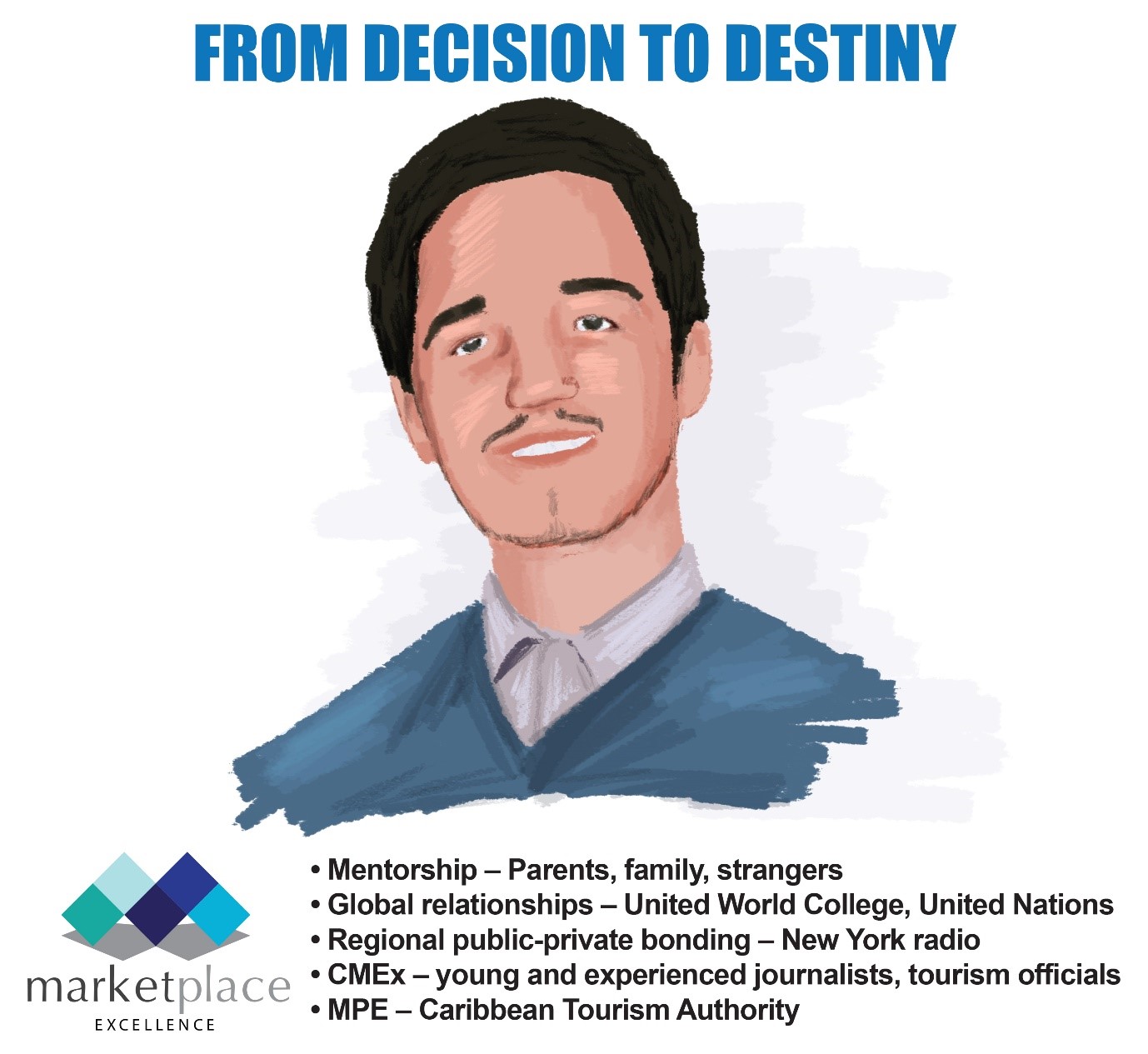 (Dr. Basil Springer GCM is a Change-Engine Consultant. His email address is basilgf@marketplaceexcellence.com. His columns may be found at www.nothingbeatsbusiness.com).