"Who hopes for what is seen? But if we hope for what we do not see, we wait for it with patience." – Romans 8:24-25
Last week, in her first major address in the New Year, Barbados' Prime Minister Mia Mottley painted a clear picture of her mission to restore Brand Barbados, determining that over the next seven years Barbados must be transformed into a world-class society and must be an exemplar for others. This filled my heart with joy.
Such a feat requires government, business and individuals to be the best they can be. This means that each of us would have to pursue positive affirmations of passion, persistence and patience to attract abundance in our physical, mental and emotional endeavors as well as our spiritual, financial and business realms.
Interestingly, this positive wave of energy brought to memory some thoughts I shared in my March 2015 column as I reflected upon the news of the day: the passing away of then-Prime Minister of Singapore Lee Kwan Yew.
I penned earlier: "Let us recognize that awareness is the key to transformation which opens the door to abundance. When we become aware of self-limiting thoughts, feelings, beliefs, or habits, which inhibit our progress, we can then focus on the positive affirmations of abundance to counteract these forces and patiently stimulate sustainable growth."
After hearing of the news of his passing, I offered the following on Facebook: "Former Prime Minister of Singapore Lee Kwan Yew laid a solid foundation 56 years ago and created a great small island nation as an example to the world. His son, Prime Minister Lee Hsien Loong, now has the responsibility to build on this legacy and take Singapore to even further heights of grandeur. May he rest in peace."
My son Kevin, who lives in the Middle East, recalls that the Singapore leader studied at the London School of Economics with the late Errol Barrow, who became the first Prime Minister of Barbados and a national hero. The two gentlemen also studied with Pierre Trudeau (Canada), Michael Manley (Jamaica) and Forbes Burnham (Guyana) – all destined to become prime ministers of their respective countries.
On my return to Barbados after a visit to Singapore in June 1993, I wrote a Letter to the Editor which was published in the Barbados Advocate entitled: "Barbados, the Singapore of the Caribbean". That letter was the genesis of this weekly column.
Many readers of this column are aware of my fondness of the Singapore model, but I have learnt that Lee Kwan Yew's vision could not be transposed to the Caribbean in its entirety due to political and cultural differences as well as resistance to change.
On my last visit to Singapore in March 2007, accompanied by my younger son Bevan, the Economic Development Board treated us and Barbadian Dr. Carlisle Boyce, who was resident there working with 3M at the time, to an excellent presentation on the Singapore (C.O.R.E.) Advantage – Connectivity, Openness, Reliability and Enterprise. This presentation traced the history from 1959, when Lee Kwan Yew took over, to the current millennium where Singapore was transformed from "a sleepy fishing village with a threat of communism" to the world leadership position, as a small island state, where it is today.
After more than 21 years of writing and very modest, if any, Caribbean economic growth, I still believe that that we could learn much from the success of Singapore in terms of transforming the Caribbean region. Alas, the political mindsets must be receptive.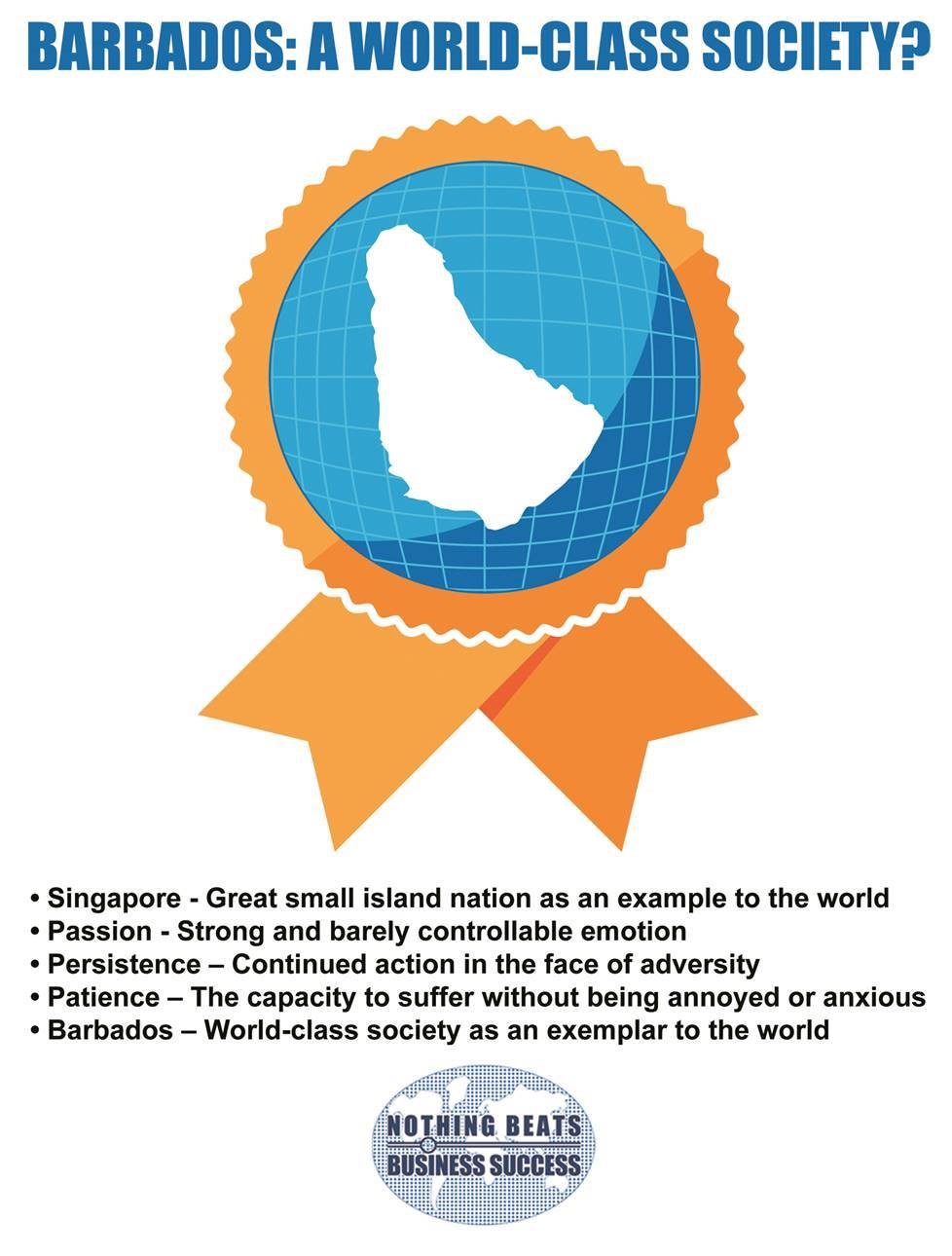 Prime Minister, with the support of Barbadians everywhere, we can do it. Count me in!