"Neither do men light a candle, and put it under a bushel, but on a candlestick; and it giveth light unto all that are in the house." – Matthew 5:15
In the last column, the mood was that the existing LIAT operation be closed down and that the best price be sought for any valuable assets, the best deal be struck with staff and creditors and that an interim management enter into an arrangement with Caribbean Airlines to provide essential services until a new airline, say LIAT (2019) Limited, was established and operational.
Four responses to the column were received, from respected pan Caribbean readers, including: (1) "I concur 100 percent"; (2) "a simpler solution would be to privatize the airline"; (3) "Your suggestion for an innovative solution to its challenges based on lessons learned from other ventures is a requirement for a sustainable future for LIAT";  and (4) "To my 'untrained' eye Virgin and British Airways may make for ideal partners/owners of LIAT (2019) given the 'British interests' in the Caribbean."
We shall explore this visionary space in greater detail, and share potential solutions based on five pillars: (1) no-nonsense governance policies to establish a sound foundation from which to monitor success; (2) innovative investment finance to provide financial security; (3) global marketing to bring new revenue life to the entity; (4) disciplined operations to engender profitability and growth; and (5) an "affirmation of abundance" staff culture to stimulate sustainability.
In this column, we begin with no-nonsense governance policies which relate to the role of the board of directors, headquarters agreement, expanded routes, government policies and economic benefits.
Role of the board: All primary public-private sector stakeholders would be assembled for a visioning retreat to conceptualize the new entity. The shareholding would be ascertained and would select a board of directors to govern the company. The board would agree on a combination of key monthly performance targets and would not only shout from the rooftops when these objectives are met, but would also take corrective action when management is found wanting.
Headquarters agreement: Antigua is the current headquarters of the airline. The stationing of most of the fleet and the 700 staff employed by the airline are significant benefits to the economy of Antigua and Barbuda. A well-thought-out headquarters agreement must be settled which recognizes this benefit to Antigua, for which Antigua must pay, within the spirit of the ideals of the regional integration Treaty of Chaguaramas (1973).
Expanded routes: In any national or regional transportation service not all routes will be profitable. One way of paying for unprofitable routes is to increase the number of profitable routes even if it means going outside the primary region in which the airline is designed to serve. It has been reported that Virgin Atlantic may have already proposed this option.
Government policies: Caribbean governments should rethink their airline policies if they indeed want a sustainable airline to serve the region. Taxation is sometimes 50 percent of the passenger fare, which is a disincentive to travel. The fare from POS to BGI can be greater than a similar fare from POS to MIA. A visionary approach must be pursued based on the principle: tax the outputs not the inputs. Also, the airline must be free from political interference.
Economic benefits: If LIAT were to be discontinued, many economies within the Caribbean would suffer disastrously. A detailed analysis must be carried out to verify which countries can pull their own weight. If they cannot then they must negotiate sponsorship possibly from external partnerships. There can be no free lunch within this small region of ours, we must be innovative and creative to survive.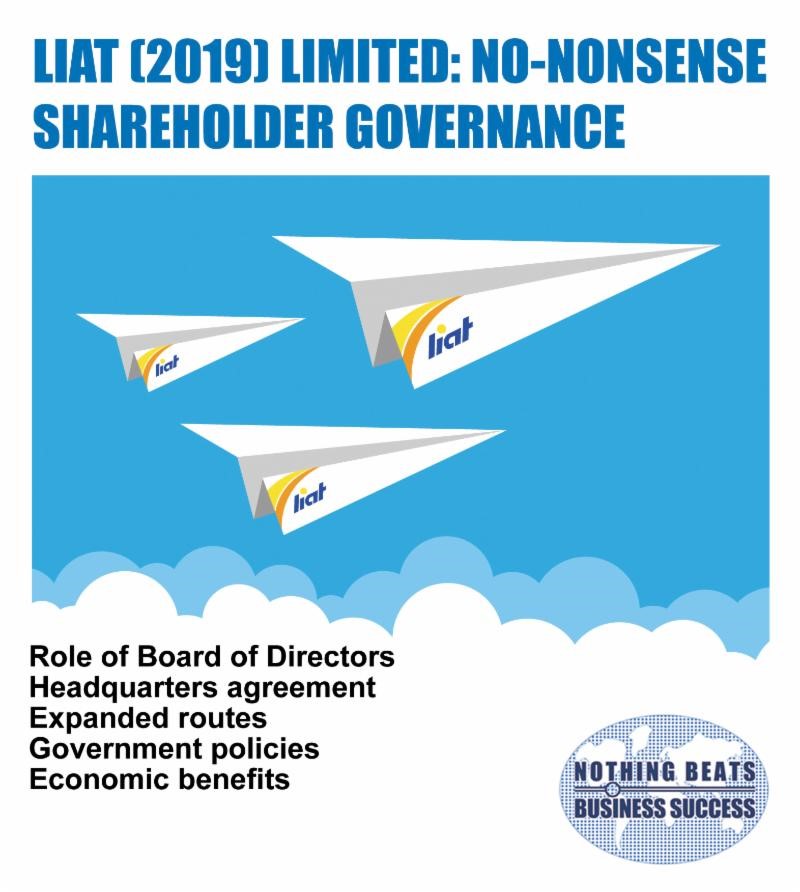 Today's column attempts to give some guidance for a sound foundation for the new airline. If this is not heeded and achieved woe betide the Caribbean!
Let us garner as many candlesticks as we can and increase the light available in the house.
Next column – LIAT (2019) LIMITED: innovative investment finance to provide financial security.