"For you can all prophesy one by one, so that all may learn and all be encouraged." – 1 Corinthians 14:31
Last week, a reader of this column commented as follows: "I am not sure that all stakeholders of CWI (Cricket West Indies) share the same vision and mission … there ARE MANY with their own PERSONAL agendas". If this situation continues it will inhibit the growth and sustainability of CWI.
The new 2019 board of Cricket West Indies will undoubtedly attempt to put its own stamp on the strategic leadership of the business of West Indies cricket, hopefully to satisfy all stakeholders.
These stakeholders include the president and board members; governments and sponsors; public relations and media relations specialists; players, coaches, umpires, curators, mind-set trainers and motivators; and high performance centre specialists; WINDIES cricket legends; and the University of the West Indies.
Dr. Keith Rowley, Prime Minister of Trinidad and Tobago, among others, has recommended that the new CWI administration begin its stewardship by mounting a strategic visioning retreat –  facilitated by an independent shepherd – to listen to the voices of the stakeholders so that their issues may be included in the planning process and the vision and mission revisited and harmonized.
When the information from the retreat is available, the next step would be for the board to use this information to prepare a three-year rolling strategic plan and an annual action plan. The action plan would have monthly targets broken down by each business system e.g. the number of weekly, monthly and annual meetings to effect the optimal governance of the CWI; the amount of investment funding required from governments and sponsors to build an enabling environment based on sound financial projections; the social media reach and revenue targets from gate receipts, TV rights etc.; the performance targets in terms of improvement in ratings for the men's and women's teams in all forms of the game; and a high happiness index for all stakeholders.
These targets would be monitored formally on a monthly basis and corrective action taken where necessary if there were discrepancies between the actual performance and the budget.
Ideally, performance monitoring dashboards would be established digitally, using modern technology, so that the reading on a dashboard would be up-to-date rather than restricting the access to an arbitrarily chosen monthly target date.
Let's hope that the new leadership seeks to embrace the TRUE supporters in order to restore the fortunes of WEST INDIES cricket!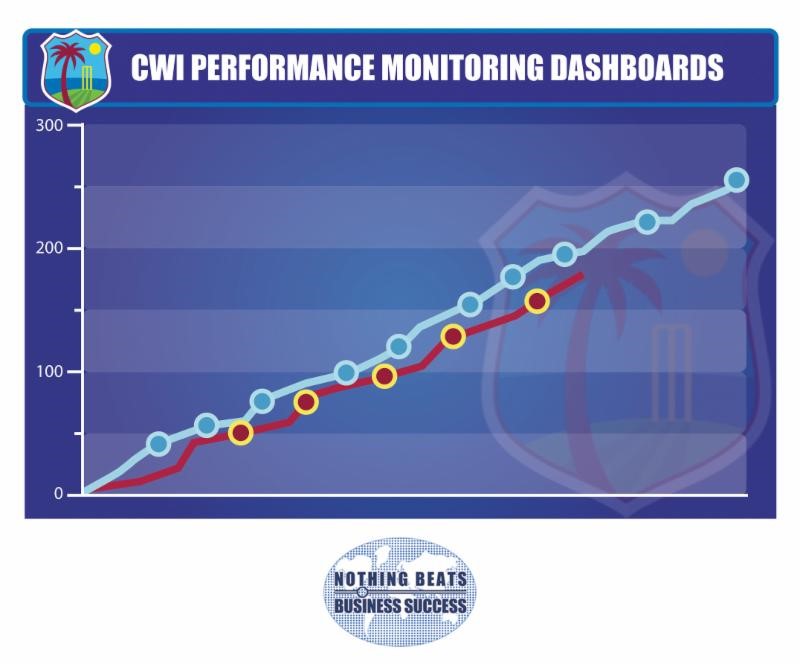 Let us put first things first and seek Divine guidance and let us continually monitor our performance across all the business systems of the organization by engaging early detection practices facilitated by the business intelligence dashboards.
In doing so, we should reward excellence when it is deserved and take corrective action to bring us back on track when there is a departure from the targets which are set. In this way, the Shepherding process will enhance the opportunity for business success.