"Train up a child in the way he should go; even when he is old he will not depart from it. "
 In the quest towards national economic recovery and sustainable economic growth we have so far discussed smart solutions for (1) constitutional reform, (2) public-private partnerships, (3) the political process, (4) decentralized government, (5) innovative taxation, (6) debt restructuring and (7) innovative economic growth.
In today's column, we address sensible smart solutions for (8) people development. A principal of a Singapore community college selected "People are our greatest asset, we must develop them to the fullest" as his theme for an address given in Barbados over 25 years ago. This theme has resonated with me ever since.
In a business environment, the purpose of which is to stimulate economic growth, goods and services are traded and people are involved in every step of the way: (1) contributing value propositions around ideas which pique the interest of consumers; (2) presenting investment options and financial instruments which are in harmony with the needs of stakeholders; (3)  developing a marketing communications strategy for stimulating revenue growth; (4) striving for high levels of productivity to enhance profitability; and (5) personal enhancement through positive thinking and personal development to be the best that you can be.
The entrepreneur presents a value proposition which defines the benefits of the products and services offered to the customer in a way that coerces the customer to buy.  My experience throughout the Caribbean has been that ideas with the "DNA of an Elephant" (with potential for export) abound but there is a lack of an enabling environment, a shepherding thrust, to guide the entrepreneur around the obstacles on the journey to business success. This scarcity inhibits the involvement of the entrepreneur in the recovery and growth process.
There is much talk about reducing the size of the civil service in an attempt to get national deficits within acceptable levels. What if the candidates for these layoffs were exposed to a shepherding programme and were to get involved in the enterprise development space? Would there not be much less resistance to this public service staff reduction strategy?
We have grown dependent on governments to do everything. We now face the reality that Caribbean governments have no money. However, there is no shortage of money in the private sector. Why can this money not be mobilized to help develop the country? The private sector would be one of the first to benefit if we stimulated the circular flow of money. The government needs to incentivize the private sector to appropriately release these funds to grow the economy with an appropriate return when the economy grows. Get the private sector more involved in investment in start-up businesses with "shepherding as collateral".
Classically, marketing systems generate revenue and give life to a business. Without revenue, profits are not defined; and without profits, there is no business. Marketing is essential. However, with the advent of the information age, the internet and social media marketing constitute a new way of doing business which is driven by marketing communications. Public relations, in particular, has emerged as a leading thrust to professionally maintain a favorable public image of a business to its stakeholders.
The management of the operations of a business, which consists of technical, support and information technology services, requires high levels of productivity (training, process control and IT enhancement) involvement to enhance competitiveness, growth and sustainability.
Finally, people need to get involved in mind-set, skill set and cross-cultural communication change in the quest to unlock human potential and reach the pinnacle of happiness.
The Law of Attraction simply states that you attract what you think about so why think about negative things. Let positive thoughts drive your life focus on positive affirmations of abundance in your spiritual, physical, mental, emotional, financial and business lives.
Embrace continued professional development to refresh your skill set.
The opportunities for growth are in the global market so engage in cross-cultural communication change.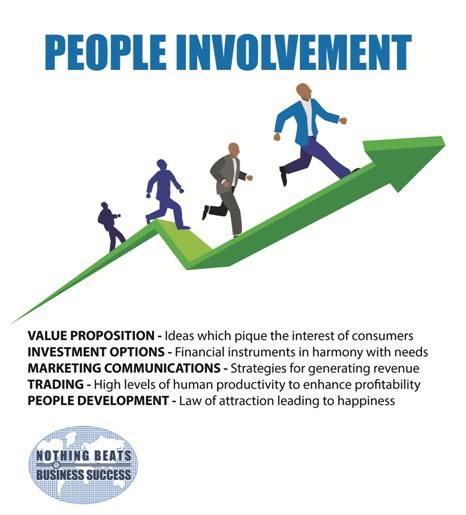 Let us always remember that people are our greatest asset and are involved at every step in a successful business process. Let us develop our people to the fullest so that they create and deliver goods and services efficiently and effectively, engender customer satisfaction and achieve fulfillment and happiness.