"The one who blesses others is abundantly blessed; those who help others are helped." –  Proverbs 11:25 
Last week's column fleshed out " The Work Your 'Land' " solution to Challenge # 4 – Earning Money,  the fourth of eight challenges, as we commit to working smarter towards the benefits of holistic prosperity and happiness in 2018.
This week we propose "The Power of Sharing" solution to Challenge # 5 – Financial Comfort.
In order to achieve financial comfort in that phase of our career when we are not able to earn as before, we should, from the start, embark on a savings and investment  strategy which parallels our strategy to earn money. Also, if we accept the teaching that it is more blessed to give than to receive, then when we share the savings and investment proceeds with others we in turn will be blessed in abundance. What more can we ask?
There are many ways in which we may selflessly share our disposable income. These include tithing in support of the work of the church, giving gifts to the poor and needy, cooperating with others to benefit from the synergies of partnership, joining a credit union and helping startup businesses develop their innovative ideas. Cast your bread on the water and it shall be returned to you.
(1) Honour God by giving generously to the work of our church where we seek spiritual nourishment. The church provides spiritual upliftment and hope as well as pays special attention to the needs of the poor. Like any other service organization it has to make ends meet and we must play our part.
(2) Make small individual gifts to the poor and needy whenever solid opportunities present themselves. The aggregate of all these individual small sums that are often solicited can make a major difference to those at the lower rounds of the economic ladder.
(3) Partner with others in your family and in service organizations to help others less fortunate than yourselves. Not only will the combined effort of our partnership permit us to manage bigger service projects than we could handle individually but what is more, we will also produce a combined effect greater than the sum of the separate effects, through the synergy of partnerships.
(4) Become members of a cooperative and a credit union and pool your money with that of others, in a safe place, and ultimately borrow from that pool at reasonable rates. This as an alternative to traditional banking organizations which, first of all, must have the interest of their shareholders at heart.
(5) Help startup businesses, individually or in collaboration with other investors, to get these businesses off the ground. We keep talking about the need to grow the economies of small countries but we often only pay lip service to addressing the needs of these innovative entrepreneurs. I feel strongly that enterprise development is a major opportunity waiting to happen, if our leaders get national priorities and policies right.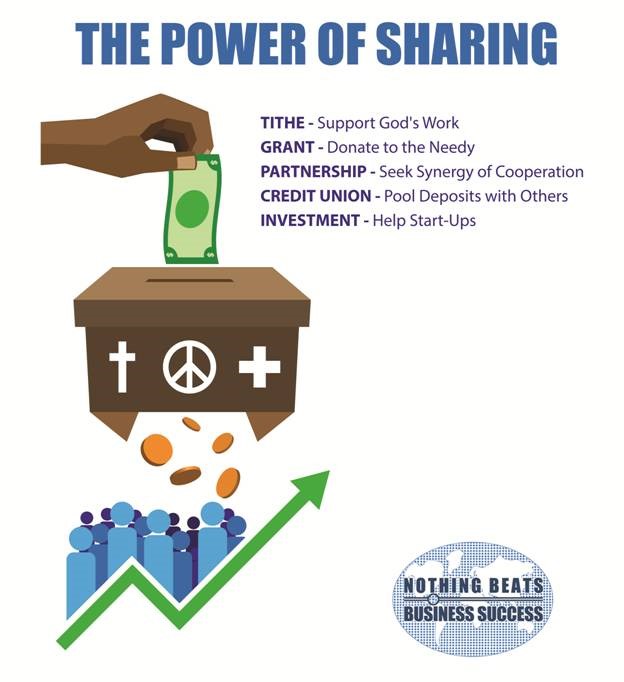 Once we have successfully learned how to earn money on a sustainable basis, let us engage in sharing these earnings with others and in turn be abundantly blessed.