"I the Lord test the mind and search the heart, to give to all according to their ways, according to the fruit of their doings." – Jeremiah 17:10
We concluded in last week's column that optimal thinking expedites the process of embracing love and eradicating fear as we traverse the journey to sustainable success.
Sustainable success is inextricably linked to economic growth. If we apply optimal thinking to reverse economic decline then we are ahead of the game.
Noted sports psychologist Dr. Rudi Webster in an article entitled "Webster's Way" in Barbados Today on May 16, 2017, stated that the West Indies cricket team will begin winning again when they start believing they can win. He said the team was currently trapped in a failure spiral.
Dr. Webster, in a more recent article entitled "Time to reverse West Indies decline" in Barbados Today on August 11, 2017, stated that "with a population of just over four million people, New Zealand has achieved the incredible feat of dominating world rugby for more than a hundred years…West Indies dominated world cricket between the 60s and early 90s, but unlike New Zealand, its team went into a steady decline and became trapped in an ever increasing failure spiral."
Rudi, who was my contemporary at Harrison College in Barbados in the 50s, went on to say that "while New Zealand Rubgy Union (NZRU) went through continual self-renewal to stay at the pinnacle of world rugby, West Indies Cricket Board, now Cricket West Indies (CWI), defiantly stuck to the status quo and allowed its cricket to sink to the bottom of the ICC's Test and ODI rankings."
His solution? "Every great team goes through a cycle of growth, optimal performance stagnation and eventual decline. But decline can be prevented or reversed if a second growth curve or psychological rebirth is created when the team is still playing well. This usually requires (1) self-examination, (2) a new vision for the future, (3) reorganization of priorities, and (4) an infusion of new leaders and players with fresh ideas, attitudes and agendas for change."
In the context of CWI, I would preface Rudi's formula by stating that CWI should first begin by confessing to failure, then ask for forgiveness and finally open their hearts to God's love. In other words CWI needs a strong dose of optimal thinking.
Cricket is dear to many of our hearts but all of us should be concerned with our economic plight which also includes the reversal of the performance of other sectors such as education and agriculture, as well as the growth of the tourism and the cultural industry sectors and the relatively new Caribbean Premium League (the domestic Twenty20 cricket league in the West Indies), which positively brands the Caribbean.
We must remember that the essential elements of sustainable change in the global space in which we interact are mind set change, skill set change and cross cultural communication change.  More anon.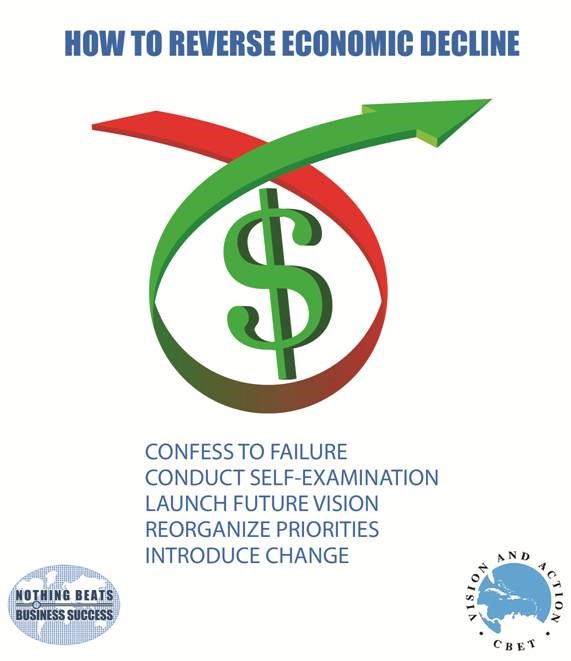 August 26, 2017 was a snippet of what is required to effect the reversal process. An ESPNcricinfo extract explains: "Test cricket still provides aspiration for the young and both satisfaction and glory for those involved. The faces of Kraigg Brathwaite and Shai Hope told one enough about the realization of an ambition to pursue it further. Any West Indian crowd on any of the Caribbean islands would have wildly celebrated their partnership and crowed about the fight back from Edgbaston. Such things are an inspiration and provide both relief and hope."
Let us hope that our public and private sector leaders open their minds to divine ideas and will provide that enabling environment which fosters the initiatives of those who are willing to try to reverse the trends of our socio-economic decline and pursue the path to prosperity for all.