"I create new heavens and a new earth; and the former things shall not be remembered or come into mind." – Isaiah 65:17. 
I came across a beautiful piece while searching the Daily Word.
"I am an innovative, creative spiritual being. I am not bound to outdated, outmoded ideas or procedures. If there is a better way of doing something, of handling some situation, I am willing to consider it, to try it. I welcome new ideas, new trends of thought, new ways of looking at things. I become involved in new projects. I pursue new avenues for growth and expansion in my thinking and in my life. I give of myself in new ways.
"Through the power of Christ within me, I dedicate my thoughts, words, and actions to creating happiness and fulfillment for myself and others. I give my attention to opportunities for upgrading every situation and relationship. I become a positive force for good changes in my world."
My world revolves around young innovative minds in search of support systems to bring their dreams to reality through enterprise development and to make their contribution to business success and stimulate economic growth.
Many of these entrepreneurs are start-up enterprises with potential for generating profits quickly. They know how to research and develop their idea/innovation and are ready to convert it into a sustainable business but, alas, they stumble and fall.
The four obstacles in their path are access to finance, generation of sales, managing their business systems and building a well motivated and happy business family, as they grow from strength to strength.
Traditionally: (1) if they have no money they explore various options for finance (easier said than done); (2) the propensity to generate sales revenue, the life of the business, gets stuck if they themselves do not happen to possess the habits of a dynamic sales personality (expensive to acquire); (3) sustainable success is dependent on the strategic combination of the functions of management and the systems of a business (usually unaware of the all embracing process of Shepherding as a tool to increase the chances of business success); and (4) the inculcation of positive affirmations of abundance in the psyche of all staff is merely a notion in their plans (staff are just hired and fired as appropriate).
There are individual investors with modest sums of money for which they would like to get a handsome return without taking much risk and they are looking towards enterprise investment.
There are dynamic sales persons who would like to develop their own sales businesses and be exposed to a variety of products and services rather than to be stuck with one commodity as a sales employee for a given firm.
There are business consultants who would like to be trained as Shepherds and choose Shepherding as a career to help not only with managing business systems but also with building a well motivated and happy business family.
If the investors invest their money, if the entrepreneurs, sales persons and shepherds get paid for some of their time and invest the rest, then we have an innovative investment model which can work for high growth start-ups where the net profits of the enterprise are annually distributed to include a handsome return to the investors, entrepreneurs, sales persons and shepherds. More anon!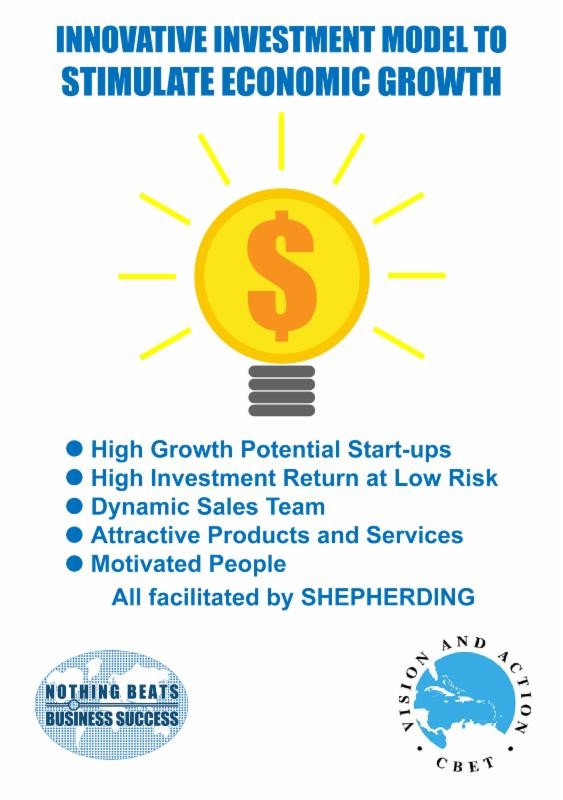 Let us create, by Divine guidance, new innovative investment models and relegate the status of non-performing models to relics of the past in the interest of growing our economies and contributing to happiness for all.
(Dr. Basil Springer GCM is Change-Engine Consultant, Caribbean Business Enterprise Trust Inc. – CBET. His email address is basilgf57@gmail.com and his columns may be found at www.cbetmodel.org and www.nothingbeatsbusiness.com.)