"Let us not become weary in doing good, for at the proper time we will reap a harvest if we do not give up." – Galatians 6:9
Last week I wrote about poor restaurant customer service and received several responses in support of my theme.
(1) Excellent, fully relevant article – The range of service delivery in the sector is too vast.
(2) So very correct on all points, Basil. A long time ago, probably about 10 years, (a conference in Barbados) solely concentrated on restaurants and hospitality establishments. It was an amazing experience and for the most part, everyone was on their toes providing excellent service, unimaginable detail to the cuisine served and lovely accommodations. Hoping Barbados, which I've always considered to be the jewel in the crown, will return to its former excellence.
(3) Basil, you are right that customer service is a critical differentiator between success and failure in business and too few understand that in our region.
4) Hi Basil … interesting … I had two good experiences recently and then an appalling one. A restaurant gave away our table when 15 minutes late – partly due to parking problems … no room! And without giving the warning ahead of a 15-minute maximum delay. There are other restaurants where I have never been disappointed and needless to say they get my repeated (business).
Other experiences recently are in the retail banking sector.
I had been denied access to my online banking system, probably due to a mistake of my own.
I went to the bank in the hope of getting this service restored.
I remained in the queue for approximately an hour, it seemed longer. My impression was that there were bank staff walking all around the bank but only a few teller positions were occupied.
I left in frustration and decided to try another branch. The lines there were even longer.
The next day I went back to the previous branch because it was logistically more convenient for me to do so. I planned to be the first customer on opening but obviously other customers had the same thing in mind.
I was fourth in line when the bank opened and there was quite a performance with the staff lining up to meet its first customers of the day (Japanese style). The only thing missing was accompanying music.
Then the queue began to build up again.
Fortunately this time a customer service representative decided to walk the queue to find out what was the nature of the business of each customer that day. When she got to me and found out I did not require a teller service, she pulled me out of the line and within five minutes I was on my way with the problem solved and with a satisfied customer smile on my face.
It reminded me of an experience I had many years ago at another bank, where a frustrated customer could not stand it any longer and belted out at the top of his voice "Let us get some service in here."
As if from nowhere bodies appeared to man these teller positions and the queue began to move. The management could not get it done but a customer got instant action.
My point today is that if we can reduce the waiting time of customers, by introducing disruptive innovative systems, collectively this may have a major impact on the overall productivity in the nation. Instead of spending one's time in queues, we can get the nation's business done, increase productivity and grow the economy.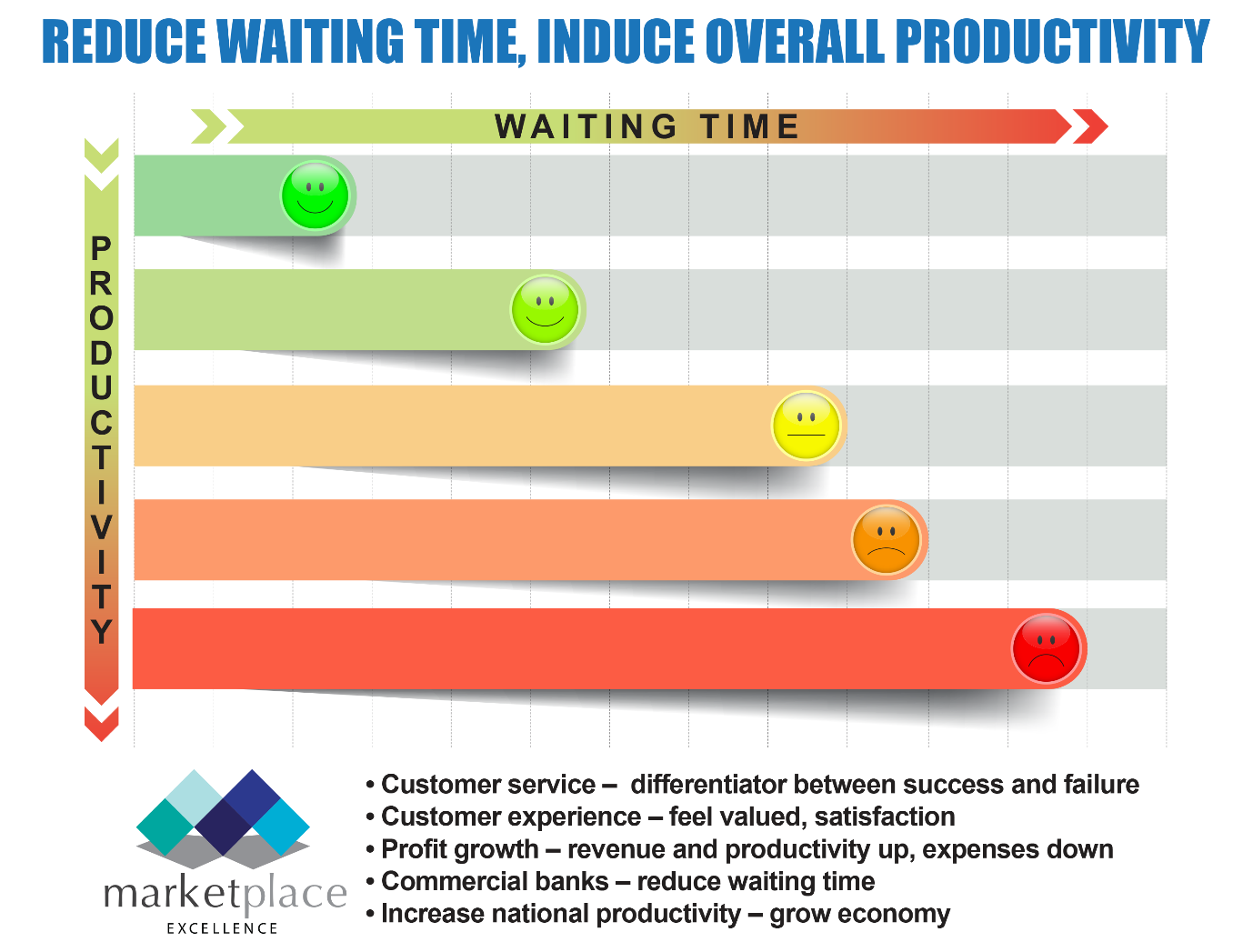 (Dr. Basil Springer GCM is a Change-Engine Consultant. His email address is basilgf@marketplaceexcellence.com. His columns may be found at www.nothingbeatsbusiness.com).