"In all toil there is profit, but mere talk tends only to poverty." – Proverbs 14:23
Former West Indies cricket captain Carl Hooper was known by the sobriquet "Sir Carl" as he elegantly stroked the ball around Kensington Oval in a manner which reminded Barbadian fans of Sir Frank Worrell and later Lawrence Rowe in their heyday.
"Since 1993 we've struggled and certainly judging from the results, there's no policy or system that has been implemented that is changing the downwards course we're on," the Guyanese great recently told ABC Sport.
Carl Hooper is the most recent professional voice to lament the continual decline of the performance of West Indies cricket teams. He has called for changes at the top.
The 2010 documentary "Fire in Babylon" delineated the immediate actions taken to boost the West Indies cricket team's performance, after a humiliating defeat by Australia in 1975/76, to the point where they dominated world cricket for over 15 years with a team largely comprising highly talented, entertaining cricketers. But alas, this has not been sustained.
The governing body of cricket in the West Indies, Cricket West Indies (CWI), has tried many things and yet Windies cricket continues to plummet beyond the depths of despair.
I interpret Carl Hooper's remarks as calling for (1) a total reengineering of the structure of Cricket West Indies; (2) disruptive innovation as we address the many burning issues confronting us; and (3) cricket to be run as a successful business.
There are millions of West Indies cricket supporters within both the West Indies and the diaspora. The majority of these are disenfranchised in the sense that they cannot vote for the leaders of CWI.
This privilege is restricted to the few members of the cricket associations of Barbados, Guyana, Jamaica, Leeward Islands, Trinidad and Tobago and the Windward Islands. It is a closed shop.
If these millions of supporters were mobilized into a well-funded West Indies Cricket Supporters Club, this could be the source of hundreds of millions of dollars per annum, which, through sponsorship and other sources of revenues, would provide continued financial security for the administration of West Indies cricket e.g., the board, management and staff, marketing the brand, building and maintenance of facilities, preparation of high-quality pitches, coaches, selectors, development of youth from under-15, attractive player contracts and balanced playing schedules.
If our cricketers are globally competitive at under-15 and the development support is sustained, then they will continue to be competitive at under-19 and when they are ultimately selected in the West Indies senior teams.
It is the norm rather than the exception that major global sports, including football, athletics, American football, tennis, cycling, rugby, car racing, basketball, field hockey, ice hockey and cricket, are run as successful businesses.
Successful businesses manage their systems well.
The International Cricket Council (ICC) is the world governing body of cricket. Headquartered in Dubai, its members comprise 108 national associations, with 12 Full Members and 96 Associate Members.
Cricket West Indies (CWI) is the governing body of cricket in the West Indies and is a full member of ICC. CWI must manage its business systems well to achieve sustainable success.
We ought to begin with radical change in the structure of West Indies cricket to address the issues outlined above and include cricket as a thriving sustainable business sector in Caribbean economies.
CWI must transform cricket into a major industry where victories are chalked up on and off the field.
But where do we start? Perhaps with less talk and more toil.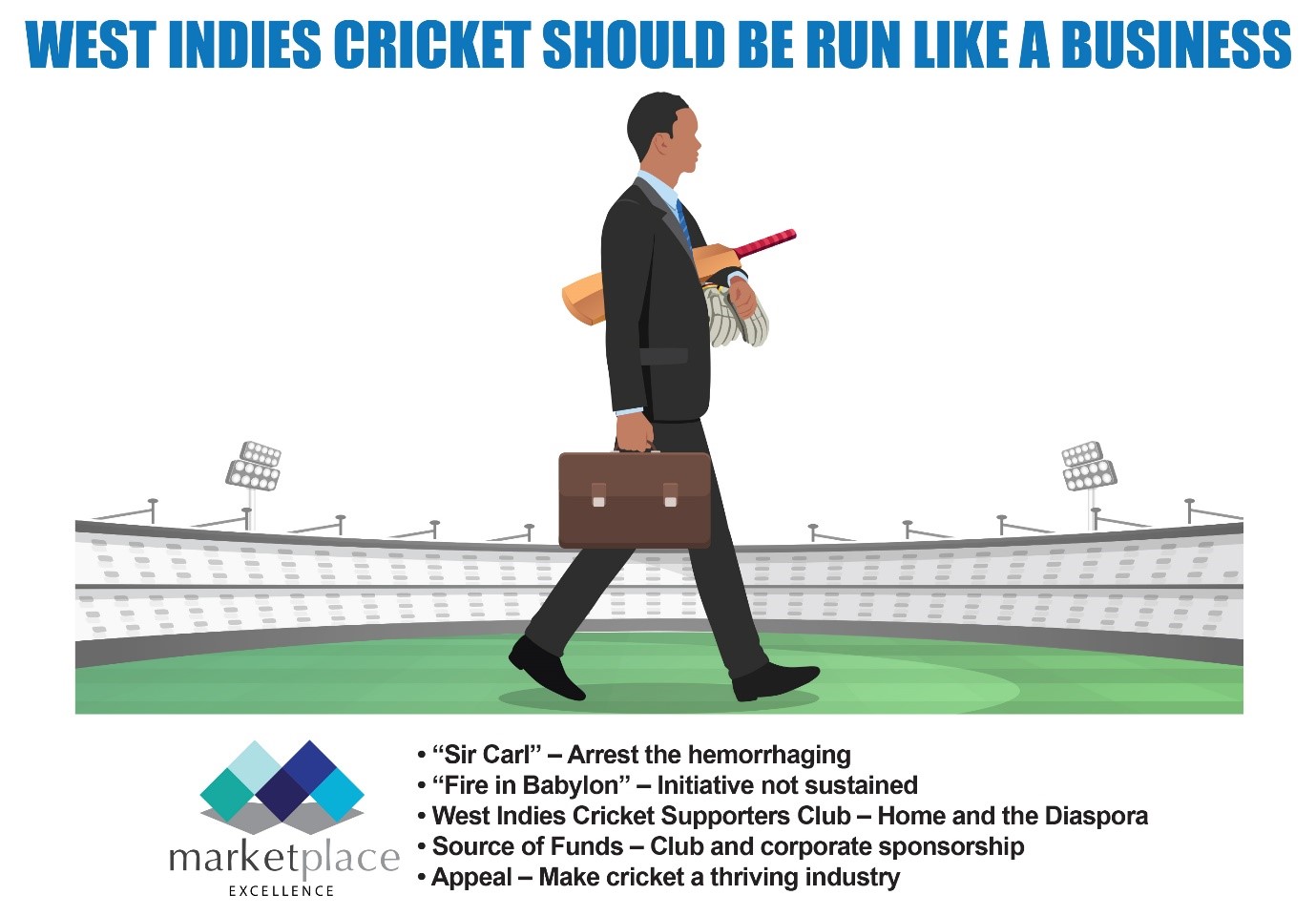 (Dr. Basil Springer GCM is a Change-Engine Consultant. His email address is basilgf@marketplaceexcellence.com. His columns may be found at www.nothingbeatsbusiness.com).