"A new commandment I give to you, that you love one another: just as I have loved you, you also are to love one another." – John 13:34
The current Barbadian population distribution is Caucasian (White) from the United Kingdom and Ireland (2.7 percent); South Asian (1.3 percent); with the majority being mixed and of African descent (Black). This is a relic of our colonial history. The distribution of wealth is inversely proportional to that of the population distribution.
In Barbados in the 1950s when I was at secondary school, racism was not a topic that was openly or frequently discussed. We mixed with our friends in the boy scouts, drilled with the cadets, engaged in sporting activities without overt attention being paid to race.
Then, I went to the University of the West Indies, Jamaica in 1960, the only campus at the time. As early as freshman's week, I was shocked to learn that the image of Barbados in the eyes of some students, especially history students including the late great Dr. Walter Rodney, was that Barbados was a mini-South Africa, apartheid and all.
None of these students had ever been to Barbados, but from an outsider's perspective, perhaps they weren't entirely wrong given some of the experiences the succeeding generation had witnessed in the 1980s.
These discussions, subsequent direct and indirect experiences, as well as parental advice prepared me for what was to follow on the racial card during a five-year stint in the mother country.
I went to the United Kingdom in 1963. My parents and sister, quite independently, went there in 1964. My parents shared with me the benefit of their experiences in England over the years. Their first visit to the U.K. was in 1937. I recall my father saying that I should always present myself well and with dignity because you are in the minority and you will easily stand out. I always acted on that advice.
Here is one of many examples of life's rocky racial ride.
It was the summer of 1965, my pregnant wife – a teacher and I a student – had booked and paid for a carefully chosen guest house in the southeast of England for a quiet vacation. We corresponded with the proprietors who said how much they were looking forward to welcoming us.
We arrived at the address after a two-hour train ride and then a taxi only to be greeted, with the door only partly open, by "Why don't you people say what you are?" That is the last thing that we were expecting.
I realized that we were not welcome and immediately blurted out that if you do not want to have us, we would prefer not to be here. We have a contract and you are duty bound to find us comparable and acceptable accommodation at your cost, including transportation. They complied but this dampened the spirit of our vacation.
In contrast, there is life in Trinidad & Tobago. The population is just over 1.3 million people and is considered the most cosmopolitan in the region because of its multiethnic, multigenre, multireligious and multicultural composite. It comprises South Asians – 40%, Africans – 40%, Mixed – 20.0%, which also includes people of Middle Eastern, Far Eastern and European origin.
Whereas there are elements of class discrimination in Trinbago there is minimal racial discrimination and people live together in harmony for the most part, save the racial tensions which tend to flare up around election time.
In the words of the soca hit "Famalay" by Machel Montano, Bunji Garlin and Skinny Fabulous: "We doh see skin, We doh see colour, We see strength, We see power, We doh see race, One or di other, Once he is breathing on dis earth he is ma brother".
At the corporate level, large corporations have now enhanced their governance structure by including a Diversity, Equity and Inclusion (DEI) portfolio in their management team.
While not perfect, Trinidad & Tobago and the wider Caribbean ought to be positioned as a light unto the world to demonstrate that it is truly possible for "every creed and race to find an equal place" in an increasingly complex world in which we live.
There is still much healing required within islands, countries and across borders. It is time to admit the problem and take aggressive steps to fix it, for humanity's sake.
Peace and love to all.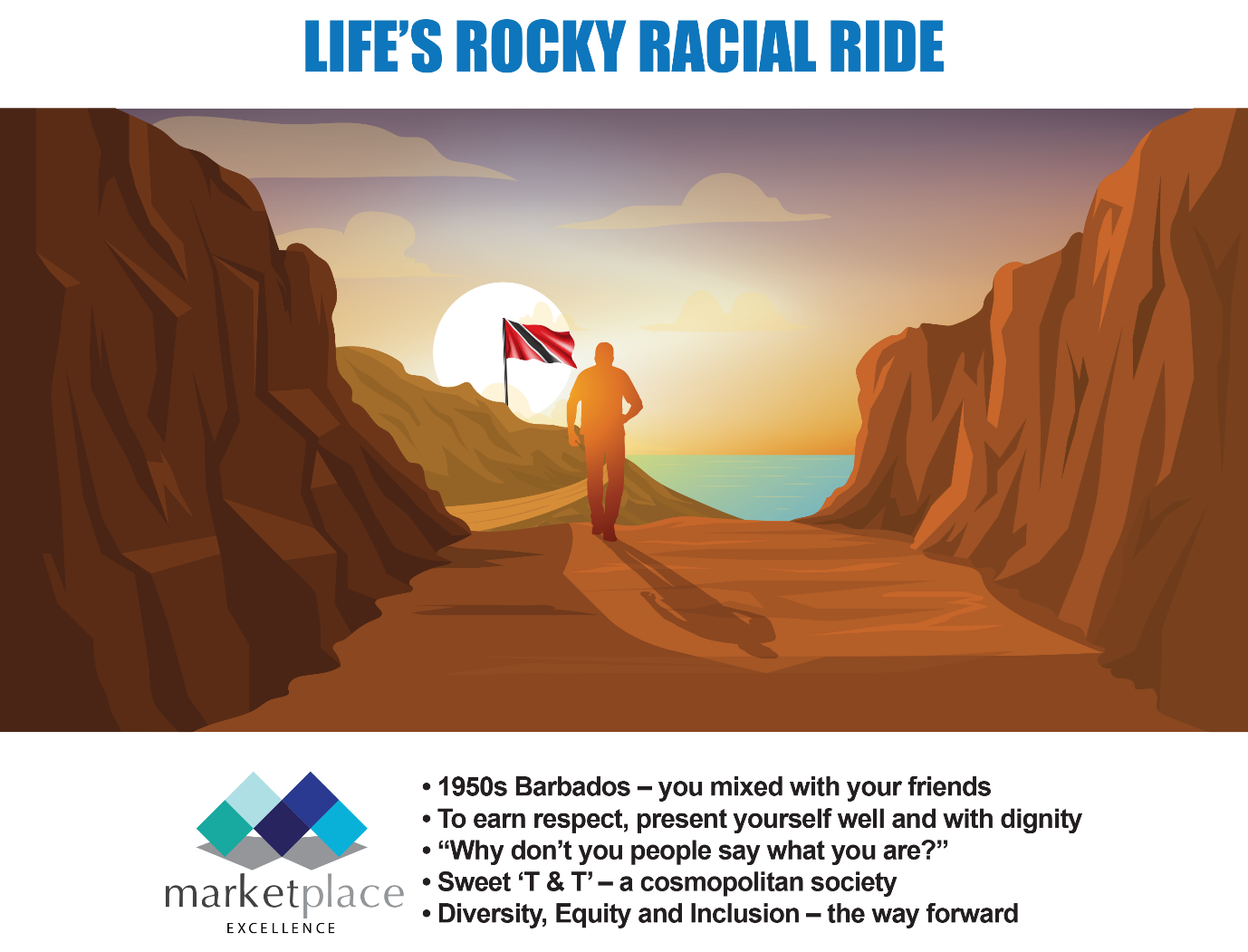 (Dr. Basil Springer GCM is a Change-Engine Consultant. His email address is basilgf@marketplaceexcellence.com. His columns may be found at www.nothingbeatsbusiness.com).