"I can do all things through him who strengthens me." – Philippians 4:13
Welcome to Guyana, the land of six peoples – Chinese, African, East Indian, Amerindian, Brazilian Portuguese and European.
British Guiana (BG), the size of England but with 1.25 percent of England's population, was known as the land of many waters. The whole island of Barbados can easily fit in the mouth of the Essequibo River.
BG, like Barbados, achieved independence from the United Kingdom in 1966; and soon afterwards became a republic in 1970, remaining a member of The Commonwealth. Barbados became a republic in 2021.
As a keen follower of West Indian cricket from 1950, I became familiar with the names of West Indies cricketers who hailed from BG and later Guyana.
I was a Barbados-centric individual for the first 17 years of my life until my family moved to Trinidad where my father, a Barbadian civil servant, was posted to the short-lived West Indies Federation (1958-1962). Incidentally, Guyana was not a member of that Federation attempt.
In 1960, I went to the University of the West Indies, Mona, Jamaica, which was the first time that I was in close contact with a community of West Indians. I met my wife Kean, a Guyanese, at UWI and we got engaged in Guyana in 1963 and tied the knot in England in 1964. My UWI Guyanese classmate, Ewart Thomas, was best man at our wedding.
One early memory of BG, on the occasion of our engagement, speaks to the hospitality and culinary diversity of Guyanese people. We were invited to dinner by Kean's friends, Vibert and Lorna Lampkin. The appetizer was half of a small avocado with a tantalizingly appealing scoop of a mysterious filling.
I approached it gingerly only to be greeted by a taste of shrimp to which I was allegedly allergic. The manifestation of the allergy was a tight swelling of the throat. How embarrassing, what was I going to do?
I asked for a glass of water and, with a heavy dose of mental resolve, I literally swallowed each morsel of shrimp and avocado, totally ignoring my mother's advice to chew food 32 times at each bite. Hopefully, our hosts were not aware of what was going on as the appetizer and the tightness of the throat disappeared.
I had found a solution to the allergy and since then I gradually learned to chew and savor shrimp delights with impunity.
In 1975, the 10th annual meeting of the West Indies Agricultural Economics Conference was mounted in Guyana. The theme was "Maximizing Regional Self Sufficiency in Food in the Commonwealth Caribbean"; incidentally we are still discussing this topic 47 years later! The excursion to punctuate the intense technical sessions was a visit to Kaieteur Falls by plane.
We all embarked the plane and were warned of dare-devil pilots on this route. We flew over the Potaro river at the end of which was the falls – what a beautiful sight! Then we heard a roar of the engines, the pilot was heading into the gorge. We heard "look to your left" – there were gasps of ecstasy! The engines roared again – "look to your right" – wow!
Guyana, because of its abundance of land and water has been the country with potential to be the breadbasket of the Caribbean. Barbados and Guyana have recently taken initiatives in this regard.
Since 2015, government leaders have pledged that black gold would transform the fortunes of Guyana, one of South America's poorest countries. How does this conflict with the climate change agenda?
Guyana recognises the importance of the 'blue economy' which seeks to balance human well-being, social equality and environmental sustainability.
Tourism potential is huge as may be exemplified by Guyana cleverly securing the contract to host the finals of the Caribbean Premier League (CPL) cricket competition for 2022-2024.
Caribbean country partnerships with Guyana surely harbor the seed for potential unity and growth in the Caribbean.
We ought to encourage this.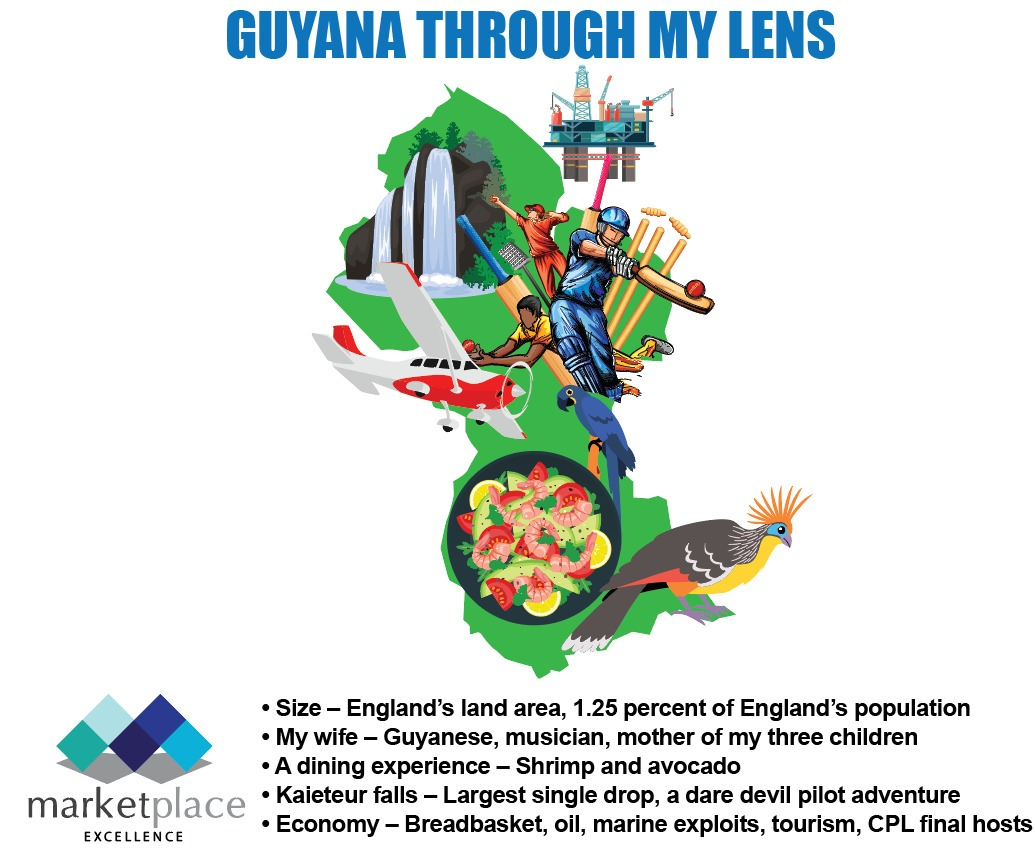 (Dr. Basil Springer GCM is a Change-Engine Consultant. His email address is basilgf@marketplaceexcellence.com. His columns may be found at www.nothingbeatsbusiness.com).