"In the same way, faith by itself, if it is not accompanied by action, is dead." – James 2:17
The body sizes of the elephant and ant species, because of their respective DNAs, are different, even though they both play a part in the natural ecology process.
Micro, small, medium and large business enterprises all have a role to play in the national economic gearing system, with the large businesses driving the system and the other businesses playing supporting roles.
In trying to grow an economy, the private sector and government must work together.
The private sector must focus on developing larger businesses (with the "DNA of an elephant"), which means bigger thinking and larger target markets.
The government provides incentives to larger businesses and an appropriate enabling environment for the other supporting enterprises.
My stories today relate to a couple of experiences which demonstrate missed opportunities in the tourism sector based on very simple ideas.
Here are a few excerpts I wrote in my column in March 2007:
"My son Bevan and I, after basking in the euphoria that is Dubai (visiting my older son Kevin and his family), continued our travels. Destination Singapore with a stop at Colombo, Sri Lanka.
"Although the UAE, Sri Lanka and Singapore newspapers comprehensively covered Cricket World Cup 2007, there was no evidence of any public relations or advertising presence from Caribbean travel and tourism players – public or private – in the print or broadcast mass media to which we were exposed in these parts of the world … What were we waiting for?
"Some warm weather aspects of the Caribbean tourism product can be experienced in the Middle East, Southeast Asia and the Far East, but there is a market niche, with considerable disposable income, consisting of persons who are looking for new, exotic leisure experiences."
This was a missed marketing opportunity to capitalize on the impulse buying window.
The moral of the story? "Those who do not learn history are doomed to repeat it."
Another experience in Singapore in 2007. Bevan and I engaged with one of his media colleagues whom he previously met in Spain. She was now the publisher of an influential tourism publication which was distributed regularly to 18 countries in Southeast Asia and the Far East. What would we in the Caribbean have to do to earn comprehensive exposure in her magazine? Her answer? A hosted familiarization visit for one of her colleagues. Indeed, a no brainer. Yet, after sharing the vision, no one followed upon it.
The moral of the story? When we do not act on a vision, the people perish.
The major constraint to Caribbean tourism growth is the lack of creative, innovative, disruptive tourism initiatives based on both small and big ideas.
A recommended action item is to build on consensus forged at regional tourism meetings, and set up a regional public-private tourism "action tank" to develop the vision and strategy, train shepherds to develop and implement these ideas, and pursue funding from benevolent organizations who are looking for new and far-reaching projects to support. The mandate for such an initiative could ultimately be expanded beyond the tourism sector.
Remember the caterpillar. The intelligence is in the seed of an attractive creature which transforms through a shiny chrysalis and emerges as a beautiful butterfly.
Similarly, intelligence might be in a seemingly basic idea, which with faith and action transforms into a viable tourism enterprise that drives our economies forward.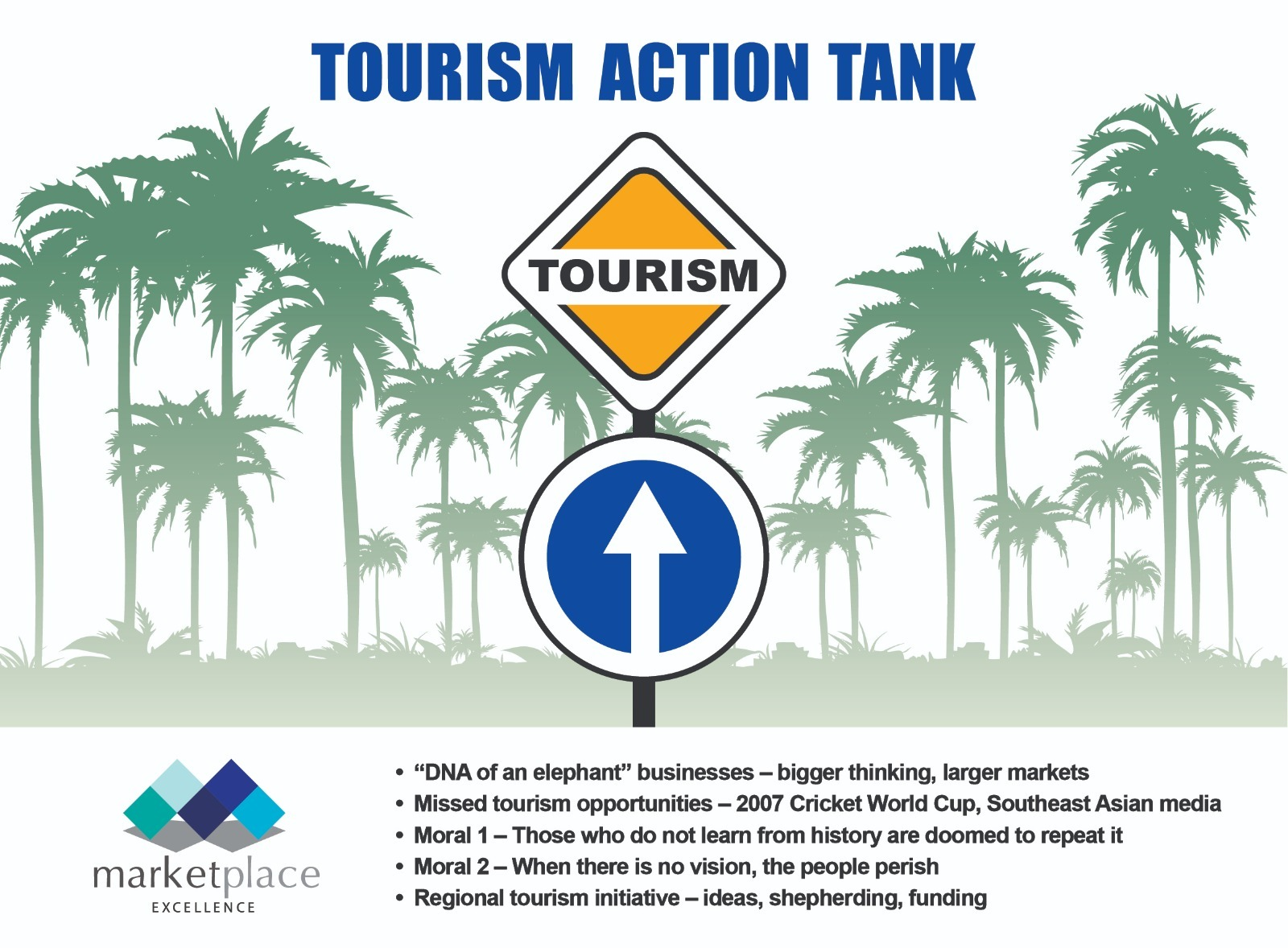 (Dr. Basil Springer GCM is a Change-Engine Consultant. His email address is basilgf@marketplaceexcellence.com. His columns may be found at www.nothingbeatsbusiness.com).