"When you lie down, you will not be afraid; when you lie down, your sleep will be sweet." – Proverbs 3:24
Guyanese Derrice Deane, a respected Caribbean-American Washington DC-based journalist, responded to a recent column, by commenting:
"Dear Basil: I agree with your prescription for ageing gracefully. I think we would all do better if more medical practitioners were committed to enthusiastically promoting that prescription as a lifestyle, rather than depending on prescriptions for drugs with the belief or acceptance that ageing means illness or decay. I am curious about Dr. Ramnarine's lecture series on Energy Medicine. Sounds interesting.
"I am also curious about your own sleep pattern. I have not heard of that before. Do those two-hour bouts of sleep happen naturally or are they programmed? Do they happen within a certain time frame, or spread out over 24 hours? I would like to understand the thinking behind the pattern. Cheers."
My response: "Dear Derrice, thanks for endorsing my formula. My own medical practitioners tell me to keep on doing what I am doing, so I try my best not to backslide. I have known Dr. Harry Ramnarine for about 10 years, and I enjoy chatting with him as a fellow mathematician. He loves to share his ideas and the results of his work in energy medicine. Please contact him at info@ishtara.com – (868) 665 8041."
One of my MPE colleagues Sajeel Nisar, who hails from Pakistan, also wrote to me last week: "Basil, requesting you to do another one (column) on the hourly division of the day. The work, sleep and activity time schedule. Personally, I know a few people who will benefit, including myself."
Let me give some background as to how I have managed my "24 hours" over the years.
When I was at school, I was engaged in many extra-curricular activities and got home at dusk. After dinner with the family, I was tired and not in the mood to do homework at that time. I therefore went to sleep.
I would arise from sweet slumber about 5 a.m., as I recall, fresh as a daisy and ready do my homework. Then I would have breakfast, shower and head to school. Towards the end of my secondary school days, I would adjust my wake-up time so that I could swim out to the boats at the Aquatic Club early in the morning with my uncle-in-law and his friends.
This pattern of sleeping continued when I went to university in Jamaica, Wales and London. I found it to be a very efficient system because I went to sleep when I was tired and worked the brain after resting the body.
When I got married and started to work "eight to four" the pattern continued but I was more conscious of the need to budget my 24-hour allocation to achieve what I thought was an acceptable balance – an average of eight hours' sleep, 10 hours' work, and six hours of personal time dedicated to my family, exercise, helping others, and myself.
I recall sneaking in a powernap at lunchtime to refresh me for the afternoon work session. Powernaps are not uncommon in the Springer family.
Now in the retirement phase of my life when I work virtually from home, my activities are writing, reading, playing computer games, keeping up with the news, managing emails, and engaging in a limited number of social media. I have introduced a further variant where I sleep four times a day to give me that greater flexibility and efficiency.
My typical day now is work 8-11 a.m. (3 hours); sleep 11 a.m.-12 noon (1 hour); personal 12-2 p.m. (2 hours); work 2-4 p.m. (2 hours); sleep 4-5 p.m. (1 hour); work 5-7 p.m. (2 hours); personal 7- 10 p.m. (3 hours); sleep 10 p.m. – 2 a.m. (4 hours); work 2-5 a.m. (3 hours); sleep 5-6.30 a.m. (1.5 hours); and personal 6.30-8 a.m. (1.5 hours).
In summary, the daily distribution of my time averages 10 hours of work; 7.5 hours of sleep; and 6.5 hours of personal time.
It works for me … perhaps posterity will benefit.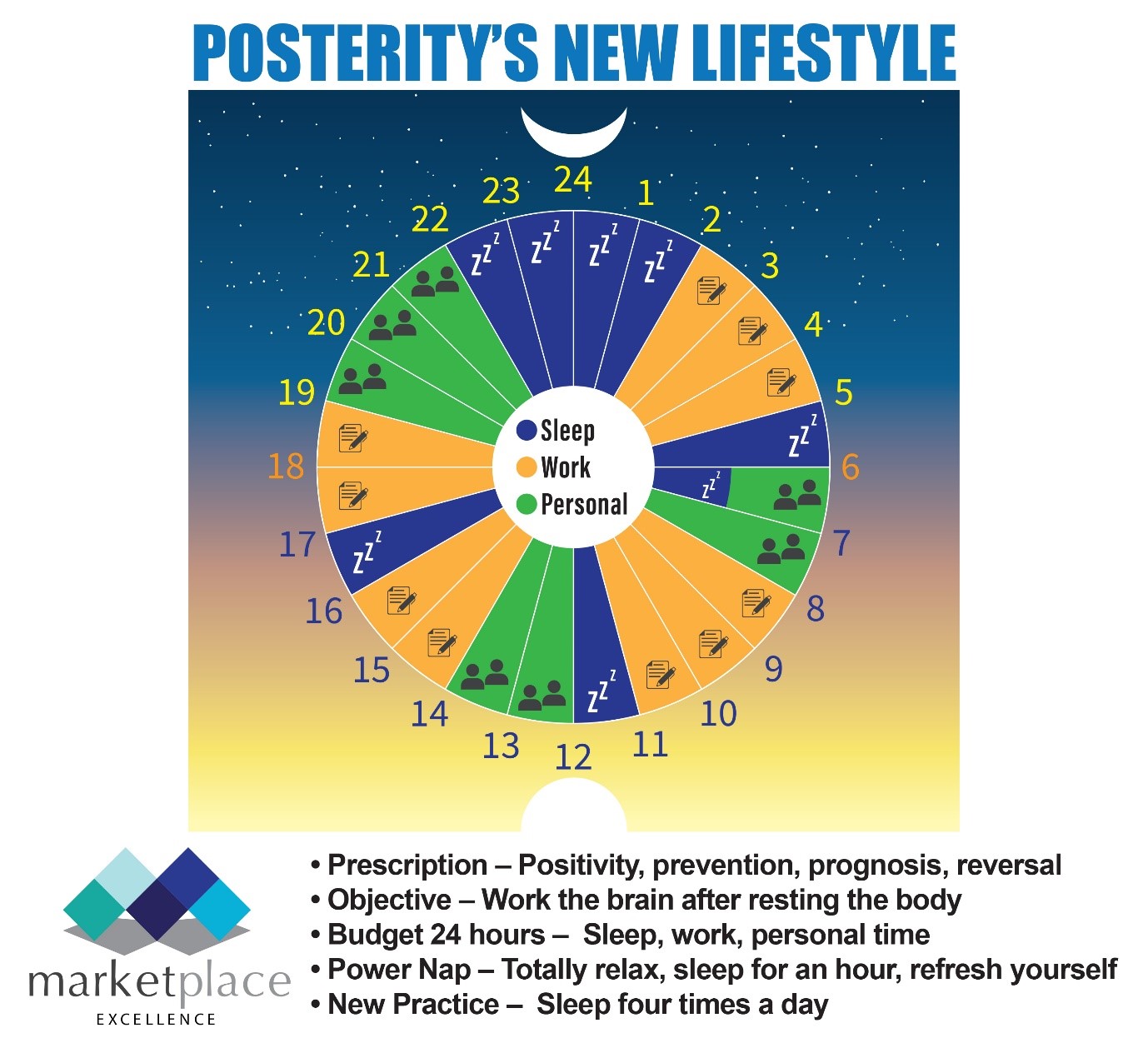 (Dr. Basil Springer GCM is a Change-Engine Consultant. His email address is basilgf@marketplaceexcellence.com. His columns may be found at www.nothingbeatsbusiness.com).