"The plans of the diligent lead surely to abundance, but everyone who is hasty comes only to poverty." – Proverbs 21:5
In 1998, the Caribbean was faced with the declining fortunes of staple sugar and banana exports. The Caribbean Development Bank (CDB) had a vision to create a system to facilitate Caribbean entrepreneurs and contribute to the region's diversification and sustained economic growth by turning their ideas into export realities.
I had the honor to lead a team to convert that vision into action. The Caribbean Business Enterprise Initiative (CBEI), operating on sound private sector principles and underpinned by sound financial private and public sector arrangements, emerged in 2001 and the Caribbean Business Enterprise Trust (CBET) was formed under the chairmanship of Sir Neville Nicholls, former CDB President with trustees from around the region.
Over the next seven years, CBET innovatively promoted the initiative by engaging in a number of financially self-sufficient projects throughout the region. The three-component Shepherding Model ("DNA of an elephant" idea identification, shepherding, equity fund) was born.
The Barbados Government then funded a CBET (Barbados) pilot project (2008-2012) to test the efficacy of the model, which was further informally tested through the NEDCO IBIS project in Trinidad and Tobago (2012-2015). These tests revealed that entrepreneurial ideas abound, experienced shepherds and shepherding systems are available, but the establishment of a donor-provisioned equity fund was a constraint.
I recall a weekend event in Trinidad where entrepreneurs were invited to learn from a panel of businesspersons how to pitch to prospective investors in their businesses. One young man made it quite clear that if he were to have access to a million dollars, he would not know how to use it for the sustainable development of his business. That was music to my ears because it was in sync with what we had discovered in the CBET (Barbados) pilot project and in Trinidad and Tobago.
The term Shepherding involves both personal life coaching and mentoring in management of business systems for the entrepreneur. This is exactly what the young man was seeking.
The other major outcome of the pilot test was the enhanced sophistication of the operational manual of the quick response seed, equity and working capital growth fund. Today, the donor fund is still to be capitalized and comprehensively implemented for entrepreneurs to contribute to global economic recovery.
Kawal Preet, President of FedEx Express for Asia Pacific, Middle East and Africa, writes that "the COVID-19 pandemic has had a devastating impact on the US$90 trillion global economy – from job insecurity and rising unemployment to huge stress on people and health care services. At the same time, we have seen positives emerge. Small businesses tapping into e-commerce for the first time. Greater use of technology. More flexibility in the workplace, including working from home. Much has been written about the future of work after COVID-19, but what about the future of entrepreneurship and its impact on the global economy? How will this disruption affect the next generation of MSMEs?"
In her article, she shares the "Top three trends for the future of entrepreneurship":
1. Defined by the digital experience (agility, resilience and speed) – It is certainly becoming easier to become a global entrepreneur.
2. A new age of diverse entrepreneurship – Access to technology enables start-ups from Ghana to Bangladesh to participate on the same global stage as those in more developed countries.
3. Location-independent solutions – The pandemic has created opportunities for entrepreneurs and changed how we all work – possibly for good. Future entrepreneurship will be defined by new solutions that work anywhere. Solutions independent of location, serviced by remote workers.
Out of crisis comes opportunity. Donors, help us seize that opportunity – we need your help to get the entrepreneurial show on the road at long last, and for the benefit of us all.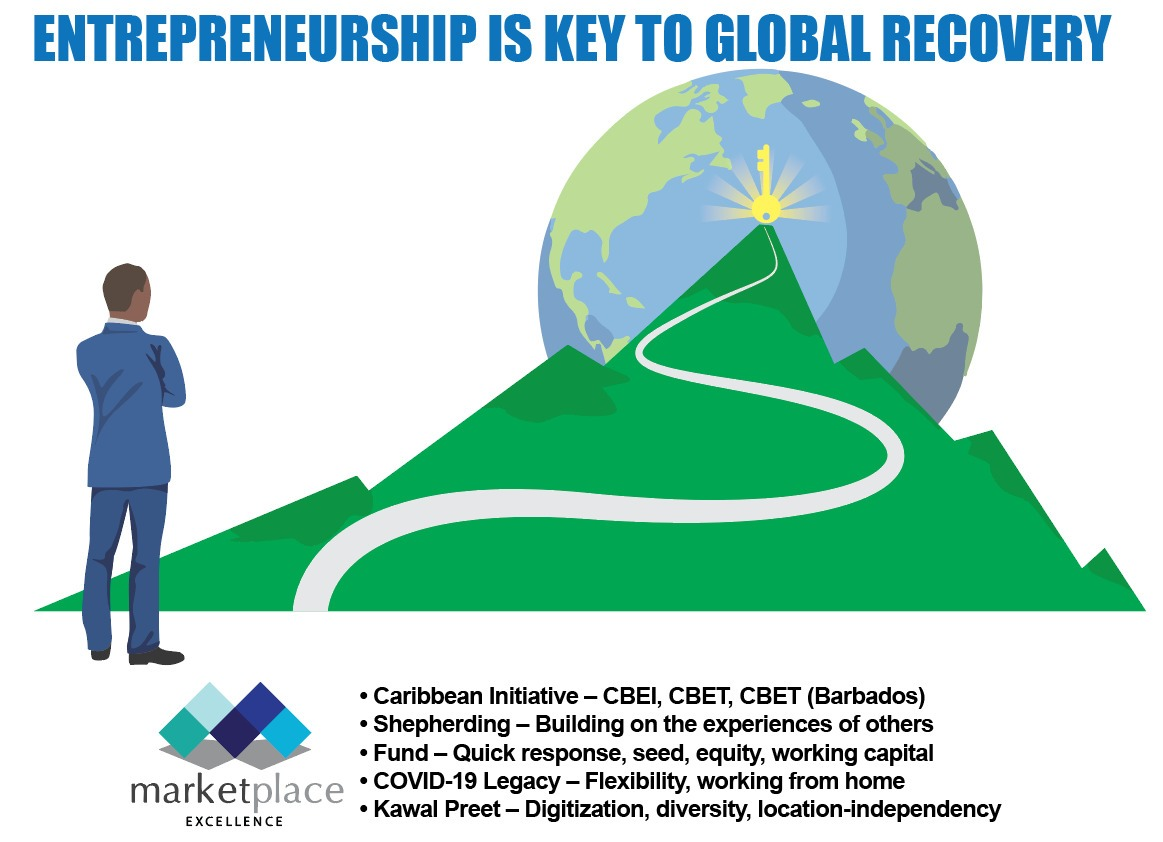 (Dr. Basil Springer GCM is a Change-Engine Consultant. His email address is basilgf@marketplaceexcellence.com. His columns may be found at www.nothingbeatsbusiness.com).