"She speaks with wisdom, and faithful instruction is on her tongue." – Proverbs 31:26
Women possess a superior intuition (women's intuition), an almost psychic — and somewhat frightening — knack for knowing what others are feeling and thinking. Experts say this intuition is based on an ability to read facial expressions and body language. It all manifests as "women care".
It took me 50 years, having hitherto adopted a male chauvinist stance, to formally recognize the power of female intuition but since then I have been optimistic that women will lead and create a future for us all?
As we approach another international Mother's Day remembrance, Sunday, May 8 2022, let us recognize the power of this female intuition and celebrate all women who care and give us hope for a sustainable future.
Mother's Day is a celebration honoring the mother of the family or individual, as well as motherhood, maternal bonds, and the influence of mothers in society.
On the subject of women, in my March 21, 2022 column, I commented that it took 35 years after the end of World War II (WWII) before the impact of United Nations gender equality-inspired initiatives yielded the first female CARICOM prime minister but, over the past decade, the progress of CARICOM women in top positions locally, regionally and internationally has been stellar. I hastily listed nine names to support this fact but it was pointed out to me by more than one reader that my research was incomplete. I continued the research and now hastily make amends for my omissions for the record with apologies.
Other high profile CARICOM women who have cared and steered the ship of hope, are:
(1) Dame Hilda Bynoe – first female Governor of Grenada – 1967 to 1972; (2) Shirley Chisolm (Barbadian/American) – first black woman elected to the United States Congress – 1969 to 1983; (3) Merlene Ottey – first female English speaking Caribbean athlete to win an Olympic medal (Moscow games) – 1980; (4) Una Clarke (Jamaican/American) – first Caribbean-born woman to be elected to the NY City Council – 1991 to 2006; (5) Professor Elsa Leo-Rhynie – first female UWI Pro Vice-Chancellor at UWI Mona – 2002 to 2007; (6) Dr. Carol Jacobs (Jamaican/Barbadian) – Chair of the Global Fund to Fight AIDS, Tuberculosis and Malaria – 2005; (7) Prime Minister Portia Simpson-Miller – Prime Minister of Jamaica from 2006 to 2007 and again from 2012 to 2016; (8) Yvette Clarke (Jamaican/American) – Daughter of Una Clarke – Elected to the US Congress – 2007 to date; (9) Dr. Jacqueline Sharpe (Barbados/Trinidad & Tobago) – President of the International Planned Parenthood Federation – 2011 to 2016; (10) Dame Cécile La Grenade – Governor General of Grenada – 2013 to date.
If I were asked to single out a name from the listed nineteen who is likely to have a continuing impact on the international scene, it would be the Prime Minister of Barbados, Mia Amor Mottley.
Since her re-election to the post of Prime Minister in January 2022 she has been in demand as a speaker on many an international stage and is gaining a reputation of a global problem solver. When asked in a BBC interview why is it that women in general around the world are successfully assuming more and more leadership positions, she simply responded – "we care". May she continue from strength to strength to lead the change for a sustainable future.
Let us remember women of all ages who have made us proud and particularly mothers as we celebrate another Mother's Day!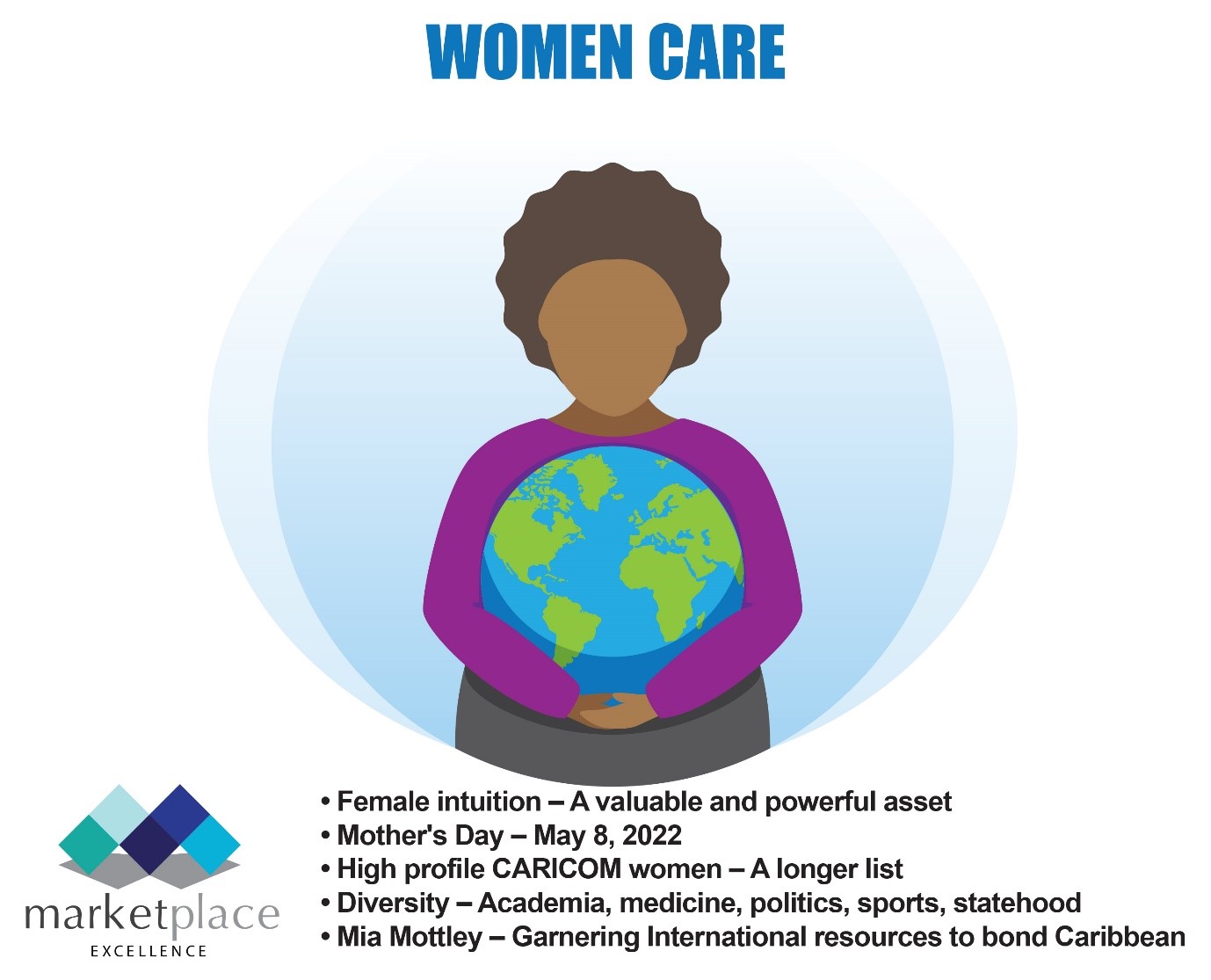 (Dr. Basil Springer GCM is a Change-Engine Consultant. His email address is basilgf@marketplaceexcellence.com. His columns may be found at www.nothingbeatsbusiness.com ).