"There is a time for everything, and a season for every activity under the heavens." – Ecclesiastes 3:1
Just over six months ago while chatting casually with some of my Marketplace Excellence (MPE) colleagues, it was suggested that after decades of a traditional business presentation format, my column should now pivot to more of a storytelling style which captures interesting events from my many experiences in life and in business. I was quite content with my style and feedback over the decades and adopted the approach "if it ain't broke, don't fix it!"
In researching this potential storytelling shift, several things were revealed. Storytelling is (1) the oldest way to deliver a message; (2) one of the marketing world's new darlings; and (3) hailed as the single most powerful communication skill for the immediate future.
These revelations put things in a new perspective. Will I be able to sustain this change and will it be beneficial to all concerned? Well, time will tell.
Just over a week ago, my partner Judy and I resumed our daily habit of systematically reading aloud and discussing chapters from a book of mutual interest as part of our companionship lifestyle. I do not know why we stopped for a while, but it seemed to coincide with the COVID-19 pandemic. The benefits of this habit created interesting conversational topics, but it often introduced beneficial changes in our lifestyle patterns. If it ain't broke, don't fix it!
The book she chose on resumption was "Soul Food: Stories to Nourish the Spirit and the Heart" by Jack Kornfield & Christina Feldman.
The first chapter of the book reads: "The priceless gift of any story lies in its power to spark a fire into our imagination. A great story has the capacity to transcend the boundaries of our personal world and introduce the universality of human experience." We were happy to continue our habit.
I remember as a teenager, I was transfixed by bedtime reading of the "Just William" 39-book series of children's short stories about the young schoolboy William Brown, authored by Richmal Crompton and published between 1922 and 1970.
My own children's bedtime reading patterns are less vivid probably because I often fell asleep before they did. But many young children feel more satisfaction turning in once they have had their storytelling nightcap. Storytelling transcends generations. If it ain't broke don't fix it.
The above three examples, on columns, companionship and comfort transcend generations.
There are other examples in life where we might not want to fix it. For example, when to undergo a medical operation, abandon your 30-year-old car, replace your computer or phone, or change your business model. However, upon further examination we must take other factors into consideration to optimize our condition.
And when we do depart from the adage, perhaps we should be guided by another formula – the Sequential Evolutionary Approach (SEA), which states that as we journey through life "the intelligence gained at any step along the journey, fashions the size and direction of the next step."
This is relevant to all of us for each step that we take each day.
I am pleased that I yielded to the counsel to start fixing it.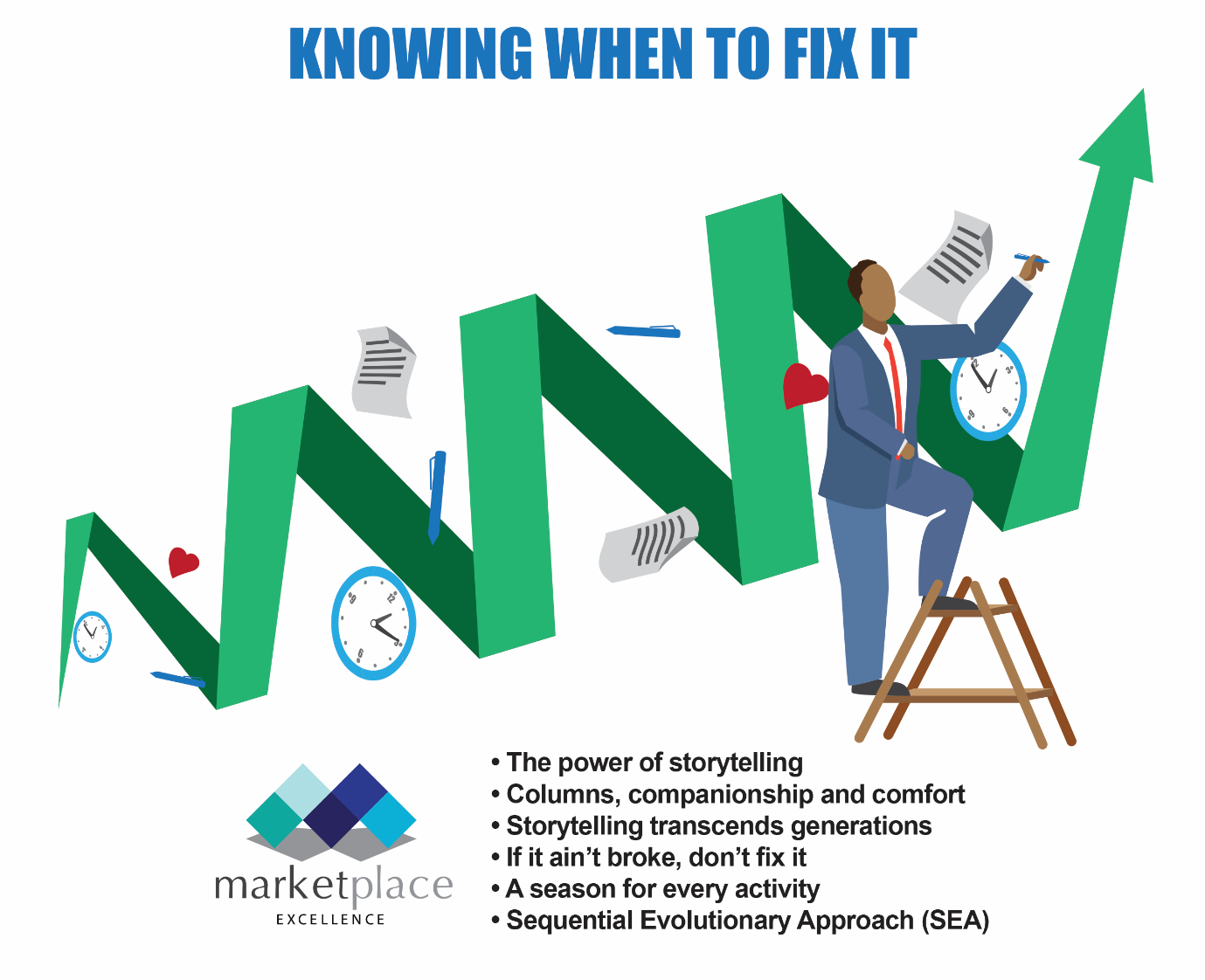 (Dr. Basil Springer GCM is a Change-Engine Consultant. His email address is basilgf@marketplaceexcellence.com. His columns may be found at www.nothingbeatsbusiness.com).