There has been a plethora of comments in the media following the outcome of the Barbados general election, including last week's column which evoked a few interesting responses from readers.
Of great concern are (1) periods of no opposition may pose a debilitating threat to democracy; (2) views of non-Barbados Labour Party (BLP) voters may not be voiced in parliament; and (3) the lack of formal political party training inhibits solid party growth.
The impact of all this on Caribbean leadership, financial security, life, growth and sustainability (through workforce development) has seamlessly broadened the discussion to "Whither the Caribbean"?
Specific suggestions to mitigate the threat to democracy and give voice to non-BLP voters include (1) an election system which combines first-past-the-post with proportional representation; (2) a BLP-elected member to resign from the party and become leader of the opposition and sacrificing his/her political career as was done in 2018 ; and (3) for legal minds to interpret the constitution in such a way as to accommodate Prime Minister Mia Mottley's proposal to appoint opposition members of the Democratic Labour Party (DLP), the party with the next highest percentage of votes cast, to the two senate seats that are provided for the opposition in the constitution.
In the context of political party training, a female British reader who spends four months a year in Barbados, shared as follows: "I liked your article on Mia's triumph. I myself have thought for some time that the weakness in Barbadian leadership stems from the lack of people who have had university education abroad. The first generations did, and even if it was left wing study at the London School of Economics, it gave them a world view and perspective which is now lacking. West Indians talking to each other at UWI is no substitute for getting out of their own warm bath and seeing how things operate, or fail to, in other countries.
"If I had the means and influence, I would be sponsoring scholarships in politics, governance, and economics in the U.K. and scattering this in different universities."
Last week I was interviewed by a team of Jamaican consultants who were undertaking a human resource development (HRD) audit for Caribbean Tourism Organization (CTO).
I summarized my contribution by stating that that the future of the Caribbean will be secured if we nurture strong public and private sector leaders, with problem-solving skills, complemented by appropriately skilled professionals at all levels.
Prime Minister Mottley is a contemporary example of exemplary problem-solving leadership but can she design a disruptive way of representing the Caribbean globally to the mutual benefit of all Caribbean counties?
Another example of what the Caribbean must continue to produce has been articulated in the tributes to celebrate the life of my friend Jean Holder who has made significant diverse contributions to Caribbean development over many decades.
By way of a personal tribute our paths only crossed marginally at Harrison College in the 1950s. We met again in 1963 when he was in the Eastern Caribbean Commission in London. He was instrumental in arranging for my admission to the statistics department at the University of Wales (Aberystwyth), which turned out to be an excellent choice to pursue my Master's degree. Our families became friends when I was in London pursuing further studies.
Professionally, Jean engaged me as a consultant in Barbados when he headed the Caribbean Tourism Research and Development Centre, the predecessor organization to CTO.
As a family friend and professional colleague, may I offer condolences on his passing to his loved ones. May he rest in peace!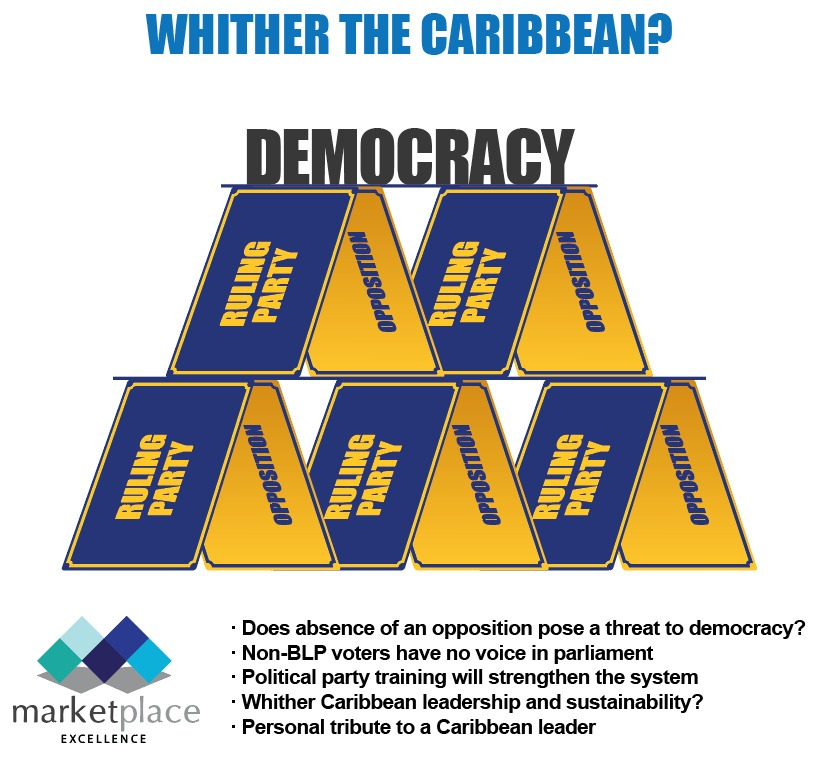 (Dr. Basil Springer GCM is a Change-Engine Consultant. His email address is basilgf@marketplaceexcellence.com. His columns may be found at www.nothingbeatsbusiness.com)