"I am leaving you with a gift— peace of mind and heart. And the peace I give is a gift the world cannot give. So don't be troubled or afraid." – John 14:27
Future BARBADOS is an impressive youth organization which is a long-term public inspiration and innovation engine to fast-track Barbados' transformation into the best place in the world to live, learn, do business, work, dream and play.
Simply put, their plan is to develop disruptive, forward-thinking, radical ideas and strategies and nurture solutions that will rapidly and significantly improve Barbadian quality of life as we embrace Republican status.
Here are some random observations on my daily life which may find their way into this pool of ideas?
There are five natural chronological phases in my life.
Phase 1 (nine years) is the early period after which I entered secondary school.
Children absorb information rapidly and their personalities are formed in the first six years of life.
Concepts such as communication to avoid conflict, marriage, foreign exchange, savings, net worth, trade, human rights, regional history, and geography, helping others, digital currency, religion, spirituality, truth, fairness, friendships, mutual benefit (win-win) are often introduced for the first time as specialties in secondary and tertiary education.
Why not introduce these concepts in a simple way at a primary school age to diversify the Math/English focus, satisfying that voracious appetite for learning thus engendering greater balance at an earlier age?
Phase 2 (10 years) is secondary school in the 1950s.
The focus at secondary school in Barbados then was either on academic excellence or technical and vocational education. Many reforms have been made.
Today the world has changed and there is now the opportunity to combine academic education, innovation, and entrepreneurship. COVID-19 permitting, let us leverage technology to mobilize this combination by introducing public-private sector enterprise development partnerships (ideas, shepherding, creative finance).
Phase 3 (eight years) is tertiary education including a six-month internship for my profession.
Experience has revealed that the strongest tertiary education programs are not necessarily the ones that focus on academic excellence only but the ones that combine academic excellence with a practical internship program. This enhances the chance of a seamless transition on entry into the workforce.
Phase 4 (40 years) is earning a living and making investments for the sunset years.
It is good to have a piggy box practice. I used to save pennies and my mission was to have enough money to buy my own fireworks for Guy Fawkes Day on November 5.
When you start to earn, however small your salary, the culture of saving is paramount. Saving is the foundation for your investment in whatever direction you chose to go, be it real estate, the stock market, custom financial investment, Forex trading, pension plans or enterprise development. It is the foundation pillar upon which individual, family, company and country growth is built.
Phase 5 (13 years to date) is retirement (helping others and managing investments). I have retired but I am not yet tired, i.e. the body still works and the brain still functions but neither as reliably as before. Collectively in this retirement posse squad there is a rich repository of wisdom to help others and help fuel the economy.
Happy Independence Barbados!
The president of our republic is now the symbol of national unity.
Onward march!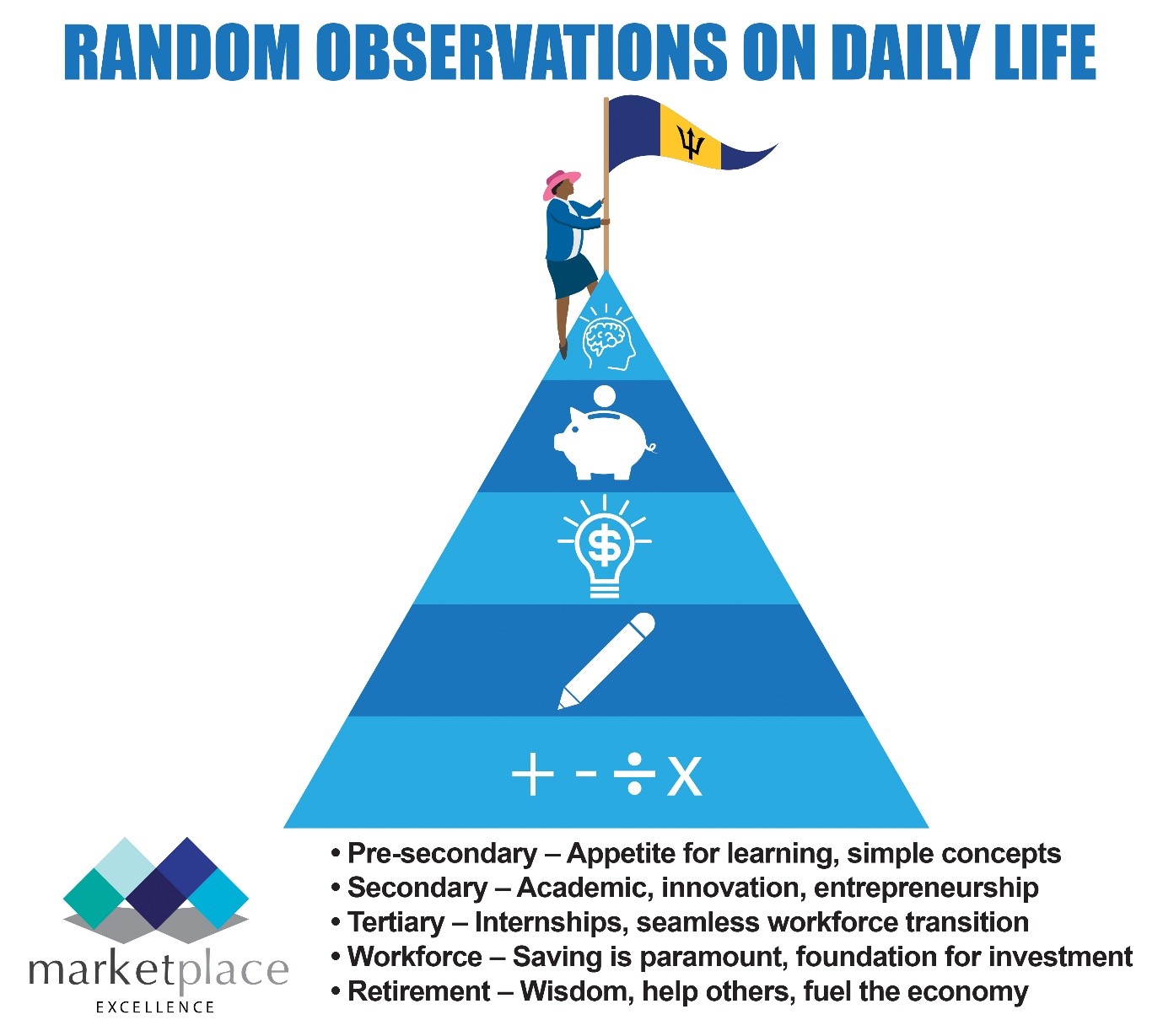 Basil Springer GCM is a Change-Engine Consultant. His email address is basilgf@marketplaceexcellence.com. His columns may be found at www.nothingbeatsbusiness.com)