"God is our refuge and strength, a very present help in trouble. Therefore will not we fear, though the earth be removed, and though the mountains be carried into the midst of the sea; Though the waters thereof roar and be troubled, though the mountains shake with the swelling thereof. Selah." – Psalm 46:1-3
The UN Global Conference on the Sustainable Development of Small Island Developing States (SIDS) was held in Barbados in 1994. The Conference adopted the Barbados Programme of Action where priority areas included "climate change and sea level rise".
The Conference of Parties (COP) is the decision-making body responsible for monitoring and reviewing the implementation of the United Nations Framework Convention on Climate Change. The first meeting COP 1, signed by 197 nations and territories, was held in Berlin in 1995 following the UN SIDS meeting in 1994. This year's COP 26 was held last week in Glasgow, Scotland. Barbados again featured this time in the form of Barbados' current and first female Prime Minister Mia Mottley. Her speech was superb. This quality of leadership, eloquence and intellect comes only once in a lifetime.
I excitedly forwarded the COP 26 video of PM Mottley's address to my son Bevan, who runs the U.S.-based communications firm Marketplace Excellence Corporation (MPE).
He similarly replied that the presentation was "superb", a comment echoed by some of his peers from the United World College network. One of them, a noted South African entrepreneur, commented: "This right here is my hero! A true leader of leaders."
Bevan and his colleague Lelei LeLaulu, one of the architects of the Barbados conference and a member of the MPE team of professionals, agreed that the Barbados PM's address, so forcefully delivered to the international community at the Glasgow conference, was a critical clarion call for immediate climate action.
They reflected that her focus on the morality of needed action was a timely reminder that behind all the ominous facts and figures being presented was the inescapable fact that climate inaction adversely affected the lives and livelihoods of people.
As for actionable options, her insistence on a three-point plan of action was timely and urgent.
Particularly her reference to central banks of richer countries mobilizing $25 trillion in 13 years to finance quantitative easing was eye opening, especially when she pointed out that investment of that sum would have allowed the world to meet its climate goals.
They thought that this was one of the most noteworthy speeches for its clarity in presenting the desperation being faced by so many souls threatened by climate change, and for its reminders of what leaders can do to save their citizens.
PM Mottley tweeted that she was very pleased to have been invited to join United States President Joe Biden and European Commission President Ursula von der Leyen on the margins of COP 26, shortly after her presentation, to discuss how infrastructure development will be an integral part of our fight against climate change.
Barbadians and residents across small island states, as well those on the African continent and further afield, ought to salute Mia Amor Mottley as an important and impressive climate action champion on the world stage.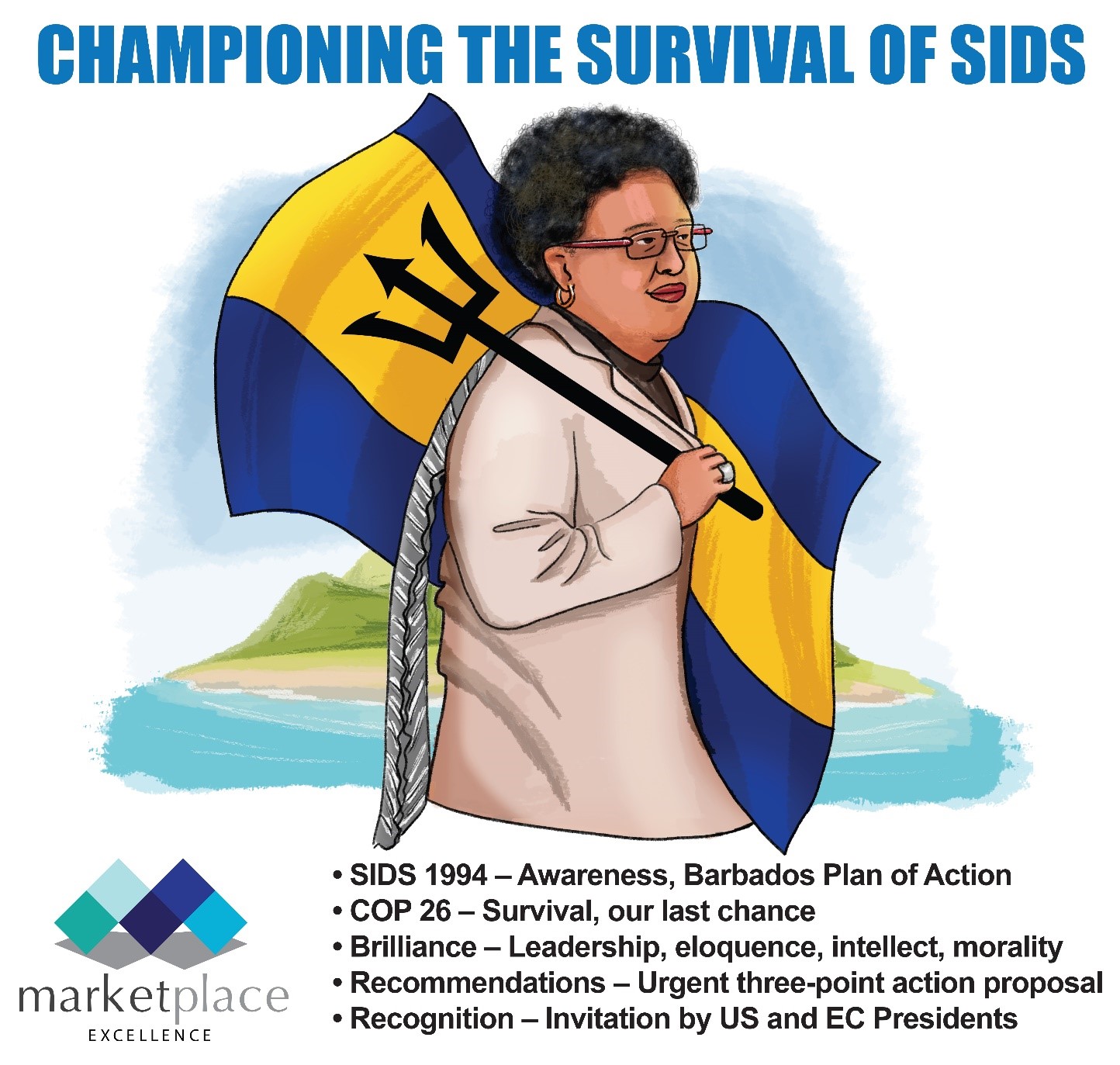 (Dr. Basil Springer GCM is a Change-Engine Consultant. His email address is basilgf@marketplaceexcellence.com. His columns may be found at www.nothingbeatsbusiness.com)