"Do not be conformed to this world, but be transformed by the renewal of your mind, that by testing you may discern what is the will of God, what is good and acceptable and perfect." – Romans 12:2
Post-COVID-19 Growth – Role of startups
The role of startups is to present creative ideas and scale them up to rapidly generate revenue. The startup must strive to maximize profitability by boosting productivity and containing costs.
Startups can contribute to the post-COVID-19 recovery and growth process to restore livelihoods and increase the circular flow of money.
Shepherding – Guidance and appropriate finance
If the startup bravely sets about the journey to sustainable business success without the guidance of shepherding (life coaching, business mentoring, and access to appropriate finance), then it is likely that the enemy will attack by presenting obstacles along the way.
Applied mathematicians use theories and techniques, such as mathematical modeling and computational methods, to formulate and solve practical problems in business.
My training as a mathematician has prepared me to be a problem solver. In the same way that the Lord makes me lie down in green pastures and guides me beside the still waters, I have a responsibility to startups to guide them to higher rates of success and enable them to gain access to seed, equity and working capital funds, as needed.
The shepherd must vanquish the enemy.
The Enemy – Problems inhibit the path to success  
The enemy consists of a myriad of management (planning, organizing, staffing, execution, monitoring) and business (governance, risk management, marketing, operations, people development) hurdles that get in the way of a startup operation which die at the rate of 90 percent in the first five years of operation.
Real Experiences – Shepherds impact startups
Over the last 25 years I have led teams that have shepherded startups in the Caribbean in a drive to find solutions to problems and have accumulated a wealth of shepherd/startup interactive experience.
A refreshed storytelling approach provides me with an opportunity to share these experiences, hopefully with a strong, positive impact.
My style will be to share from personal interactions between shepherds and startups.  his body of  and contribute to solving problems which block the path to success and ultimately defeat the enemy. The result is the increase in the success of startup businesses.
All startups will no doubt benefit from the principles arising from the solutions even though they may arise in different sectors.
Folks, we need to change the way we think. Let us not be conformed to pattern of this world but transformed by the renewal of our minds … "then we will be able to test and approve what God's will is – His good, pleasing and perfect will." – Romans 12:2
Looking forward to begin sharing stories of success next week.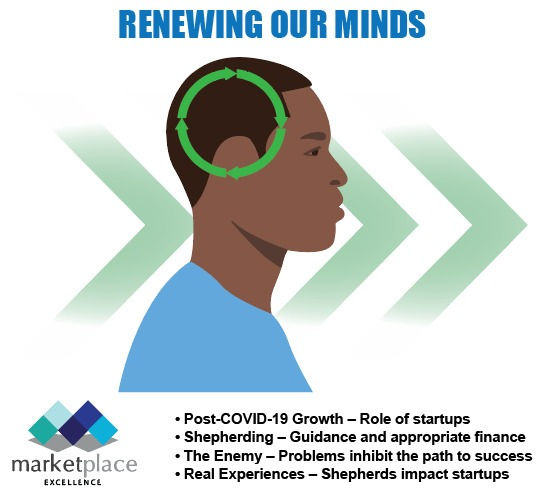 (Dr. Basil Springer GCM is a Change-Engine Consultant. His email address is basilgf@marketplaceexcellence.com. His columns may be found at www.nothingbeatsbusiness.com.)