"For the moment all discipline seems painful rather than pleasant, but later it yields the peaceful fruit of righteousness to those who have been trained by it." –  Hebrews 12:11
The human resource is our most precious resource, and we must develop it to the fullest.
The implication is that if a nation focuses on developing each one of its human resources, the collective impact will redound to the benefit of the country.
This theme has remained with me over the years and is at the heart of the benevolent dictatorship philosophy practised by the late Lee Kuan Yew, the transformative leader of modern Singapore.
As we adopt the COVID-19 disaster recovery challenge the diligent inputs of shepherds to the people development process will be paramount in transforming our economies.
Today's topic will focus on five important elements of people development: (1) Time management; (2) Positive Affirmations of Abundance; (3) Unlocking Human Potential; (4) Personal Growth; and (5) Sustainability.
Time management – Sleep, exercise, work, help others
Each human being has been provided with 24 hours every day of life for free. Their job is to convert that asset into holistic health.
Holistic health may be maximized by entrepreneurs if they recognize that their bodies are not machines but go through a daily cycle of sleeping, exercising, eating, working, earning to maintain their families now and in the future, looking after personal matters, and helping others. Shepherding can expedite this process so that they do not have to recreate the wheel.
Each person must budget their time and monitor it to make sure that targets set are kept. If the daily allocation is wasted it is lost forever.
Affirmations of Abundance – Passion, persistence, patience
Human beings are creatures comprising mind, body and soul.
Shepherding acts as a catalyst to mobilize a team member's holistic energies to maximize the abundance of physical, mental, spiritual, emotional, financial, and business health.
As this partnership is developed, passion will be aroused, the discipline of persistence engendered, and the quality of patience will combine synergistically so the individual can reach the pinnacle of success.
Unlocking Human Potential – Motivation and training
The potential of a human being varies genetically and with the environment and hence is different from individual to individual. Team members become more motivated when they understand how their work matters to the organization.
Shepherding has a major role to play in life coaching, business mentoring, designing formal training, cross-training and duplication to increase system performance.
Interactive team member retreats, coupled with meaningful time spent with clients, can be major networking and team building activities.
Personal Growth – Planning, performance appraisal
At the beginning of every year, management, in collaboration with each team member, should determine growth targets based on the agreed motivational and training mix for the team member.
At the end of the year, as part of the shepherding process, each team member will be assessed, and corrective action taken.
Sustainability – Succession planning, happiness
The sustainability of an organization is a major focus of management. Shepherding can contribute, given the endemic experience of individual shepherds, to the development of a continual succession planning process to identify new leaders and replace old ones.
If we are going to be successful in maximizing the contribution of the enterprise development sector to yield the peaceful fruit of righteousness leading to team member happiness, then discipline and benevolent dictatorship should be the order of the day.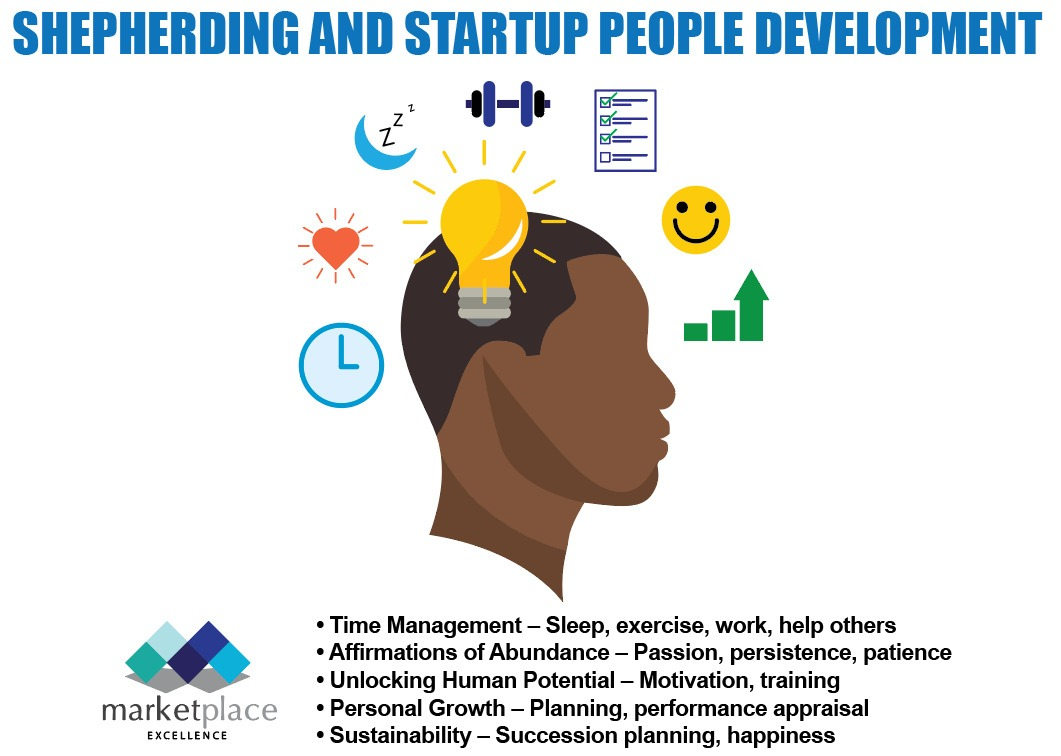 (Dr. Basil Springer GCM is a Change-Engine Consultant. His email address is basilgf@marketplaceexcellence.com. His columns may be found at www.nothingbeatsbusiness.com.