"Come now you who say – today or tomorrow we will go to such and such a city and spend a year there and engage in business and make a profit." – James 4:13
Skip Weitzen's business operations principle, "Start Small; Do it Right; Make a Profit; Then Expand", is the environment in which to foster business operations. Entrepreneurs are best advised to not let terms such as "startup", "microenterprise" or "small business" stymie their vision for the business.
Remember that the intelligence in the seed of an acorn leads to a big oak tree, if well nurtured. Similarly, the intelligence in a startup business idea can lead to a big business, if well shepherded.
Today's topic will focus on five important elements of startup business operations: (1) excellent goods/services; (2) timely business support; (3) steady profit; (4) stable growth; and (5) disaster mitigation.
Excellence Goods/Services – ISO standards 
The International Organization for Standardization (ISO) publishes many worldwide technical, industrial, and commercial quality standards which describe the best way to produce goods and services to satisfy consumer needs.
The shepherd will guide the entrepreneur so that the production and delivery of goods and services will compete globally on quality.
Timely Support – Admin, accounting, ICT
As the entrepreneur expresses a passion for the production and delivery, there are three key support areas which will enhance the efficiency of the overall startup operation, i.e., administration, accounting, and Information and communications technology (ICT).
The shepherd will guide the entrepreneur as to which of these services the entrepreneur should initially undertake to save costs, and which should be outsourced. This of course depends on the entrepreneur's competency in these areas.
Steady Profit – Sales↑, Costs↓, Productivity↑
Business success implies steady profit growth. The entrepreneur must focus on the profitability formula, i.e. revenue must exceed the sum of both direct and indirect costs, and  productivity must be enhanced to drive costs down.
In a post COVID-19 inflationary environment, there will be a challenge keeping costs down.
The failure to project profits in a targeted time frame defines the prospect of business failure.
In this challenging environment, the shepherd will guide the entrepreneur through a process to breakeven (sales = direct costs), then how to increase sales to cover indirect costs and then ultimately how to achieve a steady profit.
Stable Growth – Jobs, owners' equity, GDP/capita
Steady profits will result in (1) more and more jobs being created and an increase in the circular flow of money; (2) the ability of the startup to buy back its shares in the Fund, leading to 100 percent ownership of the startup by the entrepreneur; and (3) the collective power of the family of successful startup businesses (supported by the Fund) redounding to the increase of the GDP per capita of the country or territory.
If the startups win, we all win! 
Disaster Mitigation – Prepare, manage, recover
Climate change is real, and its global economic impact has been disastrous. On top of that, the COVID-19 pandemic has played havoc with economies all over the world.
Enterprise development has a major role to play in the post COVID-19 recovery process, but because of the disaster-prone environment entrepreneurs must be engaged in a disaster mitigation protocol which includes disaster preparedness, management and recovery.
Shepherds will be trained in disaster mitigation practices so as to guide the entrepreneur when the need arises.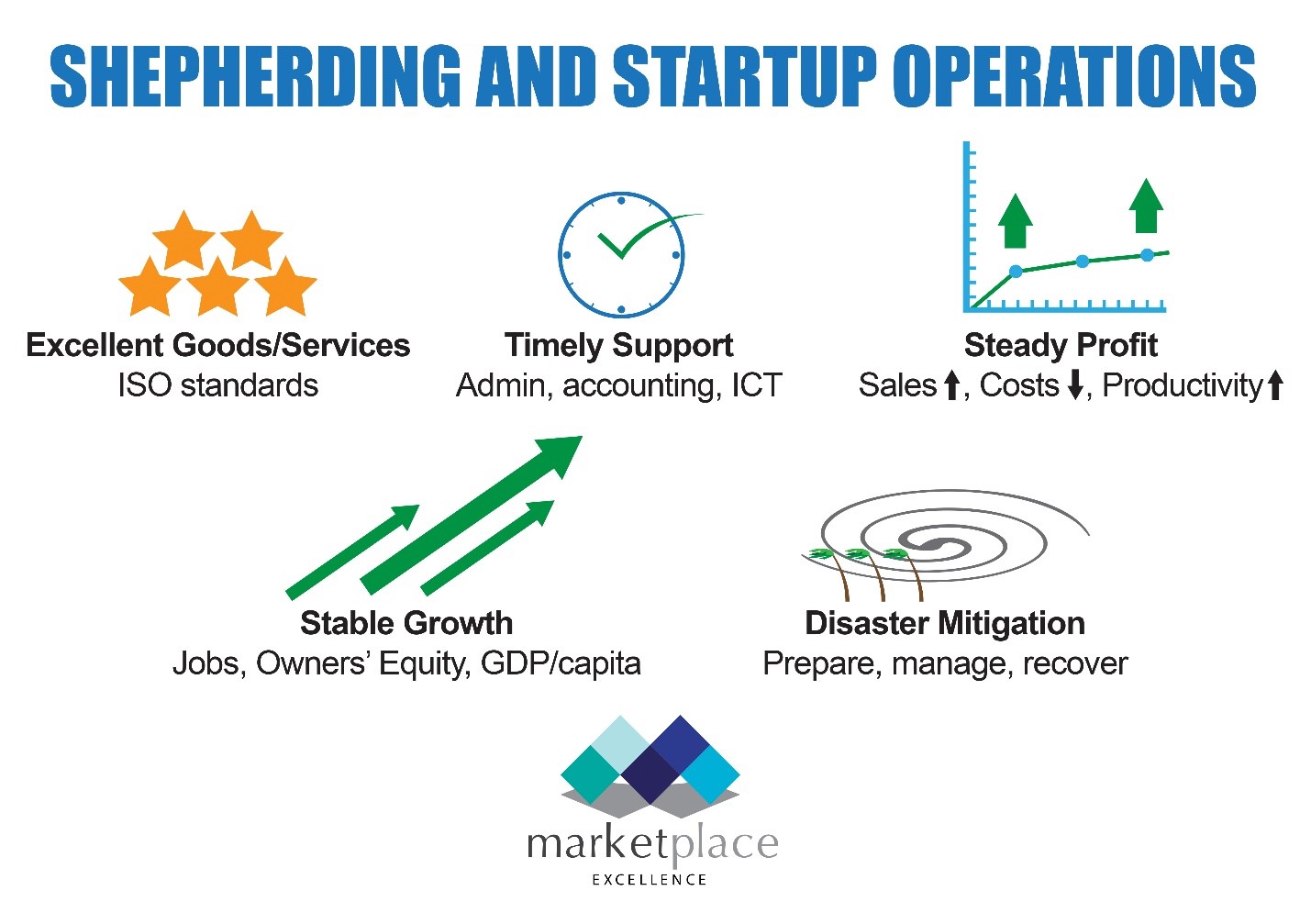 (Dr. Basil Springer GCM is a Change-Engine Consultant. His email address is basilgf@marketplaceexcellence.com. His columns may be found at www.nothingbeatsbusiness.com).