"I appeal to you, brothers, by the name of our Lord Jesus Christ, that all of you agree, and that there be no divisions among you, but that you be united in the same mind and the same judgment." – 1 Corinthians 1:10
In September 2021, it will be 61 years since I arrived at the Mona campus of the University of the West Indies (UWI) in Jamaica. It is with great pride as an alumnus to heartily congratulate Professor Sir Hilary Beckles on his reappointment as Vice-Chancellor of our regional university.
His regional leadership, his work to leverage the historical reparations perspective, and his success in indelibly etching the name of UWI on the global education map have been exemplary.
Congratulations, too, to the UWI Sagicor Cave Hill School of Business and Management on the launch of their Enterprise Development Centre thus endorsing the importance of the enterprise development thrust as a catalyst for the future socioeconomic success of the Caribbean.
Enterprise Development is a subject very close to my heart. After managing Systems Caribbean Limited, as a pioneering Caribbean business development services practice for 23 years, we handed over the reins in 2000 to a younger management team and the business is still operating today.
Since then, in the "retirement" phase of my professional career and as a way of giving back to society, I have been focused, at my own pace, on shepherding Caribbean startup entrepreneurs in real and virtual settings. This consists of life coaching and business mentoring.
This interaction has been very rewarding as I have managed disruptive innovation teams to (1) convert entrepreneurs' concepts into commercial realities; (2) research, test, pilot and implement ideas to help entrepreneurs remove obstacles along the journey to business success; and (3) design and implement initiatives for appropriately funding entrepreneurs on a timely basis.
An output from these experiences has been a lexicon of catchy business phrases. Here is a random taste of the types of phrases that have evolved and resonated well with entrepreneurs.
Governance: (1) Start your Business with a Board Meeting – laying a good foundation; (2) "Passion, Persistence and Patience" – a daily mantra; (3) Satisfied Clients, Happy Team members and Service Delivery Excellence – the raison d'être; (4) Economic Gearing System – the relative roles of enterprises.
Security: (5) The Shepherding Model (ideas, shepherding, funding) – as collateral. (6) "Equity, flexible cash flow-driven repayment, buy-back shares" rather than "loan, fixed monthly repayment, term limit" – entrepreneurs' ownership; (7) Quick Response Seed, Equity and Working Capital Growth Fund – an appropriate mix.
Marketing: (8) Underpromise and Overdeliver – client commitment; (9) Public Relations, Digital Marketing, Social Media – state-of-the-art; (10) Networking Events – meet potential partners and clients.
Operations: (11) When the Going gets Tough, the Tough get Going – never give up; (12) The MPE Management of Business Systems Matrix (ManOBizTM) – mitigating the high startup failure rate; (13) Sequential Evolutionary Approach – an optimization system; (14) Expand the Market for Successful Profit Centres, Contain Cost, Enhance Productivity – increased profitability; (15) Matching Workforce Supply with Demand – high productivity; (16) MPE SHED Caribbean – a homegrown enterprise development service; (17) Pay Out of Future Profits – boosts cash flow.
Sustainability: (18) Start Small, Do it Right, Make a Profit, Then Expand (Skip Weitzen) – measured growth system; (19) Positive Affirmations of Abundance – attraction of holistic personal health; (20) Shepherding Squad – experienced business professionals sharing an amazing brainstorming experience.
Let us learn from each other and be united in the same mind and judgment, as the experienced shepherd leads the pack.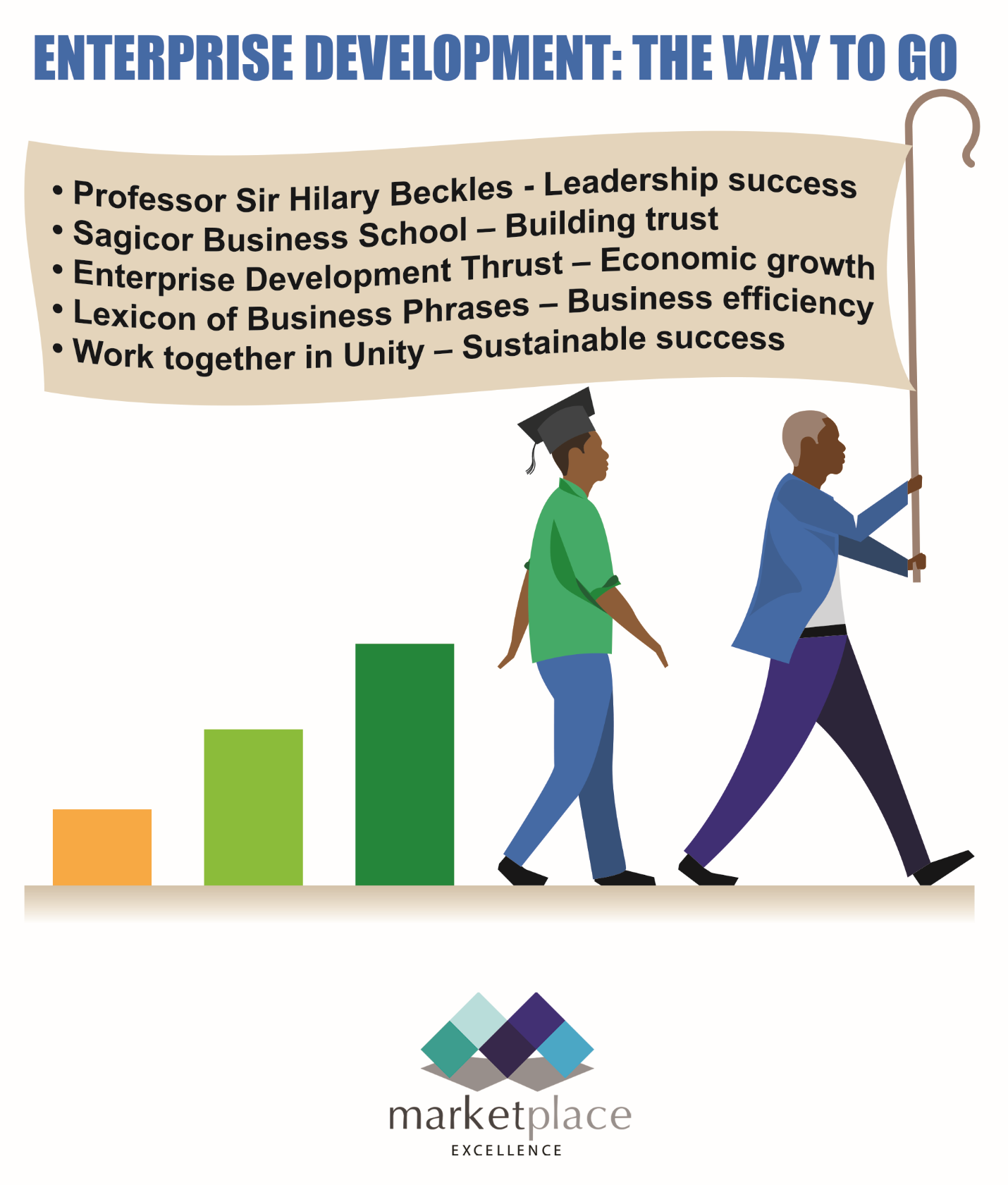 (Dr. Basil Springer GCM is a Change-Engine Consultant. His email address is basilgf@marketplaceexcellence.com. His columns may be found at www.nothingbeatsbusiness.com.