"The Parable of the Barren Fig Tree." – Luke 13:6-9
Last week, a regular reader of my column, in noting the relatively weak average 2019 GDP per capita CARICOM performance when compared with selected countries, passionately shared this observation: CARICOM is a large bureaucratic financial black hole lacking in a smart partnership philosophy and is in urgent need of governance restructuring.
What else can we learn from these comparisons?
Singapore's success, as one of the world's most prosperous nations, is due to the strong leadership style by Lee Kwan Yew when he took over the reins as Prime Minister in 1959. His government's Connectivity, Openness, Reliability and Enterprise (CORE) economic development strategy was expertly implemented.
The relative success of the United States Virgin Islands is due to the twin facts that it has the status of a U.S. territory and is geographically close to the U.S. mainland.
Lima, Peru's governance structure merely highlights the fact that CARICOM is an overmanaged region.
Barbados, a member of CARICOM, has been historically recognized by the United Nations as a country that has "punched above its weight". In addition, Barbados' Prime Mia Minister Mottley over the last three years has demonstrated a strong leadership style and has espoused that it is "Time to pivot the Caribbean as a global leader".
CARICOM may also learn from Prime Minister Dr. Mahathir Mohamad's "Malaysia Incorporated". Malaysia was managed like a business from 1981 and the country's GDP per capita growth rate increased exponentially.
Here is a summary prescription delineating the innovative and disruptive strategies needed to improve the health of CARICOM.
Governance Policy Structure (regulatory) – (1) The United States of the Caribbean; (2) public-private partnerships (P3); (3) regional transportation; (4) climate change.
Governance Economic Structure (service) – (1) "CARICOM Incorporated"; (2) the startup business sector, (3) CARICOM assets (arable land, mining, the blue economy, warm climate, renewable energy sources, intellectual capital, talent, spiritual power, the Diaspora, cricket); (4) public sector services (oil/gas, water, renewable energy, education, food subsidies, health care, housing, community management, policy research, lobbying); (5) rationalization of central banking and common currency; (6) human capital development; (7) local and foreign private sector investment; (8) rationalization of development assistance.
Financial Security – (1) incentives for private sector investment; (2) country partnerships with prosperous nations for mutual benefit; (3) long-term loan financing from international institutions for infrastructural development.
Marketing Life – (1) Caribbean brand; (2) public relations and digital marketing.
Effective and Efficient Growth – (1) service excellence culture; (2) economies of scale; (3) optimal management structures; (3) overseas missions and memberships of international organizations.
Regional Sustainability for Eco and Socioeconomic Balance – (1) disaster management and recovery; (2) matching workforce demand with workforce supply.
The CARICOM GDP per capita growth rate was stagnant for years prior to COVID-19. Albert Einstein is credited with the saying: "The definition of insanity is doing the same thing over and over again but expecting different results".
Caribbean leaders, to avoid an unkind image by posterity, need to embrace the message in the parable of the barren fig tree and pivot now out of the whirl of indecision. Think positively, unite politically, and give the CARICOM economy a chance to soar into the promised land.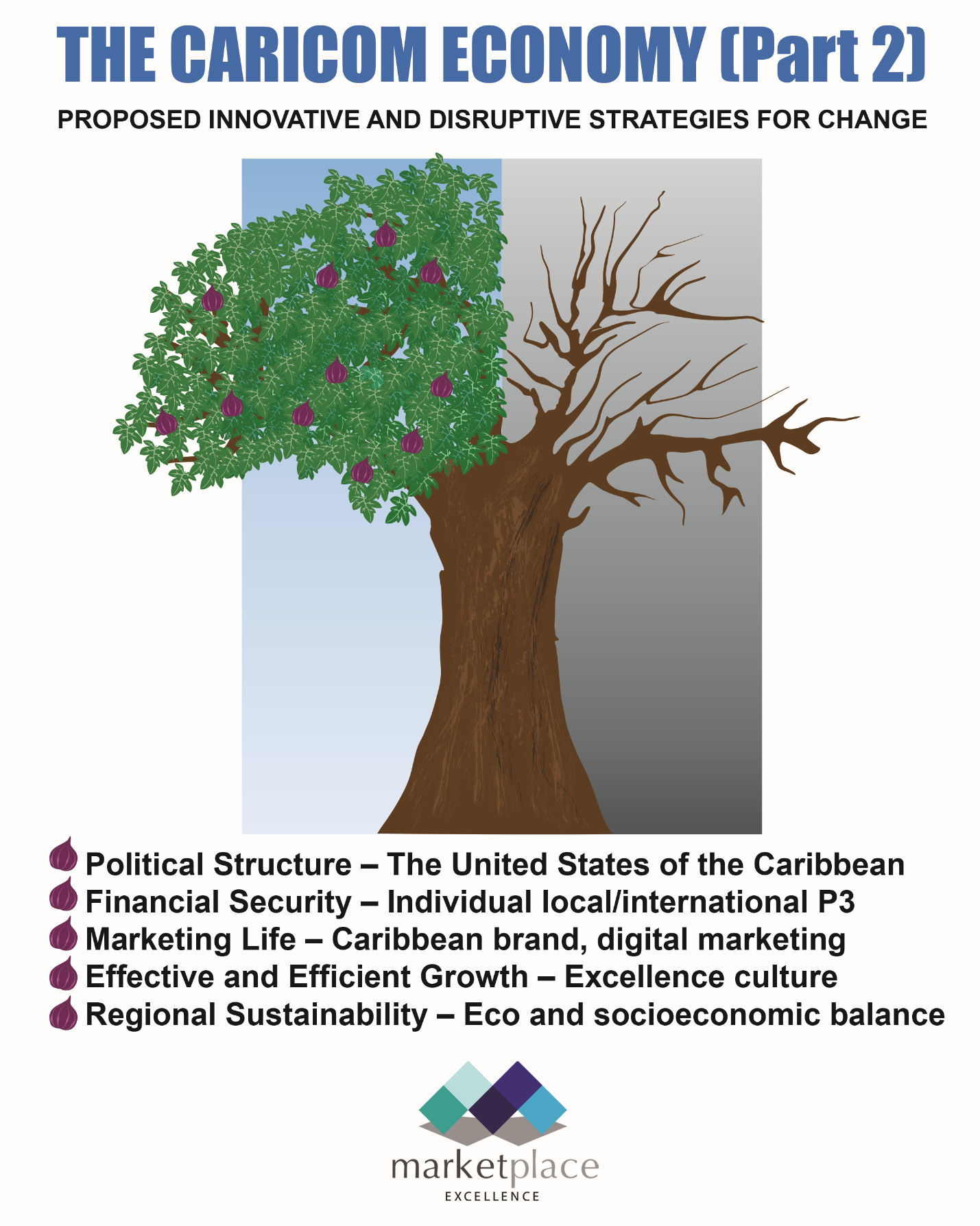 (Dr. Basil Springer GCM is a Change-Engine Consultant. His email address is basilgf@marketplaceexcellence.com. His columns may be found at www.nothingbeatsbusiness.com.)