"For I know the plans I have for you, declares the Lord, plans for welfare and not for evil, to give you a future and a hope." – Jeremiah 29:11
The future of the CARICOM economy will be addressed in two successive columns.
Part 1 gives a historical synopsis of the CARICOM environment, strategic economic comparisons between CARICOM and other selected jurisdictions with a stronger economic performance, followed by examples of CARICOM's economic development challenges and possible solutions.
Part 2 will focus comprehensively on innovative and disruptive strategies for change.
The Caribbean region of the Americas comprises Central and South American states, the coasts of which border on, and islands in, the Caribbean Sea. Caribbean countries which are overseas jurisdictions of France and The Netherlands are not included in these discussions.
The one attempt to establish a political union of 10 British Caribbean colonies, The West Indies Federation (1958-1962), collapsed because of internal political conflicts among its members.
CARICOM (established in 1973) is today a 20-country grouping of former British Caribbean colonies (12 now independent) and six current British Overseas Territories (including Bermuda in the western North Atlantic Ocean), together with Haiti and Suriname. The Conference of Heads of Government of these Member States constitutes the leadership of CARICOM.
These self-governing Caribbean countries have established partnerships with regional and international organizations to share policy positions and develop trade arrangements towards stimulating sustainable growth. Yet, the CARICOM economic performance of US $12,608 GDP per capita (2019) has not been stellar. First world countries are packing a punch of at least US$40,000 per capita.
These diverse organizations, partnerships and agreements include: (1) Caribbean Community Secretariat; (2) Organization of American States; (3) Association of Caribbean States; (4) Caribbean Forum, (5) Caribbean Single Market and Economy; (6) Organization of Eastern Caribbean States; (7) European Union and Caribbean Economic Partnership Agreement; (8) United Nations Economic Commission for Latin America and the Caribbean; (9) North American Free Trade Agreement; (10) Caribbean Canada Trade Agreement; (11) United States Agency for International Development; (12) Canadian International Development Agency;  (13) United Nations; (14) International Monetary Fund; (15) World Bank; (16) Inter- American Development Bank; (17) Caribbean Development Bank; (18) Caribbean Export Development Agency; (19) African, Caribbean and Pacific Group of States; (20) Bilateral agreements with African countries.
What can CARICOM learn from the relatively better economic performance of four selected diverse jurisdictions: Singapore, Lima (Peru), the United States Virgin Islands (USVI), and Barbados? The graphic herein presents an interesting 2019 comparative profile of GDP per capita; land area; population; and leadership between CARICOM and these jurisdictions.
Examples of CARICOM's economic development challenges and possible solutions include:
(1) The failure to address the establishment of a CARICOM political union, in the last 60 years, has hindered economic development progress. A United States of the Caribbean solution is proposed along the lines of the USA.
(2) Arable land, mining, the blue economy, warm climate, renewable energy sources, intellectual capital, talent, and spiritual power, are the major assets of CARICOM. A solution is proposed where we exploit all business value propositions which embrace these assets, import manpower where necessary,  and rationalize opportunities for local and foreign private sector investment, and development assistance.
(3) The human asset is our most important resource. Training systems often lead to certification for which there are no jobs available. One solution is to drive the training system by matching workforce demand with workforce supply.
Next week we shall delineate and propose a comprehensive set of solutions in greater detail.
Until then, let's stay focused on solution-oriented approaches to today's challenges and opportunities.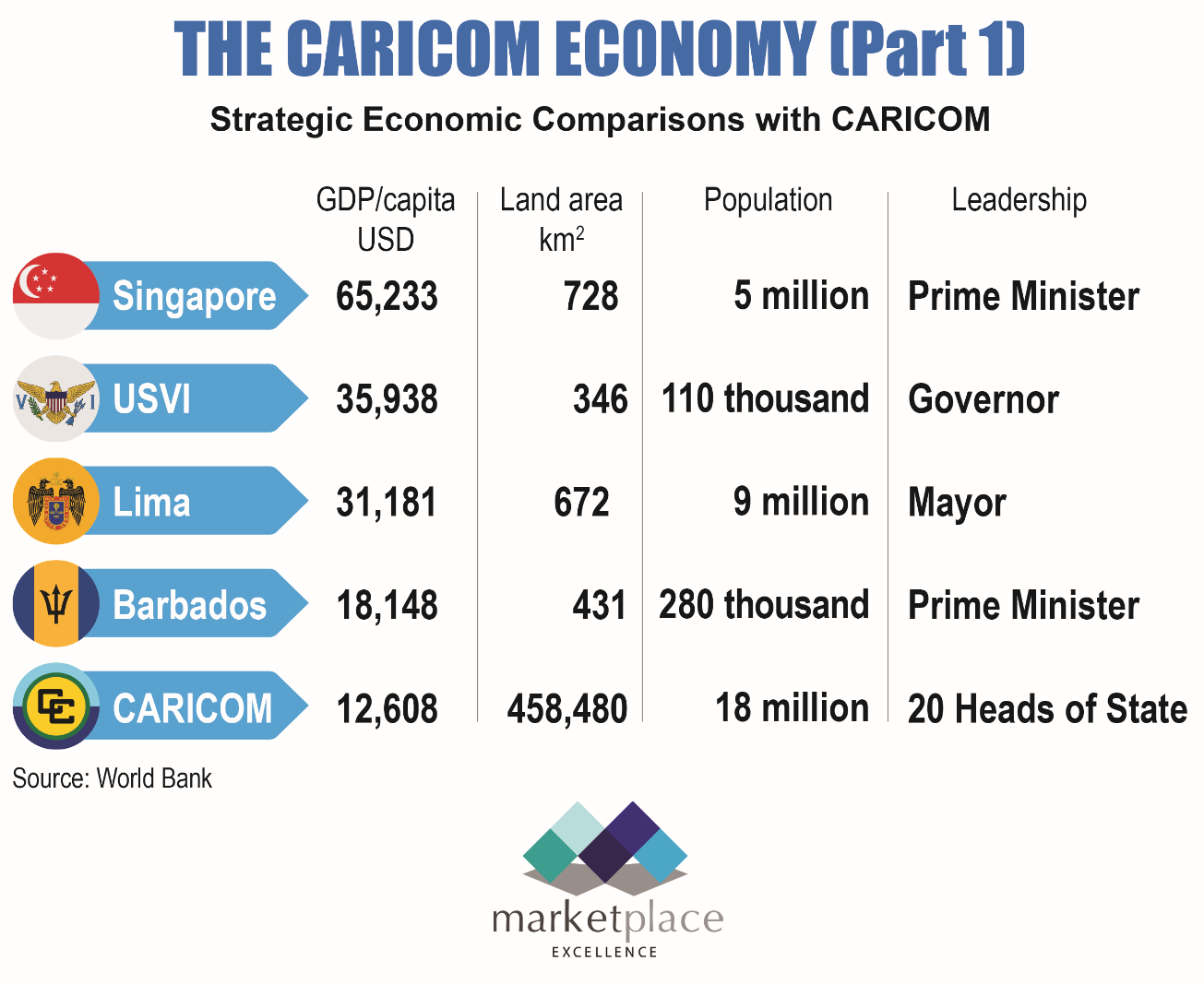 (Dr. Basil Springer GCM is a Change-Engine Consultant. His email address is basilgf@marketplaceexcellence.com. His columns may be found at www.nothingbeatsbusiness.com.)