"Do not conform to the pattern of this world but be transformed by the renewing of your mind. Then you will be able to test and approve what God's will is – his good, pleasing and perfect will." – Romans 12:2
An essential component of an economic recovery and transformation process is economic growth. The only thing that remains constant in life is change, therefore it is unreasonable to assume that traditional Caribbean economic sectors, which may be synthesized primarily as tourism, culture, energy, ICT, food and export services, will remain constant amidst the waves of change.
Indeed, in my experience in the Caribbean, lateral and innovative thinking is alive and well. Many ideas emerge which may induce these waves of change not only in well-established businesses (intrapreneurship) but also by in startup businesses (entrepreneurship).  We need to create an enabling environment which inspires male and female entrepreneurs and guide them along the journey to sustainable success. We need to focus on businesses which, although in the startup phase and necessarily small, would have "DNA of an elephant" characteristics, i.e. the potential to grow, export and make a meaningful contribution to the region's development.
Entrepreneurial interest must be nurtured by Shepherding. The entrepreneur needs a shepherd, divinely inspired to: "make me lie down in green pastures, lead me beside quiet waters, refresh my soul and guide me along the right paths" or, in other words embrace the practices of life coaching, business mentoring, Theo-economics and community service thus addressing all elements that are necessary for sustainable business success.
Shepherding leads to creative financing where the entrepreneur is advised what money is needed, for what purpose, in what form, the likely sources of the money and the timeliness of the injection to fuel the growth of the company.
Creative financing, in contrast to traditional loan financing, is the missing link to sustainable success. A solution to the problem is "innovative working capital financing" where "shepherding" replaces hard collateral, where "payment out of future profits" replaces monthly payments of principal and interest, and where "the exit clause" replaces the fixed repayment period.
In November 2009, the then Prime Minister and Minister of Finance now the late David Thompson, launched the Barbados Entrepreneurs' Venture Capital Fund (BEVCF). Even though the project got off the ground and nine projects benefited, it was not sustainable without an incentive to the private sector being in place.
This is where persons with excess disposable income get involved either individually or collectively. Collective involvement is preferred because of the well-established principle that "unity is strength" – in this case you are spreading the investment risk. Your excess disposable income may be giving little or no return in this economic environment but financing the development of an enterprise may. Such persons are encouraged to partner with enterprises and their shepherds towards a win-win outcome.
We must be creative in turning on the BB$9bn Barbados private sector savings tap to help dig the island out of its economic doldrums. By extension, a similar strategy would be welcomed to mobilize part of the US$47bn private sector savings in the Caribbean Community for the benefit of regional economic growth.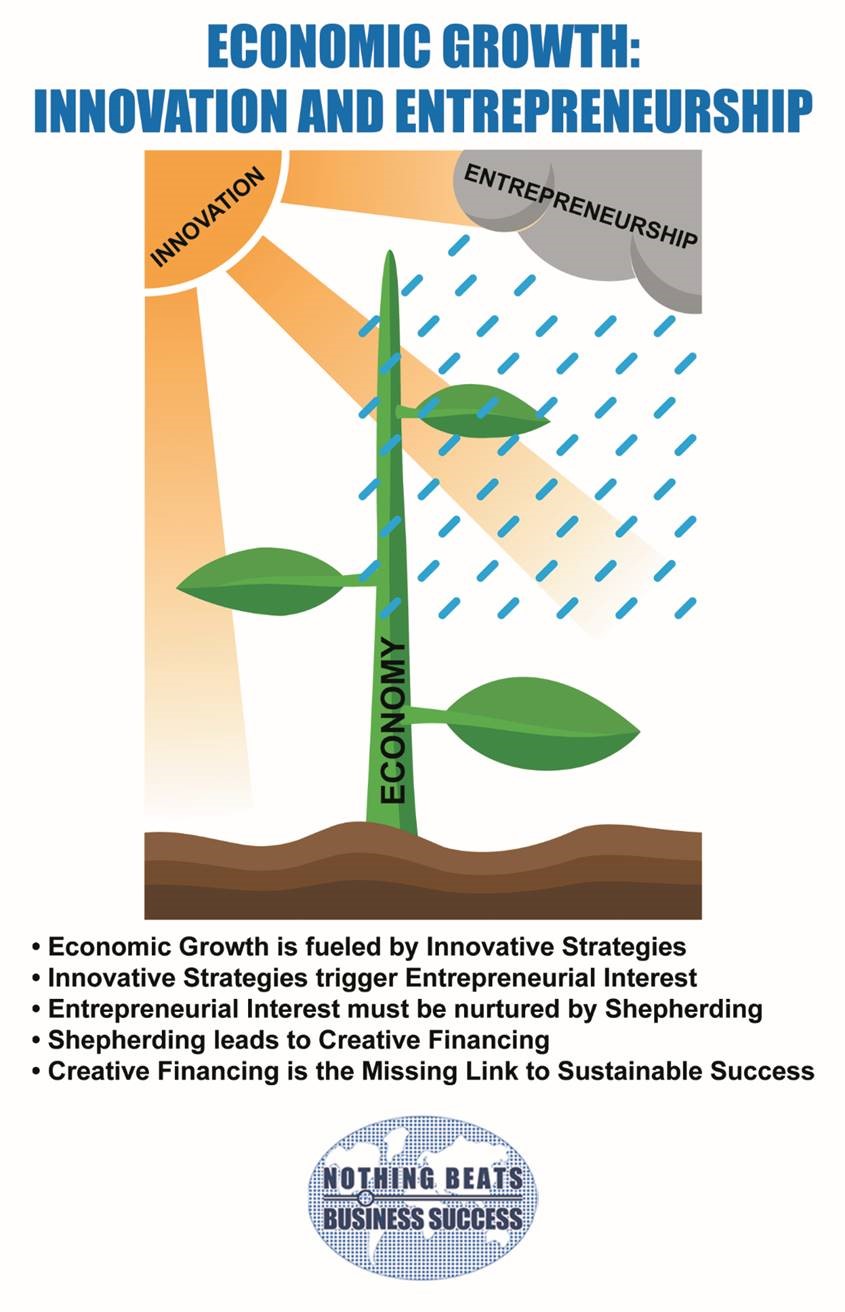 Just as water and sunlight are the critical factors in the growth of a plant, innovation and entrepreneurship are critical to economic growth.
In this dynamic environment, the ears of entrepreneurs, who are looking to embrace change, will be pricked up by this new innovative thrust and it is these entrepreneurs, guided by their shepherds, who must assume the responsibility for implementation. Creative financing concepts are in place.
The two ingredients that entrepreneurs need to efficiently effect the implementation process, is shepherding and creative financing. Let us stop paying lip service to entrepreneurship and let us change and respect their needs in the interest of the greater good.
(Dr. Basil Springer GCM is a Change-Engine Consultant. His email address is basilgf57@gmail.com. His columns may be found at www.nothingbeatsbusiness.com and on www.facebook.com/basilgf).