"Walk with the wise and become wise, for a companion of fools suffers harm." – Proverbs 13:20
Successful people and organizations leverage the ideas, resources and money of others to help achieve their goals. Collectively this contributes to the holistic growth of a country. In this column, I shall share some of my experiences with such organizations.
The Caribbean Media Exchange (CMEx) was established in 2001. CMEx's mission is to support and develop the ability of the media, government, travel and tourism industry and communities to consider the importance of tourism in sustainable development while lending a hand to the communities involved by sharing relevant expertise, financial and in-kind assistance. CMEx will launch a fundraising event on Saturday, December 14 which is a prime example of leveraging relationships – www.cmexmedia.org.
Venus Doggess of Love (VDL) is an NGO creating better lives for Tobago's dogs and cats through rescue work and humane education. VDL is committed to ensuring the best life for as many animals as possible and has an international following and support of its work. Last week, Elspeth Duncan, VDL's principal, met with Her Excellency The President of Trinidad and Tobago Paula-Mae Weekes. It was an exciting and inspiring encounter and she hopes that the visit gives some elevation and endorsement to VDL's pursuits.
The Barbados Marketing Corporation (BMC), over the period 1981-84, was entitled to an annual government subvention for its development projects. However, there was a chance that this subvention could be reduced mid-term due to a shortage of funds in the government coffers. Instead, the BMC opted to partner with a commercial bank to obtain a bank overdraft facility for the same amount as the annual subvention. It was secured by a letter of comfort from the government. The outcome was that the BMC's profit centres repaid the bank after three years while the government saved annual subventions over the three years, and the projects were completed.
In 1994, the new board of the Barbados National Bank was given the mandate to stop the hemorrhaging of bank funds. The board addressed glaring weaknesses and assembled a strong management team. Within nine years, the bank's assets were strong enough to attract the Republic Bank of Trinidad and Tobago. The rest is history.
The Barbados Cancer Society will be celebrating its 40th anniversary next year. Over the years, it has partnered with the Ministry of Health, a commercial bank and volunteers and well-wishers to establish its headquarters where many cancer preventive services are offered to both men and women.
Blue Waters Productions Limited, a Barbados film production company, has produced two internationally well-received Caribbean full-length feature films (Hit for Six and Panama Dreams), a TV Reality Series (Bank on Me) and other short films and documentaries over the past decade. BWP is currently reaching out to global resources to leverage its early production accomplishments, in search of sustainable success.
In 1994, the United Nations small islands conference was held in Barbados. The concept of a Future Centre was promoted to capture features of the parallel Village of Hope exhibition. This concept has evolved over the last 25 years with assistance from local, regional and international partners. The Future Centre Trust is now a leading Caribbean example of "a catalyst for sustainable living today and tomorrow."
Rotary International has been working to eradicate polio for more than 30 years. It now spends US$150 million per annum towards this end. It raises its money through international contributions to the Rotary Foundation.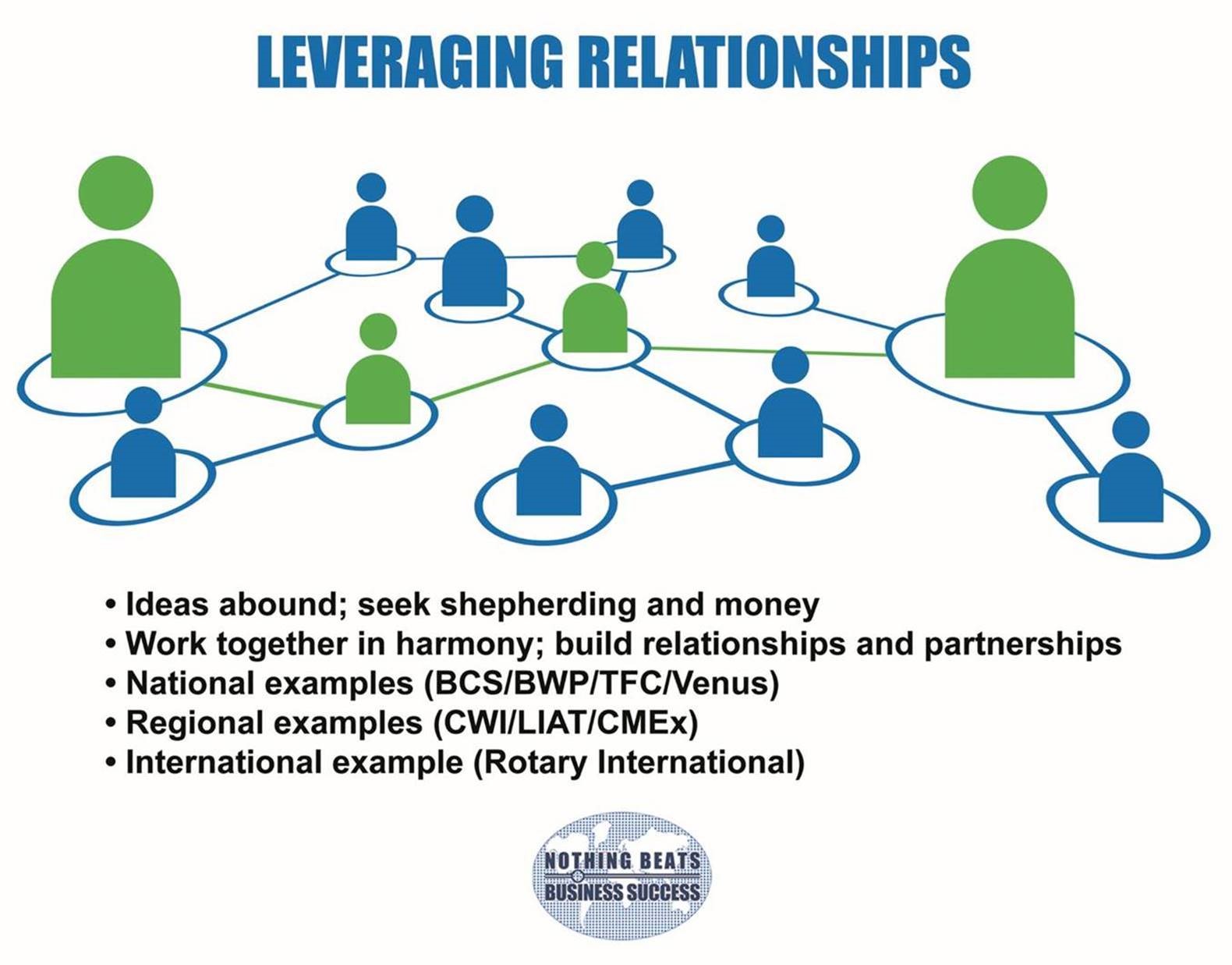 Business sustainability calls for the optimal management of business systems, whether you are a government department, corporate entity, NGO or individual. The owners of capital and expertise are encouraged to protect their resources, yes, but continually explore opportunities to execute their corporate social responsibility by building synergistic relationships that will collectively contribute to the benefit of us all.