"Anxiety in a man's heart weighs him down, but a good word makes him glad." – Proverbs 12:25
Cricket West Indies (CWI) stakeholders were ecstatic about the excellent performance by the men's team, led by interim coach Richard Pybus, against the highly-rated England.
This series ended just prior to the CWI election on March 24, 2019. What followed was a rash action of dismissals by the new administration, including that of Pybus and the selection committee, which probably damaged morale among the squad and could result in unnecessary litigation.
Pybus' replacement, Floyd Reifer, another interim coach, has presided over successive heavy losses in all three formats of the game, in the ODI World Cup and against India on tour of the Caribbean.
Richard Pybus has since shared that West Indies' current slump is a disappointment to him. His work with the team had the makings of something special. He had been praised by many for the way the side performed against England.
Last Monday, CWI mounted a press conference in Trinidad, following a quarterly board meeting in Tobago, to give an account of its stewardship to date.
There was no reason given in the press conference for their rash action. A more tempered approach would have been to pursue a careful examination of the reasons for the stellar performance against England and then perhaps to build on them.
The fact that there was a CWI press conference is positive, though its presentation for those stakeholders viewing the streamed audio/video version was less than excellent. It was fraught with technical blunders: Zoom was not actionable, the quality of audio was variable, one static camera position was not state-of-the-art, there was no indication as to the board meeting agenda, and no access to the information on the screen referenced by the speaker.
There was a presentation by the Vice President on a selection task force report which focused on the refinement of the selection process and the appointment of a "white ball" captain.
CWI should be applauded for their scientific attempt (focus groups, interviews, comparisons with other cricket administrations, and literature reviews) to garner widespread stakeholder opinion.  A sample of 2,700 fans across the region and beyond, administrators, coaches, franchise CEOs, and players were consulted. In return, CWI must provide feedback to  stakeholders to whom they are accountable. Has the selection task force report been made available, say, on the CWI website?
It was reported CWI has decided to pursue a cricket-first policy in the hope of improving the competitive performance of all teams under the purview of CWI. Whereas this is honorable, there are many other issues such as governance (cricket fans are disenfranchised), investment finance (an innovative approach perhaps among the Diaspora), marketing (a modern media and public relations strategy leading to increased revenue), and sustainability (succession planning of leaders and cricketers towards highly competitive teams).
Congratulations are due to Kieron Pollard as "white ball" captain! It will certainly take some of the pressure off Jason Holder and allow him to focus on leading the test team.
Pollard has two primary strategic objectives: to work with coaches and selectors to prepare and lead teams at the ICC T20 World Cup in Australia in October/November 2020, where the West Indies team will be defending champions; and the ODI Cricket World Cup in India in February/March 2023. We must remember, however, that he is 32 years old. If CWI is thinking strategically, they will move swiftly to select a younger vice-captain to work with Pollard, as an excellent team-building and succession planning policy.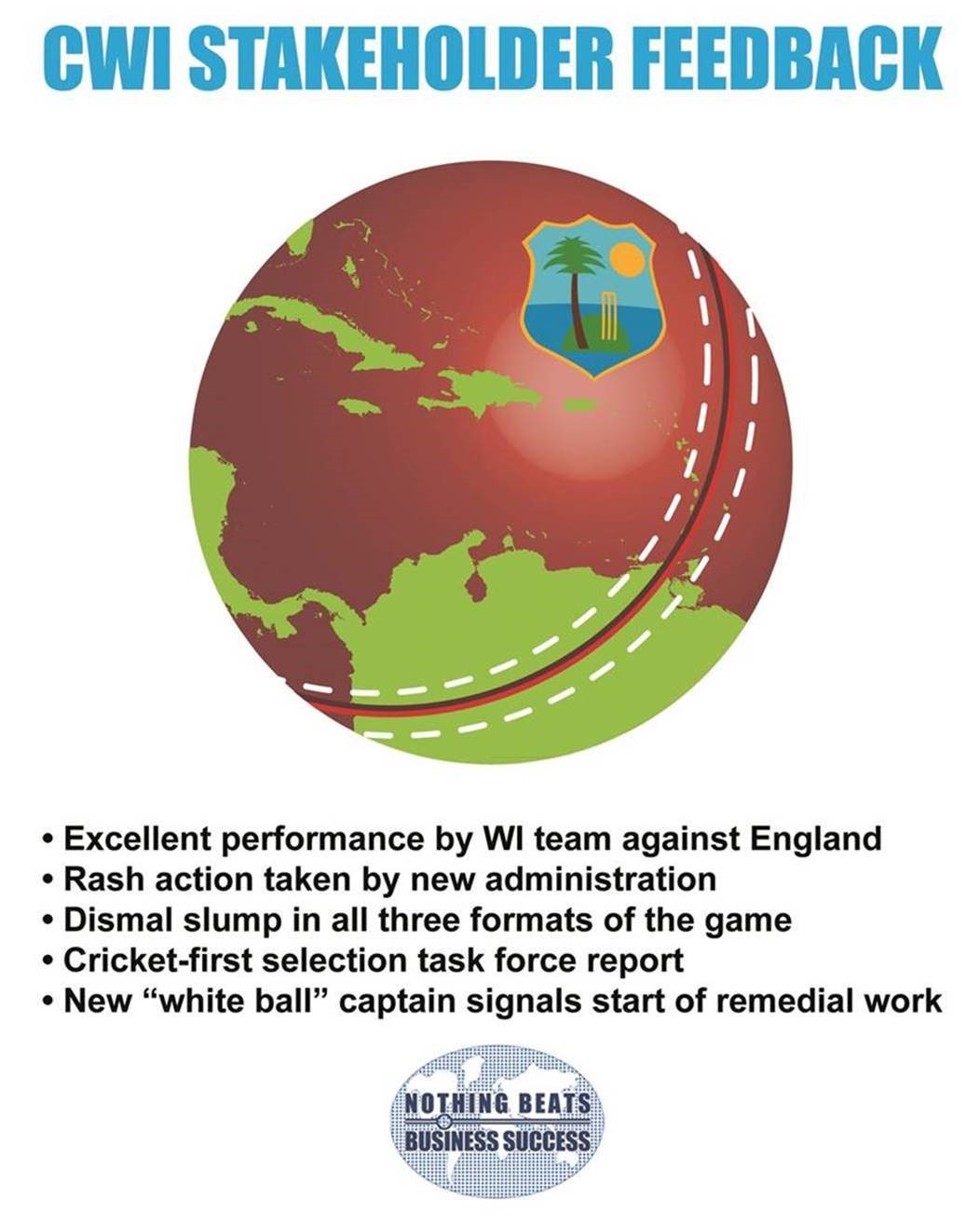 The CWI focus must be accountability to its stakeholders. Excellent cricket performance makes the stakeholders happy. Let all stakeholders keep the CWI board on their toes and let us continually monitor the CWI board's performance and ask them, in return, to be responsible and proactively keep communication channels open, as they aspire to excellence.