"And the rain fell, and the floods came, and the winds blew and beat on that house, but it did not fall, because it had been founded on the rock." – Matthew 7:25
At this time of year, the hurricane season is upon us and we are reminded of the mariner's ditty: June – too soon; July – stand by; August – a must; September – remember; October – all over.
Large industrial countries have been negligent in their control of the production of greenhouse gases which stimulates global warming to produce conditions on which hurricanes thrive and become more and more devastating. States, large and small, have no control over the advent of hurricanes.
Most island territories in the Caribbean archipelago are within the hurricane belt and have been victims of various levels of hurricane damage, although the historical risk to the ABC islands and Trinidad & Tobago has been small. These countries depend on tourism as their primary economic activity and therefore timely and effective disaster recovery management is paramount.
Small states can engage to some extent in hurricane preparedness, but the force of a hurricane can sustain such great damage that we must have a parallel recovery management plan in place. The components of this plan are access to help from global partners (economically stronger than each of the territories) as well as timely, innovative restoration of the infrastructure and operational systems which may be decimated.
One example of a useful innovation is the recently compiled Caribbean Hotel and Tourism Association's (CHTA) Crisis Communications manual. The CHTA has shared this document with its members as a disaster management tool.
All island territories in the Caribbean have a historical relationship with economically stronger partners on whom they can immediately call. These partners include Britain, the CARICOM Secretariat (playing a coordinating role), France, Netherlands, Russia and the United States. The reality immediately after the devastation can be no electricity, no internet connection, no telephones, airlines are grounded, tourists are stranded – anxious to return home. The relationships with these partners must be such that an immediate response is expected.
Innovation, in this context, means that we have to think outside the box and use the occasion of the disaster to trigger new ways of doing things to facilitate the recovery process and get to the point as soon as possible where the island is open for business.
The concept of disaster recovery management can also apply to a country's economy. If an economic hurricane has devastated a country then we must engage public and private sector partners from stronger countries, to take timely innovative action and strengthen the implementation of all business activity.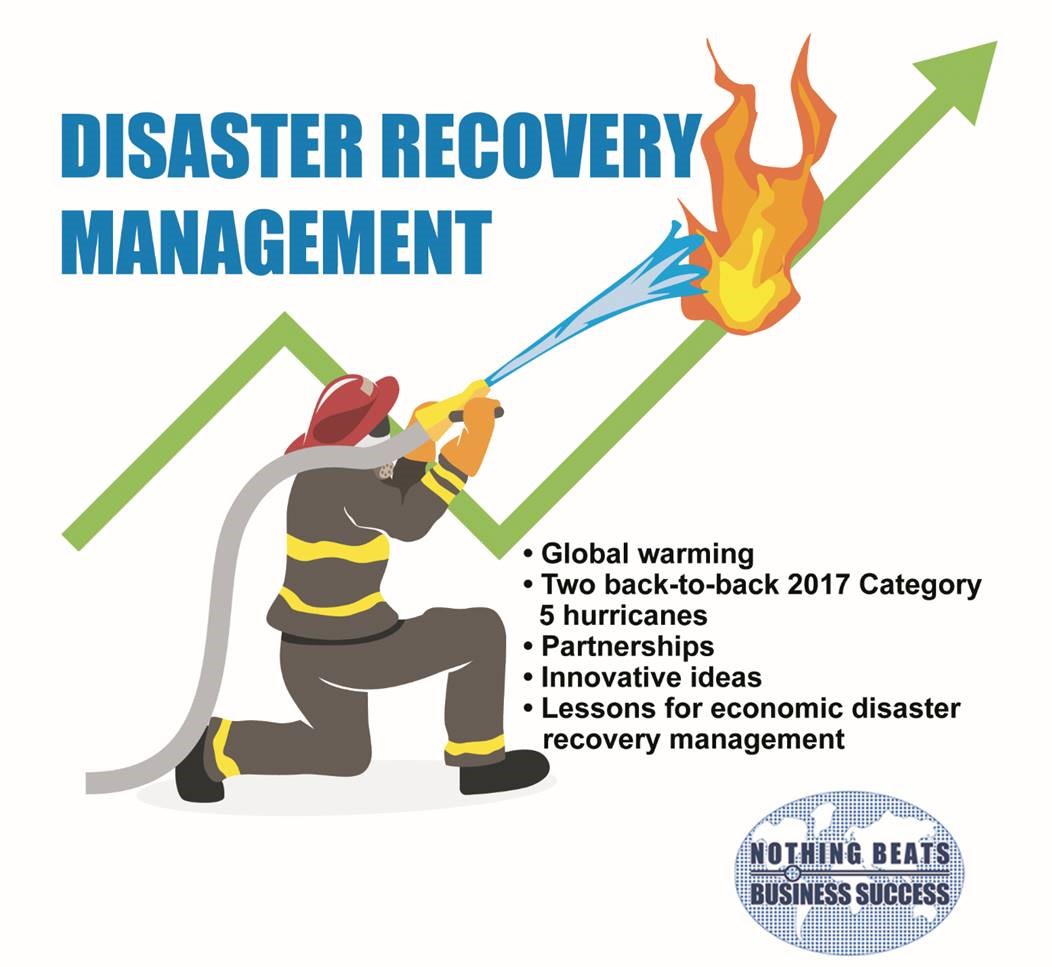 Let us aim to build our economy on a solid foundation accompanied by a sound innovative disaster recovery management plan, so that if an ecomomic hurricane hits we shall, with all hands on deck, be quickly up and running again.