"Behold, how good and how pleasant it is for brothers to dwell together in unity!"- Psalm 133:1
A Caribbean airline is vital to CARICOM development. The demand is created primarily by government, business, tourism, sports teams, education and trade.
LIAT, at present, has 15 Caribbean destinations. Regional airline investment government policies are not in harmony. Antigua & Barbuda is focused on the economic benefits of a LIAT headquarters agreement. Barbados, Grenada, the United States Virgin Islands and the British Virgin Islands will consider supporting uneconomical routes to the extent that they exist. St. Lucia will not invest in a regional airline with the existing structure. St. Vincent & the Grenadines has a new international airport to maintain. Guyana and Trinidad & Tobago have various priority commitments related to interests in their own national flag carriers. Dominica and St. Kitts & Nevis must find a way to support unprofitable routes. I am unaware of the investment positions of Sint Maarten, Martinique, Guadeloupe and Puerto Rico.
No one puts new wine into old wineskins. One of the factors that has plagued LIAT – The Caribbean Airline is the inability to secure investment finance. Let us adopt an innovative strategy and seek a multitude of counsel with a view to securing finance, which will contribute to invigorating the airline with life through its marketing strategies, instilling growth through its efficiency, and becoming sustainable by engendering an awesome staff culture.
Our strategy must include suppliers of flying stock and systems. We must address the ability to service unprofitable routes, involve individual government and local private sector investment, draw on a wider pool of investors at home and in the diaspora through crowdfunding, and reinvest our profits to strengthen the airline.
The role of a government is to manage regulatory and service functions to provide an enabling policy environment which facilitates the efficient business operations of the private sector. If the government thinks that it must inject funds into an essential service, like a Caribbean airline, then it should do so through a statutory corporation and remove the temptation from politicians to have a direct influence on the day-to-day operations of the company.
In particular, if the business is a regional airline, it is appropriate that regional organizations such as the CARICOM Secretariat and the Caribbean Development Bank should establish regional and international stakeholder interest and coordinate the activities necessary to establish LIAT (2019) Limited.
No major cooperative initiative has yet been revealed. However, it is interesting to note that the governments of Antigua & Barbuda and Barbados have begun formal dialogue on LIAT.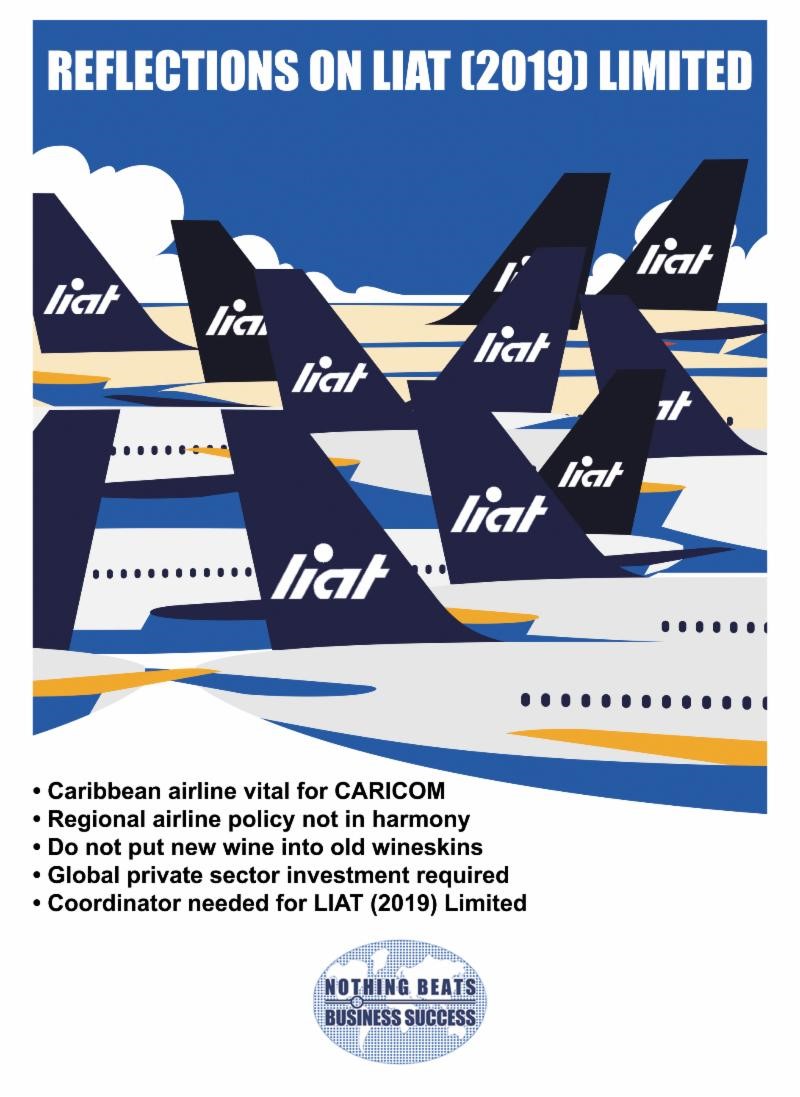 The future of CARICOM is being threatened by a financially hemorrhaging Caribbean airline.
Each Caribbean government has taken its own independent policy position on the survival of LIAT (1974) Limited, which includes mendicancy, token investment, desperation, responsibility for unprofitable routes and selfishness, in the hope that the problem will go away.
No right-thinking entity puts new wine into old wine skins, since the wine will burst the skins. A new airline must emerge.
The solution lies in embracing regional and international private sector stakeholder wisdom, experience and investment to conceptualize and implement a solution.
What are the roles of the CARICOM Secretariat, the Caribbean Development and the regional and international private sector in the context of balance and synergy in coordinating the development of a new airline?
A solution will only emerge if our brothers and sisters make continuing attempts to work together in unity.