"For the Spirit God gave us does not make us timid, but gives us power, love, and self-discipline." – 2 Timothy 1:7
In this series, we have addressed the issues of governance structure, financial security, marketing life and operational growth which are required to establish LIAT (2019) Limited, a new airline to replace the existing LIAT (1974) Limited.
Sean Phillips commented on a recent column, which embodied continuous improvement, as follows: "Good morning, I have been reading your articles on LIAT and found them insightful, and useful to the discussion on finding a solution for the failed business model deployed at the airline. I think that the continuous improvement model would be a good framework for the operations management strategic planning process … I'm a former senior manager in the Caribbean passenger airline industry, and I find this article spot on."
There is no evidence yet that LIAT (2019) Limited will begin with a strategic visioning process involving all stakeholders. In fact, the limited information in the public domain would suggest that there will be business as usual with no innovation.
It is also mandatory to address the staff culture if we want to stimulate sustainability of the new airline. This is the subject of today's column.
Singapore's national philosophy is: "our people are our greatest asset and we must develop them to the fullest."  Singapore has reaped significant success as a result of such a policy. This applies to any business activity. Why should LIAT (2019) Limited be excluded?
We must indeed develop a team with an awesome culture, a culture of excellence in the context of the objectives which we set about to achieve. We must inculcate positive affirmations of abundance in the emotional, financial, intellectual, physical and spiritual health of the individual.
A motivational environment must be created where each team member strives to develop the characteristics of ambition, self-confidence, good relationships and emotional security.
Individuals must be encouraged to recognize the twin responsibility of earning at a level to meet the day-to-day expenses of the family as well as to secure a pension plan with retirement in mind.
Most of us are born with a healthy brain which must be developed both intellectually, technically and appropriately to achieve the highest levels of productivity, where education is combined with technology and process improvement.
Each of us is given 24 hours per day for which we should give an account. The body is not a machine, it needs rest. In order for the body to perform efficiently, in addition to sleep, one needs to be nutritionally aware as to the best diet for oneself and follow the appropriate diet as advised, exercise regularly, practice peace of mind to reduce levels of stress and practice touch to expedite emotional security.
Thinking is a process of creating thoughts that transform energy into reality. Positive thinking leads to happiness. Think positively and enjoy the spiritual experience.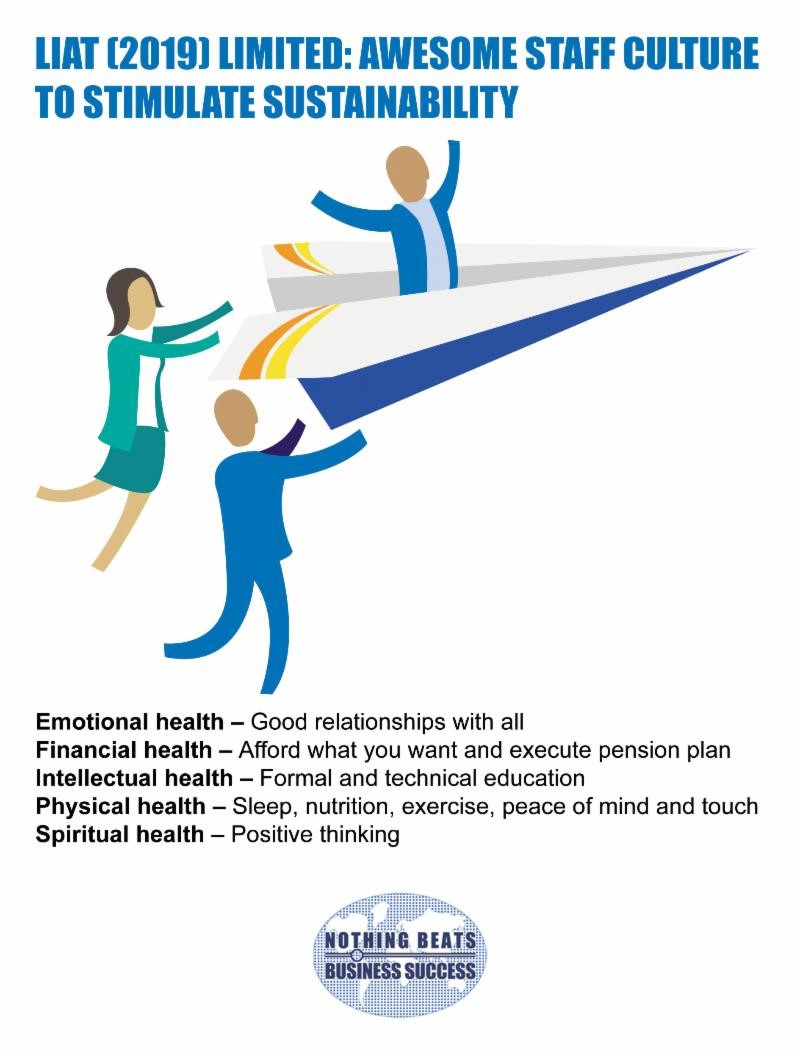 Any company worth its salt will have a plan for the development of the human resource and, in so doing, develop that awesome staff culture of power, love, and self-discipline.