"To answer before listening – that is folly and shame." – Proverbs 18:13
There was instructive feedback to last week's column on regional airline LIAT, which led me to a St. Lucia Times article by consultant David Jordan.
Mr. Jordan also directed me to a comprehensive online conversation between media and PR executive Jerry George and Paul Gravel of SVG Air with a focus on Caribbean government policy on airline fees and taxes, which is not only hampering LIAT but also the development of the travel industry across the region.
Then, on Friday, May 24, 2019, Argyle International Airport, and by extension the nation of St. Vincent and the Grenadines, received its first Boeing 747-400 aircraft, branded One Caribbean Airline.
What may be the relationship between One Caribbean Airline and the prospect of a LIAT (2019) Limited?
Today, we look at this proposed new airline within a global marketing context. The marketing strategy is the life of a business. Why restrict the markets of the new airline to  traditional business, domestic, sports and tourist travelers? There are many persons from distant parts of the globe, with ample disposable income, who are seeking new travel experiences and are fascinated by the diverse traits of the Caribbean archipelago of islands and coastal communities. I certainly have many stories I could  tell. These opportunities have been ignored. As we start afresh, let us pay attention to a model which allows us to market aggressively to these potential travelers. Let us listen first before we answer, rather than continue to drown ourselves in folly and shame.
Our marketing strategy must be guided by the nine Ps of marketing: Purpose/Position – Responding to the needs of all potential markets; Product/Packaging – Positive attractive air travel appeal; Price/Place – Affordable multi-destination Caribbean travel; Promotion/People – Expert public relations and social media marketing; and Polish – Continually evolving the marketing strategy to keep it fresh, relevant and effective.
Needs of the global market. Business travelers may be interested in day trips to minimize the amount of down time when traveling. Domestic travelers may be interested in family holidays at specific times of the year. Sports travelers are interested in predetermined tournament and training camp dates. Leisure travelers' annual peak periods vary from country to country depending on their interests. All of these travel markets must be researched.
Positive attractive air travel appeal. All travelers value the quality of their experience. Travelers will recall announcements from the cockpit along the lines: "We appreciate your business, we know you have a choice in air travel, thanks for traveling LIAT." The new LIAT must make sure that its holistic travel experience is as good as or better than its competitors. Listen to the output from customer surveys.
Affordable multi-destination Caribbean travel. The Caribbean has a high density of airports per thousand population. These can only be maintained with a high throughput of passengers to the destination. Exploit the appeal of the richness of the Caribbean as diverse warm-weather destinations and tax the outputs (value-added – an end user tax), not the inputs (various airline taxes).
Expert public relations and social media marketing. The destinations, and the airlines serving these destinations, must engage in news releases, media relations, media monitoring, graphic design, audiovisual production, hospitality sales as well as sales for the meetings, incentives, conferences and exhibitions industry. Social media marketing technology cannot be ignored.
We must implement a fresh, relevant and effective marketing strategy. We cannot rest on our laurels; we have to continually polish our marketing strategy until it glows to ensure there is exponential growth in revenue.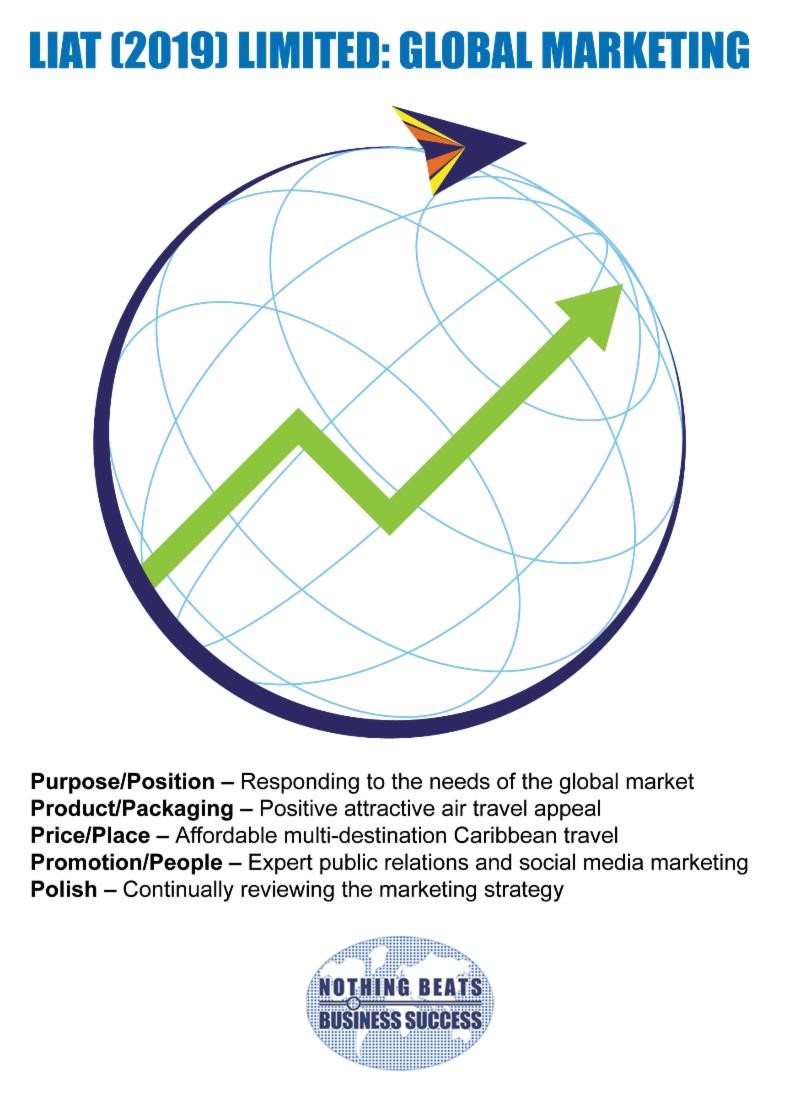 Marketing is the life of business. It generates revenue from which we derive profits, which then leads to sustainability and happiness for all. LIAT (2019) Limited is no exception.
Let us therefore place much energy and effort to: refine the marketing mix in an innovative and creative way; listen to the needs of the global market visiting warm-weather Caribbean destinations; create an appeal for a travel experience second to none and embrace partners with whom we can achieve this; develop affordable multi-destination Caribbean travel; engage expert public relations and social media marketing services; and continually review the marketing strategy so that we always stay at the peak of our game.
The next two columns in this series will be on disciplined operations to engender profitability and growth, and on an awesome staff culture in pursuit of sustainability.