"Even though I walk through the darkest valley, I will fear no evil, for you are with me; your rod and your staff, they comfort me." – Psalm 23:4
The human body has a structure (skeleton and muscles). It is protected externally (skin, nails and hair) and internally (immune system). Independent human life begins with the first breath and ends with the last breath (brain, cardiovascular and pulmonary systems). Growth takes place (food intake and excretion cycle). The human race is sustained (procreation).
The human being is God made and robust. Globally, the under-five mortality rate for humans has decreased by 58 percent, from an estimated rate of 93 deaths per 1,000 live births in 1990 (9.3 percent) to under 4 percent in 2017 as a result of an improved public health care system based on an enabling environment.
A business has a matching set of systems. It has a structure (meetings and dialogue culture). It is protected by risk management (seed/equity/working capital and profit investment); life (marketing and sales revenue); growth (operational efficiency and profit); and sustainability (unlocking human potential and happiness).
The business is man-made and fragile. Globally, the startup business failure rate is 90 percent in the first five years. What a contrast with the under-five mortality rate for humans in the health care system. The challenge is to introduce an improved public-private sector business health care system similar to the human health care system's enabling environment, which would improve the business success rate and economic growth rate.
Here are some basic tips on how to establish and grow your business with the support of a user-friendly business enabling environment provided by the public/private partnership.
Invite family or friends to be on the board of directors who believe in your proposed products or services (value proposition) and who complement your skills. Get all the incorporation and legal matters out of the way, guided by experts. Agree on a mission statement which is your beacon to guide the day-to-day operations of your company. The purpose of the board is to embrace the passion of the entrepreneur, set monthly targets (meetings, investment, revenue, profit and happiness) and monitor the performance of management. Establish a dialogue culture and successfully complete all meetings on a regular basis.
Garner initial funding from your savings, loans or investments from family and friends, and lobby supportive agencies offering seed/equity/working capital. Start small, do it right, make a profit and then expand. Reinvest your profit in the business to provide a sound foundation. Seek one-on-one shepherding services to protect the risk of investors.
Then inject some life into your business. Develop your services consistent with the mission statement. Understand the needs of your customers and train your staff to efficiently and effectively deliver these services to satisfy their needs. Communicate with your stakeholders through an expert public relations agency and observe the growth of customer satisfaction and sales.
Continually evaluate your business development by focusing on expansion in your market, the range of services and the excellence you are delivering and the over-delivery of services. Recognize possible increases in staff productivity with training, technology and process improvement. The output will result in rapid profit growth for your organization.
The ultimate goal should be unlocking the potential of your staff in a positive, motivational environment by providing creative training models, listening carefully to their needs and rewarding them handsomely for their excellent performance as they journey to personal happiness and the company's sustainability.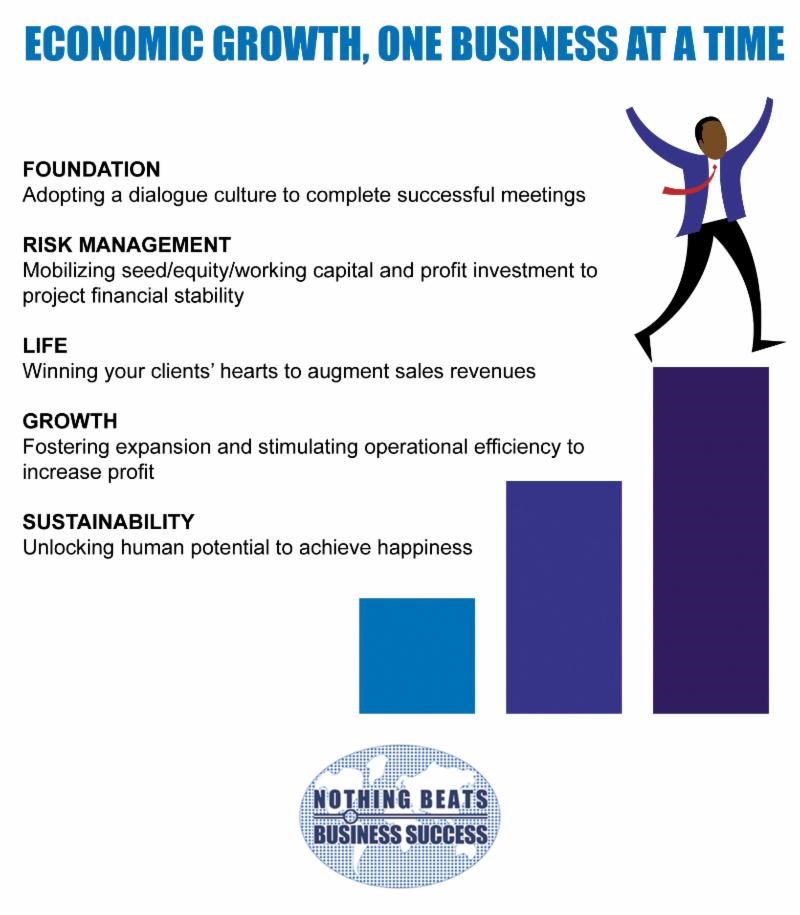 Sustainable economic growth requires not only the continued growth of well-established businesses but also the advent of startup businesses, which will support existing businesses to grow into established businesses in their own right. Let us continue to inspire male and female entrepreneurs and guide them along the journey to sustainable success.