"The Lord is my shepherd, I lack nothing. He makes me lie down in green pastures, he leads me beside quiet waters, he refreshes my soul. He guides me along the right paths for his name's sake." – Psalm 23: 1-3
The future of West Indies cricket is in the hands of the board of Cricket West Indies (CWI).
The CWI board initially elected President Dave Cameron and Vice President Emmanuel Nanton in 2013 to lead the charge for change. This signaled a shift toward the theme "Cricket as a business". The thinking behind the changes, including unity and having a financial imperative, and the progress made have been well documented in two published sources: (1) Dave Cameron's keynote address delivered on Saturday, October 6, 2018 when he was inducted in the Cricket Hall of Fame in New York – and (2) Dave Cameron's interview with public relations executive Bevan Springer, President of Marketplace Excellence, about the history and future of WINDIES cricket, on January 10, 2019.
The board's progress in its quest for change gives us hope for a bright future for WINDIES  cricket.
At the time of completion of this article, the result of Sunday's election of the President and Vice President was not known. The successful combination will be faced with the task of leading the CWI board to promote the brand "WINDIES Cricket" and nurture unity within the Caribbean Community through the sport that we love so much.
The board approved vision and mission are clear:
The Vision – "West Indies cricket is the heartbeat of the Caribbean, loved by the world"
The Mission (the beacon which guides CWI's day to day activities) – "To lead, inspire and unite cricket in the West Indies from thriving grassroots to exciting WINDIES teams, ensuring sustainable success."
The task at hand requires the expert management of financial investment (including reinvesting profits) to provide security for the business; dynamic public relations, marketing and media expertise to generate revenue and give life to the business; consistent on-field and off-field performance through high productivity and efficiency to increase profits and business growth; and well-motivated and happy stakeholders to achieve sustainable success.
The CWI board, operating in the geographic domain of an archipelago of diverse islands and coastal communities, must now take positive action to plan, execute and monitor the business of WINDIES Cricket to inspire balance among and synergy between the many CWI stakeholders for the good of us all in the region.
The CWI board's stakeholders are a diverse and formidable mix associated with sponsorship, TV rights, Caribbean diaspora, the CWI Foundation, WINDIES cricket supporters, players (male and female), legends, management, coaches, Caribbean governments, Cricket USA/Canada and the West Indies Players' Association.
Also, much attention has been paid to headquarters facilities, cricket training, maintenance of grounds and preparation of pitches.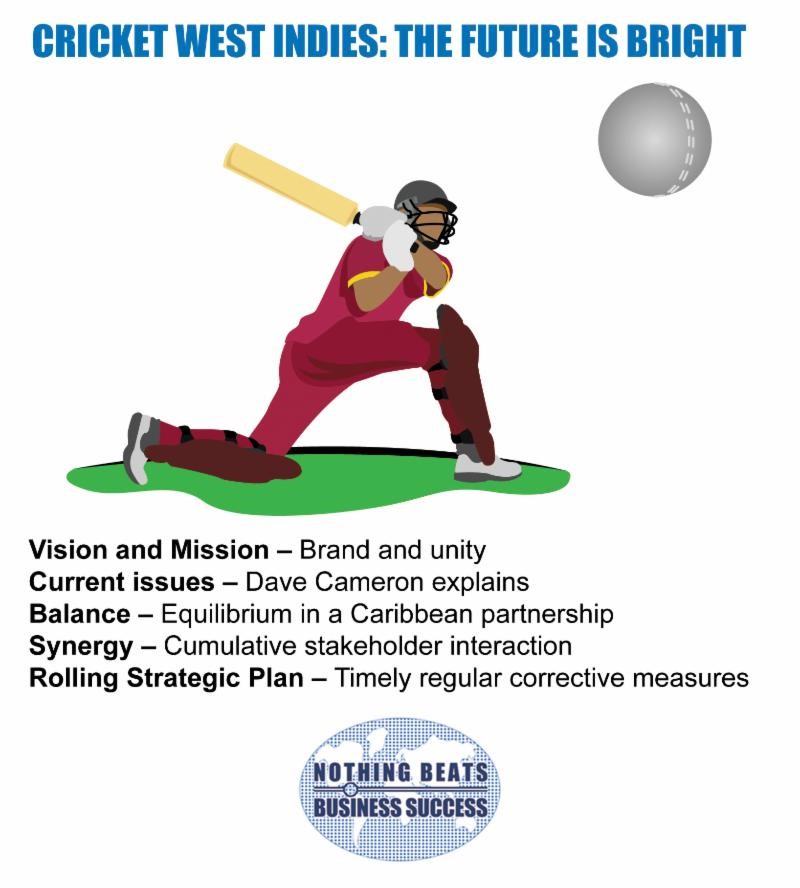 Regardless of the outcome of the election, all Caribbean people ought to rally around WINDIES cricket, on and off the field:
"Pretty soon the runs are gonna flow again like water … bringing so much joy to each and every son and daughter … say we're gonna rise again like a raging fire … as the sun shines you know we're gonna take it higher … rally, rally round the West Indies … now and forever." – David Michael Rudder