"A slack hand causes poverty, but the hand of the diligent makes rich." – Proverbs 10:4
The passing of entrepreneur Sybil Carmen Joan Barrow on Tuesday, February 12, 2019, at age 97, marks the end of an era of five Barrow/O'Neal siblings which leaves a rich legacy of examples in professionalism, statesmanship, politics, travel, dignity, business, entrepreneurship, commitment, family unity and caring, from which we all may learn.
Bishop Reginald Grant Barrow (1889-1980) married, circa 1912, Ruth Albertha O'Neal (1884 – 1939) and the union produced five children namely Graham (1915 – 1994), Nita (1916 – 1995), Ena (1918 – 2002), Errol (1920 – 1987) and Sybil (1921 – 2019).
The siblings of Reginald Grant and Ruth Albertha and their descendants constitute the extended family. In particular, my grandmother, Reginald Barrow's sister, Florence, married Charles Wilkinson Springer, my grandfather, circa 1910. Many of these members of the extended family have embellished and, by the excellent examples that have been set, presumably will continue to embellish the holistic wealth of the legacy.
Aunt Sybil's older siblings, all distinguished themselves in their own special ways and, with this ample example, she did not disappoint.
Her primary and secondary education was in St. Croix and Barbados as it was thought that there were elements of the English educational system which could complement her U.S. schooling and hence Aunt Sybil was sent to Barbados for two years to The St. Michael School to get a taste of the English system of education. In order to take advantage of her U.S. citizenship, Aunt Sybil returned to St. Croix in 1937 to complete her schooling and graduated in 1939.
She then entered Hampton Institute in Virginia prior to going to Pharmacy School at Columbia University in New York from which she graduated in 1947.  It was during her period at Columbia University that her mother died. Seeking internship in New York after graduating in pharmacology at Columbia University was a challenge, since pharmacies reserved internship positions for their family members. She persevered and overcame.
Following her graduation, Sybil worked in the U.S. for a number of years until a friend of the family lured her back to St. Thomas in 1951 where she spent one year before going to St. Croix.  She successfully developed four pharmacies, under the Santa Cruz brand, one in Christiansted, one in Mid-Island, one in Frederiksted and one in St. Thomas.
While in St. Croix, Aunt Sybil, not having any children of her own, took great interest in the education of her nieces and nephews.
Aunt Sybil had a very successful career as a pharmacist and businesswoman in St. Croix until she retired and returned to Barbados in 1979. She was a very active member of the Business & Professional Women's Organization in St. Croix. In Barbados, she partnered with Griselda Barrow, her first cousin and Griselda's mother Aunt Clyne, in pursuing successful business enterprises. She also spent much time serving at the YWCA.
In 1990, Aunt Sybil was thrust into a new role when her sister, Dame Nita Barrow, was appointed Governor General of Barbados, succeeding her first cousin, Sir Hugh Springer, in that office. Aunt Sybil became Aunt Nita's companion at Government House and was a significant support for her in the non-ceremonial duties of the office. This continued until 1995 at the sudden and untimely death of Dame Nita.
Aunt Sybil's traits may be summarized as quietly determined, no fuss nor fanfare, family oriented, persevering, business focused, caring, believer in a sound educational foundation, humourous, pioneering, helping others, serious, quietly stern, dedicated, loving, philanthropic and committed.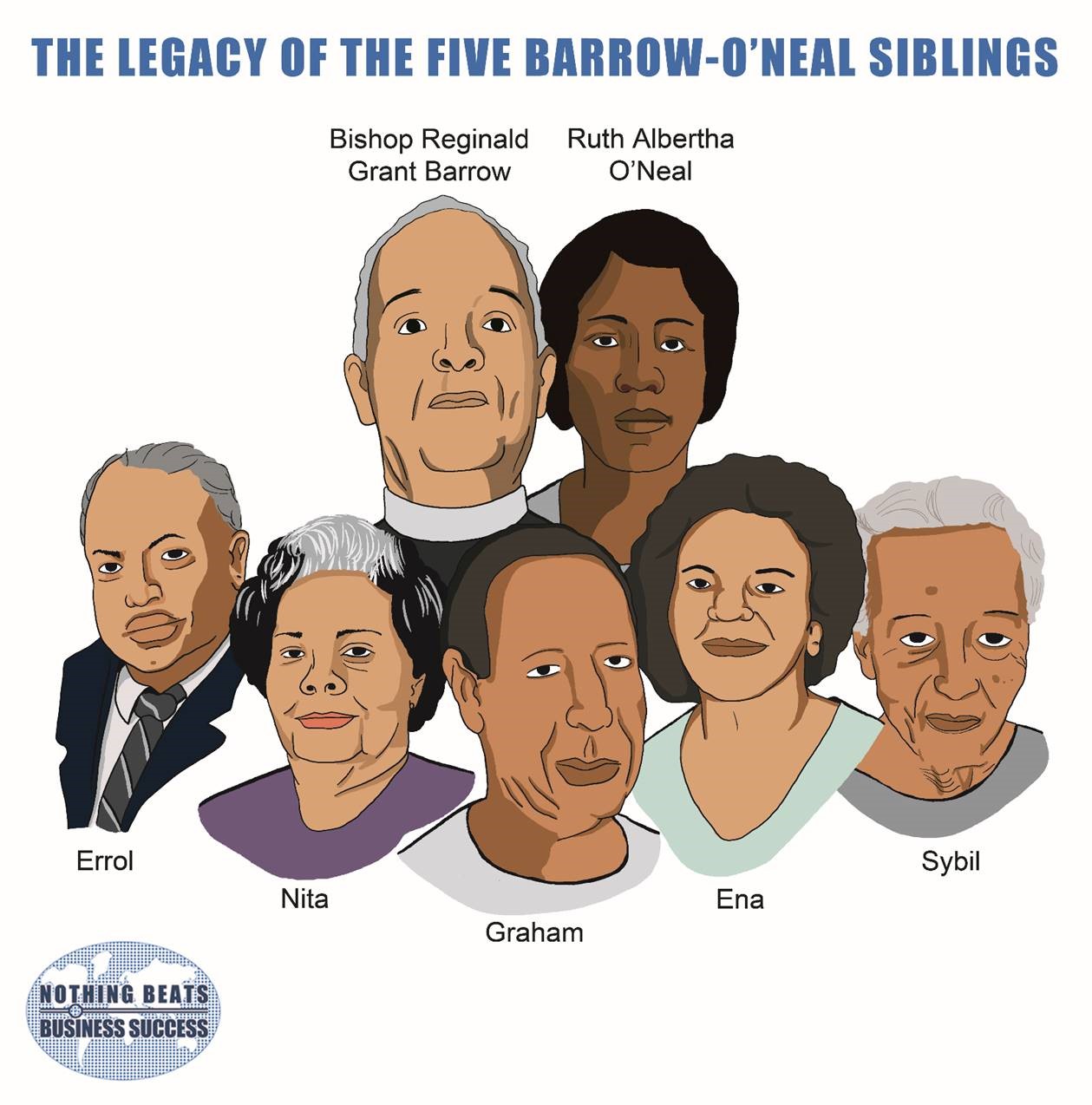 May she rest in peace.