"Come to me, all who labor and are heavy laden, and I will give you rest. Take my yoke upon you, and learn from me, for I am gentle and lowly in heart, and you will find rest for your souls. For my yoke is easy, and my burden is light." – Matthew 11:28-30
The text above may be synthesized to "God is Love" and exemplifies the ultimate relationship between God and God's children.
Synergy is the creation of a whole that is greater than the simple sum of its parts. Its origin is Greek and means "working together" and implies partnership. Partnership increases the likelihood of each partner contributing optimally towards a common goal. It is a growth and sustainability concept.
Let me now share some examples of partnerships through my journey through life and show how Rotary, a service club, has partnered and may partner with others towards the goal of eliminating poverty.
(1) 1973 – The Caribbean Community is an organization of 15 Caribbean nations and dependencies whose main objective is to promote economic integration and cooperation among its members.
(2) 1980 – Singapore's capital intensive industrialization by partnering with multinationals from abroad.
(3) 1981 – The Organization of Eastern Caribbean States (OECS) is dedicated to economic harmonization and integration, protection of human and legal rights, and the encouragement of good governance among eight independent and non-independent countries in the Eastern Caribbean. They share a common currency.
(4) 1986 – The OECS Pharmaceutical Procurement Service's mission is to maximize health care services of the OECS countries through pooled procurement and management of pharmaceuticals and related medical supplies.
(5) 1995 – The Commonwealth Partnership on Technology Management organized the first International Smart Partnership Dialogue to explore the mechanisms that underpin public-private sector partnerships.
(6) 2001 – The Caribbean Media Exchange on Sustainable Tourism (CMEx) has produced many conferences and symposia throughout the Caribbean and North America to underscore the value of the region's largest industry, tourism and its linkages.
(7) 2015 – The high-level UN Political Forum on Sustainable Development, to transform our world, is the central United Nations platform for the follow-up and review of the 2030 Agenda for Sustainable Development adopted at the UN Sustainable Development Summit in September 2015. The first goal is the elimination of poverty.
(8) 2018 – Celebration of the 70th anniversary of His Majesty's Troopship "Empire Windrush" which brought Caribbean people who answered the call from the "Mother Country" to travel across the Atlantic ocean to help rebuild Britain after the second world war.
(9) 2018 – Prime Minister Allen Chastanet's communications approach on the use of joint venture partnerships to provide excellent comprehensive health care to all St. Lucians.
Rotary International (RI) has already demonstrated, through its Polio Plus Program, where, in partnership with others, they have almost eradicated polio from the face of the earth.
The new Rotary International President, who is from the Bahamas, has committed his club to partner with others to ensure that every Haitian family has access to water and domestic sanitation by 2030.
How can RI help? One club at a time.
How can a Rotary Club help towards the goal of  eliminating poverty?  The first step in reducing poverty, as stated by the Rotary Action Group for Microfinance and Community Development at the recently concluded RI intervention in Toronto, is to empower people to build assets, increase incomes and reduce their vulnerability to economic stress.
The strategy is to (a) identify entrepreneurs with whom the club is going to partner; (b) finance these entrepreneurs through micro-finance or seed, equity and working capital, by partnering with appropriate financial individuals or institutions; (c) adopt global market pull and communications strategies; (d) assign a Rotarian(s), as volunteer shepherds, to guide each entrepreneur along the right path; and (e) partner with a business education institution to provide the necessary business underpinning.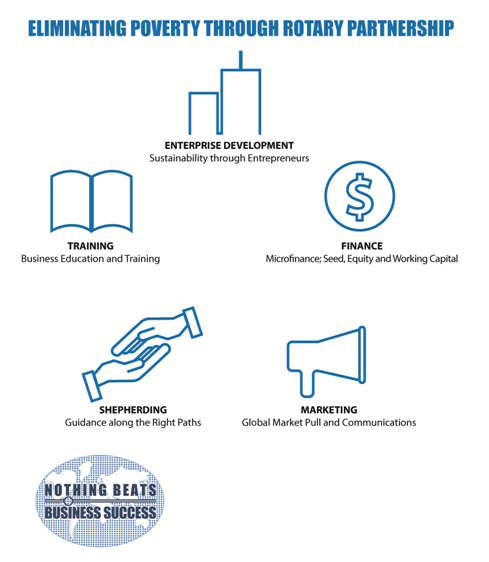 As we build entrepreneurs to develop our communities, let us recognize that unity is strength. Let us garner all the essential components needed to fulfill our business models and establish partnerships which guarantee a sustainable future.